This post was originally published here May 11, 2013. I've adjusted the recipe slightly and updated the text and photographs to reflect those changes. Enjoy!
This Shredded Brussels Sprout and Apple Salad and I go way back. Back to the days when I was still kind of skeptical about brussels sprouts. I had learned to enjoy them when roasted at high temperatures (especially if bacon was involved!). But I hadn't really ventured much further beyond that. The idea of raw or lightly cooked brussels sprouts seemed rather unappealing.
But then I dared to try this recipe from 101 Cookbooks. And I was forever changed. And I think you will be, too.
So basically what I'm saying is this. Whether you're a long-time brussels sprout lover, or just starting to dip your toes into the murky waters, this Shredded Brussels Sprout and Apple Salad recipe is absolutely for you.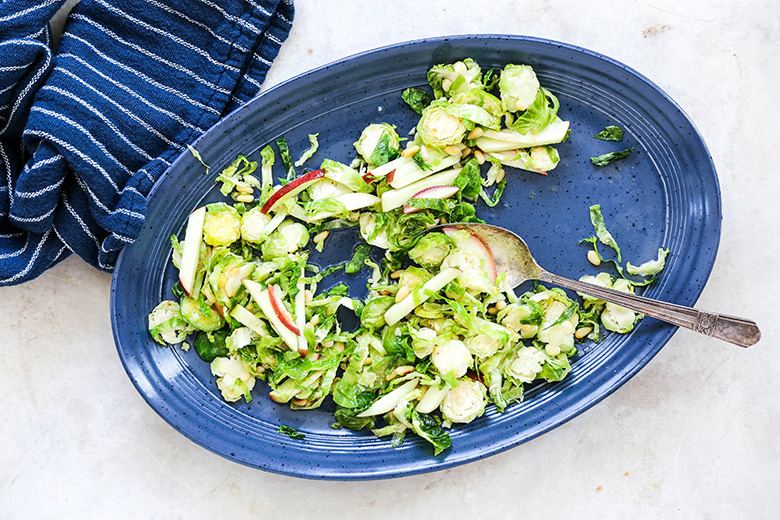 Here's what you'll need to do. Start by committing a few minutes of your time to thinly slicing all the brussels sprouts. I actually find this task to be kind of therapeutic, so I don't mind doing it by hand. But if you want to use the shredder attachment on your food processor (or a mandoline slicer), be my guest. Then cook the sliced brussels sprouts in a large skillet with a little olive oil, garlic and salt. Add in a sliced apple and some maple syrup for sweetness. And boom. You're ninety percent of the way there.
Finish off the salad with a handful of toasted pine nuts. Then serve it up while it's still warm. Unfortunately, this isn't one of those recipes that tolerates being made in advance. So you'll want to heed my advice on that last part. That's probably the only bad thing I can say about this recipe. And on the scale of 0 – BAD, I'd call that like a 2.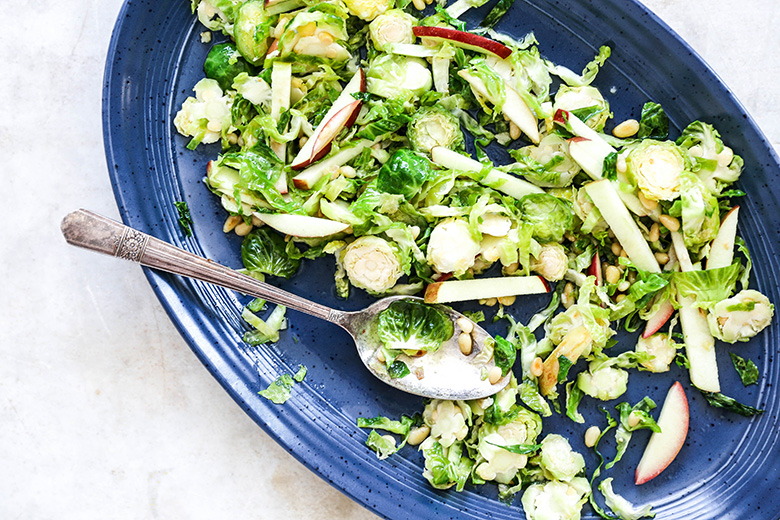 If you've lost track on the ingredient list, let me tell you that you need only seven ingredients to make this recipe. SEVEN! And I bet you've got more than half of them already in your kitchen.
What else do you need to know about this Shredded Brussels Sprout and Apple Salad? It's vegan. It's gluten-free. And it pairs really well with all your other seasonal favorites. Think pork chops. Or a roasted chicken.
Now go forth and get on the brussels bandwagon!
Cheers,
Liz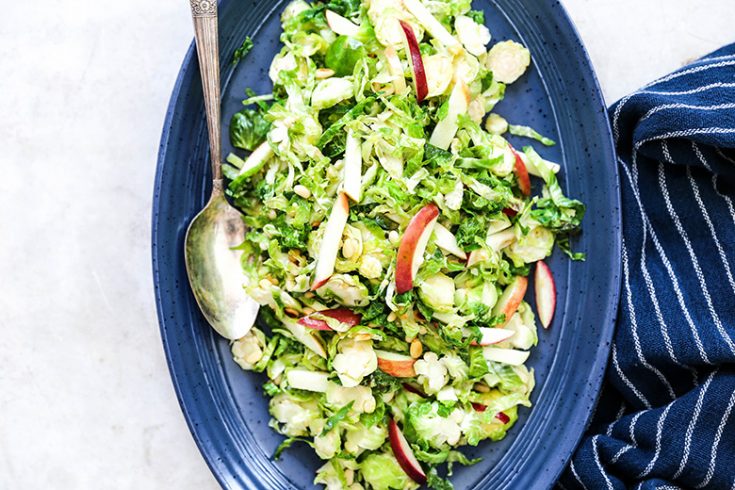 Shredded Brussels Sprout and Apple Salad
Yield: Serves 4
Prep Time: 10 minutes
Cook Time: 10 minutes
Total Time: 20 minutes
Ingredients
1/3 cup pine nuts
2 tablespoons extra-virgin olive oil, divided
2 garlic cloves, peeled and minced
1 lb brussels sprouts, thinly sliced
1/4 tsp. salt
1 large apple, cored and sliced into matchsticks
1 tablespoon maple syrup
Instructions
Heat a large non-stick skillet over medium-high heat. Add the pine nuts and toast them until they become fragrant, about 1-2 minutes. Transfer the pine nuts to a clean bowl and set aside.
Place the skillet back over the heat and add 1 tablespoon of the olive oil. Add the garlic and cook, stirring frequently, for about 1 minute. Then add the sliced brussels sprouts, the remaining tablespoon of olive oil and the salt. Cook the brussels sprouts, tossing occasionally with a pair of tongs, until they are slightly softened/wilted, about 2-3 minutes. Add the apple and maple syrup and cook for another 1-2 minutes. Remove the skillet from the heat and stir in the reserved pine nuts.
Serve the salad immediately while it's still warm.