This post was originally published here July 16, 2013. I've since updated the photographs and text. I hope you bake up a batch of these chewy, nutty, chocolatey and caramely cookies soon!
I'm not going to bury the lede. Here's all you need to know about these Oatmeal Peanut Butter Cookies with Chocolate Chips and Caramel. Ready?
I've never met a person who didn't immediately LOVE these cookies.
Like REALLY love them.
In fact, the last time I made them, more than half of the people I shared them with told me (unsolicited by me!) that they were the best cookies they have ever eaten.
If that's not enough of an endorsement to convince you to make them, then I don't know what is. But just in case you need more information, here are some other pertinent details.
They are naturally gluten-free (no flour in the recipe, just gluten-free oatmeal!). They are salty and sweet. They are chewy. They are decadent, but also oddly wholesome. AND they stay soft for almost an entire week. I'm a total cookie snob and I tend to only like cookies within 1-2 days of baking. But these remain texturally perfect for days. This is not an exaggeration.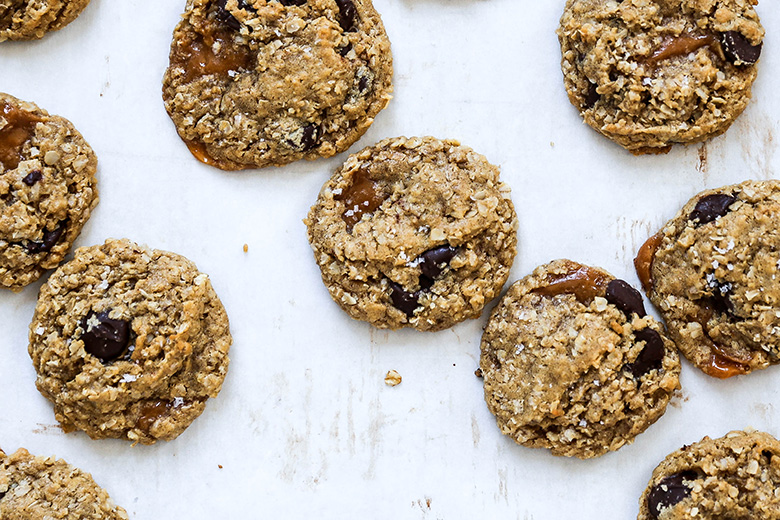 Like I said, everyone goes crazy for these bad boys. Thankfully, the recipe makes A LOT of cookies. Over 3 dozen. But luckily, I've discovered in recent years that you can freeze the batter with no ill effect. So now I typically bake up just a single dozen at a time. Then stash the remaining batter away for a later date.
Baking season is here. And I know we all have our favorite, go-to cookie recipes. But if you're going to attempt one new cookie this year, PLEASE PLEASE PLEASE consider these Oatmeal Peanut Butter Cookies with Chocolate Chips and Caramel. I know you won't be disappointed!
Cheers,
Liz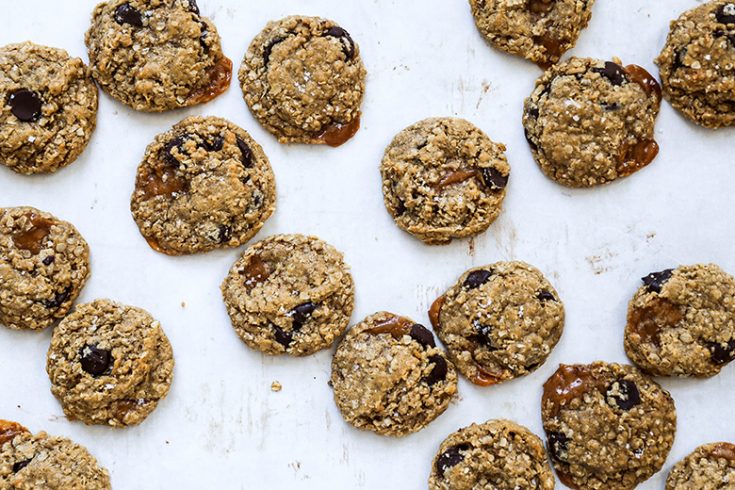 Oatmeal Peanut Butter Cookies with Chocolate Chips and Caramel
Yield: Makes 3 - 3 1/2 dozen cookies
Prep Time: 20 minutes
Cook Time: 12 minutes
Additional Time: 2 hours
Total Time: 2 hours 32 minutes
Ingredients
1 1/4 cups packed brown sugar
1 cup granulated sugar
1 1/3 cups creamy peanut butter
1/2 cup (8 tablespoons) unsalted butter, softened at room temperature
3 eggs
2 tsp. baking soda
1 tsp. vanilla extract
3/4 tsp. salt
4 1/2 cups quick-cooking oats
1 1/2 cups chocolate chips
1/2 cup chewy caramels (I use Werther's Original), cut up into pieces
Instructions
In the bowl of your stand mixer fitted with the paddle attachment, beat the sugars, peanut butter and butter on medium-high speed until smooth and well blended. Add the eggs in one at a time, stopping to scrape down the side of the bowl as necessary. Then add in the baking soda, vanilla extract and salt.
With your mixer on low speed, slowly add in the oats and mix until just incorporated. Then fold in the chocolate chips and caramel pieces.
Place the cookie dough in your refrigerator until the dough is well chilled, at least 2 hours or up to overnight.
Pre-heat your oven to 350 degrees.
Scoop the chilled cookie dough out onto parchment paper lined baking sheets, placing the cookie dough balls about 2-inches apart from each other. Transfer the baking sheets to your pre-heated oven and bake the cookies for 8-9 minutes. Then rotate the sheets and bake the cookies for an additional 2-3 minutes, or until the cookies are lightly browned and just set around the edges.
Remove the baking sheets from your oven and let the cookies rest on their baking sheets for 10 minutes before transferring them to a wire rack to continue cooling. Once completely cooled, the cookies can be stored in an airtight container at room temperature for 5-6 days.