This post was originally published here on May 18, 2014. It's a favorite dish of mine (and it works for almost any time of year!), so I thought it was time to update the photographs and text. I hope you try it out!
In blogging years, this recipe feels ancient.
It first appeared here on Floating Kitchen waaaaay back in 2014. Which was before I had acquired my first "real" camera. Before I had developed any sort of legitimate food styling skills. And before I knew how to market myself and this website.
So, what does all that mean? Well, it means that you've likely missed out on this recipe for the past four years. Because the original photographs were scary (they certainly were NOT Pinterest worthy!). And I probably didn't even bother to share the link to the blog post on social media. I really had no clue which end was up.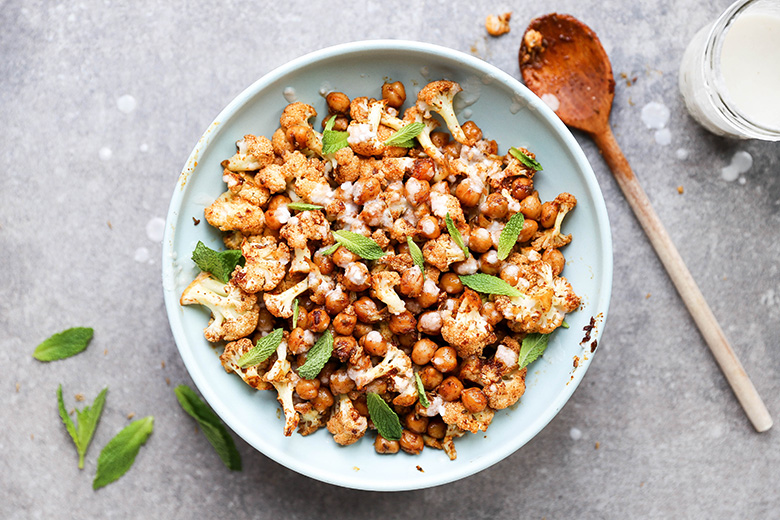 But, damn, this Harissa Roasted Cauliflower and Chickpeas with Coconut Sauce is SO FREAKING GOOD! And I make it ALL THE TIME. It's a staple in my house year-round. So I thought it was about time to give it a much deserved makeover. And maybe that would help to entice some of you to make it as well.
If you need a quick and easy vegan, gluten-free lunch or dinner, this flavorful bowl of harissa-spiced chickpeas and cauliflower is where it's at. It's a one-pan and done kind of meal. It's got a little heat from the chiles, a little creamy-ness from the coconut sauce and a little cool-down from the fresh mint. It's a nicely balanced bowl that can stand all on it's own. Or you can pile it on top of some mixed greens for added bulk.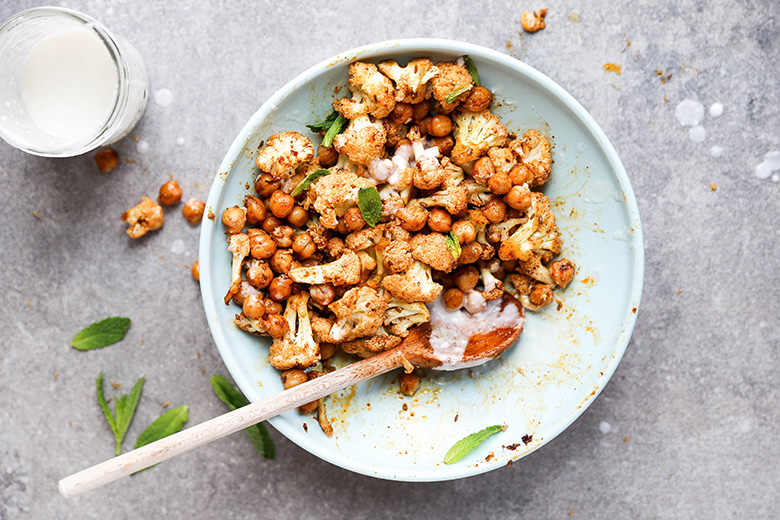 Sometimes I like to make my own harissa paste. And I've got a recipe for that here, if you're interested (another old recipe, so avert your eyes at the photographs!). But in a pinch, store-bought harissa paste is great and is now widely available at most grocery stores.
Cheers,
Liz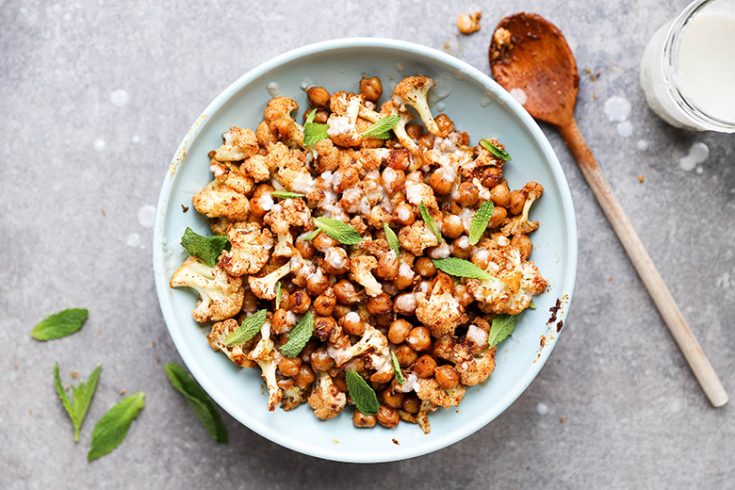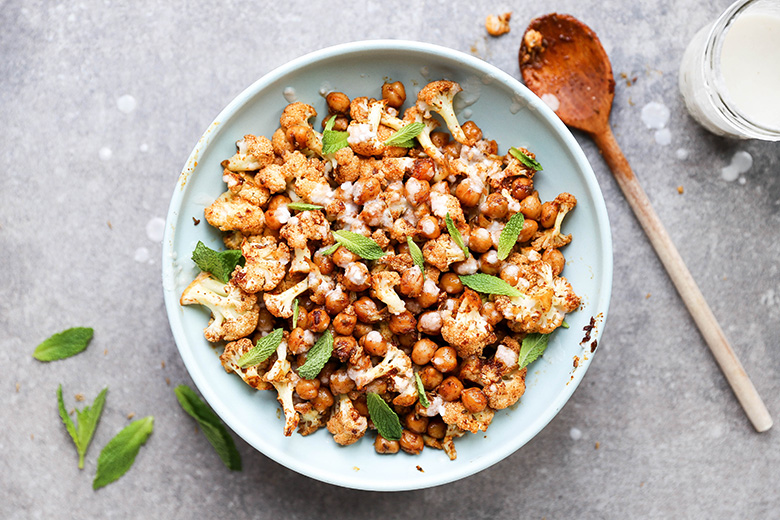 Harissa Roasted Cauliflower and Chickpeas with Coconut Sauce
Yield: 4 servings

Prep Time: 5 minutes

Cook Time: 20 minutes

Total Time: 25 minutes
Ingredients
For the Roasted Cauliflower and Chickpeas:
1 (15-ounce) can chickpeas, rinsed and drained
4 cups cauliflower florets
2 tablespoons extra-virgin olive oil
1/2 tsp. salt
1/2 tsp. pepper
1 tsp. cumin seeds
1 - 2 tablespoons harissa paste
1 1/2 tablespoons fresh mint, roughly chopped
For the Coconut Sauce:
1/2 cup full-fat coconut milk
1 tablespoon fresh squeezed lemon juice
1 tsp. agave nectar
1/8 tsp. ground cumin
1/8 tsp. ground coriander
Pinch of salt
Instructions
Pre-heat your oven to 400 degrees. On a large rimmed baking sheet, toss the chickpeas and cauliflower with the olive oil, salt, pepper and cumin seeds until well coated. Transfer the baking sheet to your pre-heated oven and roast for about 20 minutes, stirring once halfway through the cooking time.
Remove the baking sheet from your oven and add the harissa paste, tossing gently until everything is evenly coated. Start with 1 tablespoon of the harissa paste, adding more if you prefer something more spicy. Set aside.
To make the coconut sauce, whisk together all of the ingredients until well combined.
To serve, drizzle the coconut sauce over the warm harissa-coated cauliflower and chickpeas. Top with fresh mint. Enjoy immediately.
Leftovers can be stored in an airtight container in your refrigerator for 2-3 days.
SaveSave
SaveSaveSaveSave
SaveSave