This post was originally published here on June 7, 2013. I've since updated the photographs and made some minor modifications to the recipe ever. This is a great make-ahead salad. I hope you try it out!
I only lasted 6 days post-accident before I wandered back into my kitchen.
I was equal parts bored, frustrated and anxious (and generally just sick of sitting on my couch), so I decided to give it the old college try. And here's what I learned: cooking with only one functional arm is HARD!
I know. I know. Not a big revelation. But still. There have been so many things that have become surprisingly challenging. Things that I took for granted before. Like grinding pepper. Or using a can opening. Or scraping cake batter from the sides of a mixing bowl.
I could go on and on and on. But I won't. Because overall, I'm lucky. Normal tasks have certainly been cumbersome. But they are still very much do-able. And for that, I am grateful.
Given my current situation, I decided re-making and re-shooting an old recipe would be easier than going through the whole process of creating and testing out a brand new recipe. So I dug into my archives and pulled out this Quinoa and Shaved Carrot Salad with Chickpeas, Currants and Cashews. It seemed simple enough to prepare. And it had a short ingredient list to boot. But of course, some unanticipated challenges arose (i.e. the whole can opener thing I aforementioned).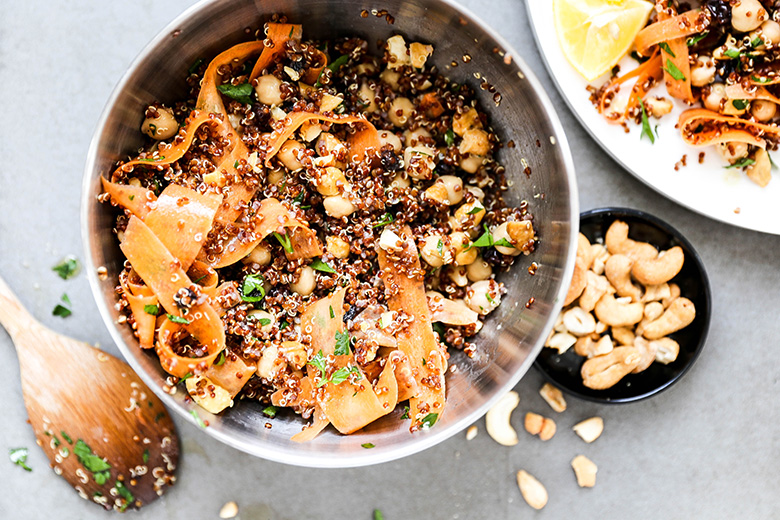 But I made it work. And I'm happy that I did. Because it's a great recipe for anyone and everyone to have in their arsenal. You could file this one under the "no sad desk lunches" category. Or maybe the "meal prep" category. Or maybe just the "I have nothing else in my house except a few pantry and refrigerator staples" category. Because it's one of those recipes that's easy, customizable (you can use any color quinoa, any dried fruit, any nuts, etc.) and you can eat it as is (warm or cold), or pile it on top of a bed of mixed greens to help stretch it out. I was very happy to have it on hand all week for quick, no fuss lunches and dinners. A total life saver with a busted arm!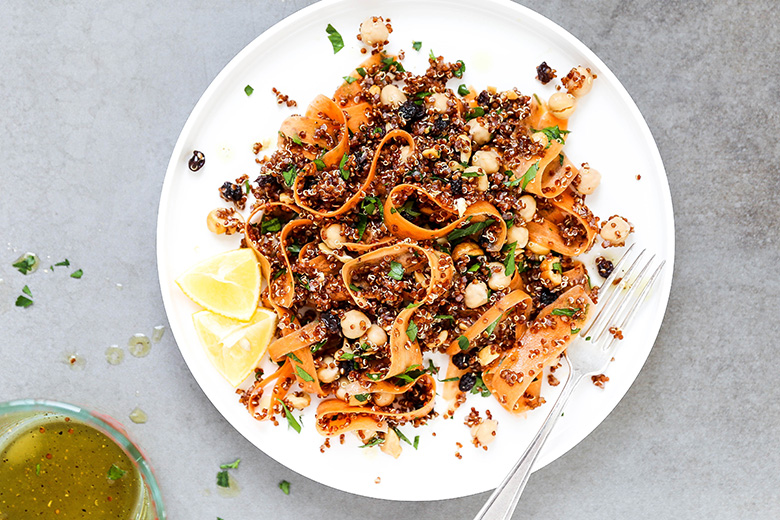 If you have any EASY (= key word), healthy recipes that are favorites in your house, send them my way. I could use a few more simple go-to dishes in my rotation while I'm on the mend!
Cheers,
Liz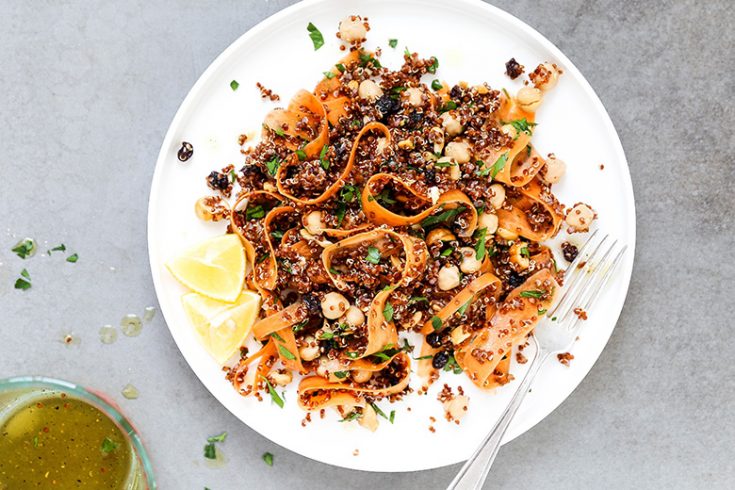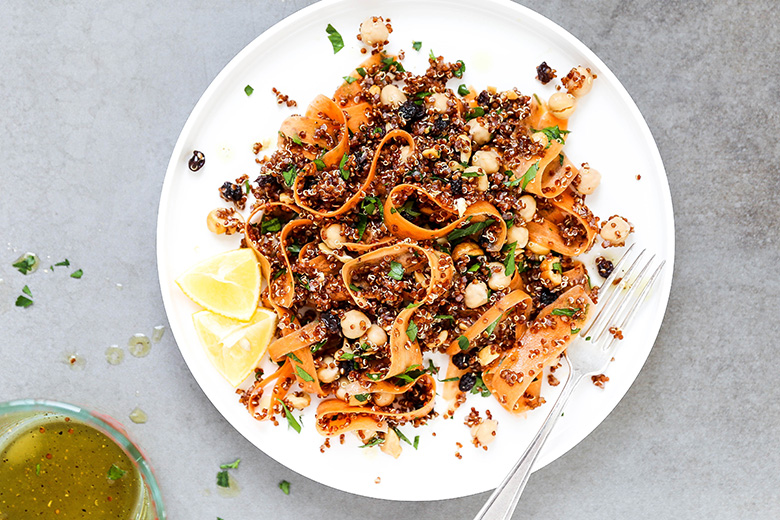 Quinoa and Shaved Carrot Salad with Chickpeas, Currants and Cashews
Yield: About 4 servings
Prep Time: 10 minutes
Cook Time: 20 minutes
Total Time: 30 minutes
Ingredients
For the Quinoa Salad:
2/3 cups red quinoa
1 1/3 cups water
3 medium carrots, trimmed and peeled
1 (15-ounce) can chickpeas, rinsed and drained
1/2 cup roasted cashews, roughly chopped
1/3 cup currants
1/4 cup fresh parsley, roughly chopped
For the Dressing:
2 tablespoons extra-virgin olive oil
2 tablespoons apple cider vinegar
2 tablespoons maple syrup
1 tablespoon fresh squeezed lemon juice
1/2 tsp. salt
1/4 tsp. black pepper
Instructions
Combine the quinoa and water in a medium saucepan over medium-high heat. Bring to a boil, then reduce the heat to maintain a simmer. Cook the quinoa, covered, for 15-17 minutes, or until all the water is absorbed. Remove the saucepan from the heat and let the quinoa stand covered for 3-5 minutes. Then fluff with a fork and set aside to cool.
Meanwhile, combine all the ingredients for the dressing in a small bowl. Set aside.
Using a vegetable peeled, shave the carrots into long ribbons. Add the carrot ribbons to the cooled quinoa long with the chickpeas, cashews, currants and parsley. Toss gently. Then drizzle with some of the dressing (you may not use it all, depending on your taste preferences) and toss until evenly coated.
This salad can be served immediately. Or chilled in your refrigerator before serving.
Leftovers can be stored in an airtight container for 2-3 days.