This post was originally published here March 30, 2015. I've adjusted the recipe and updated the text and photographs to reflect those changes. I hope you try out this easy, crowd-pleasing side dish!
I'm here today to bring back carrot coins!
When were carrot coins at their peak of popularity? The 1970s maybe? I'm not entirely sure. But what I am sure about is that they are still a delicious way to prepare carrots. They just needed a little bit of modernization.
Like probably all of you, I love roasting whole carrots. Especially when you get to leave the tiniest bit of green frilly-ness at the top. They are just so cute that way. And you get major presentation points with minimal work.
BUT. The only carrots I had lingering in my refrigerator this month were the big fat ones. The ones my Mom likes to refer to as "horse carrots". They certainly aren't much to look at. They are sturdy, gnarly and misshapen. And they definitely don't have any remaining fresh green sprigs at the top. But they still taste like carrots. And they shouldn't be wasted. So carrot coins it is!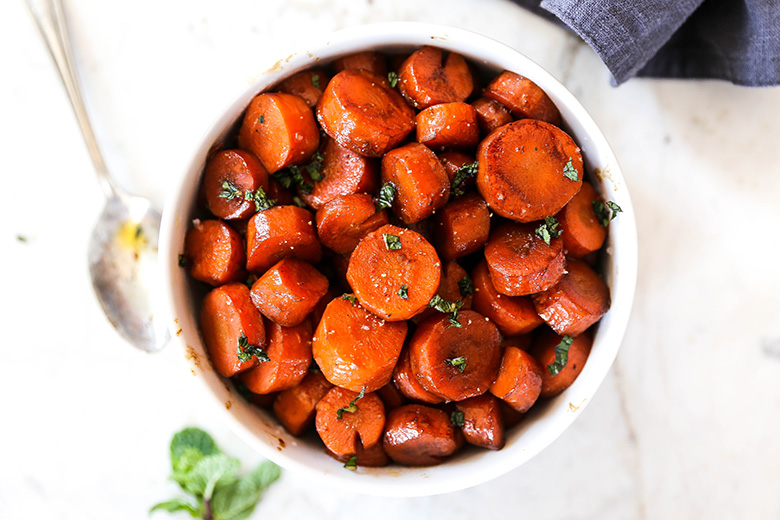 I'm guessing you have this exact type of carrot hiding out in your refrigerator, too. And if so, I hope you'll try out these bomb-ass Coffee Glazed Carrot Coins.
Yes. I said coffee. It's a fabulous ingredient to pair to carrots. One that's maybe a bit unexpected. But in a good way. I also use a bit of maple syrup and balsamic vinegar in the glaze. Which makes this simple, crowd-pleasing side dish one that has great depth of flavor, even with such a small ingredient list.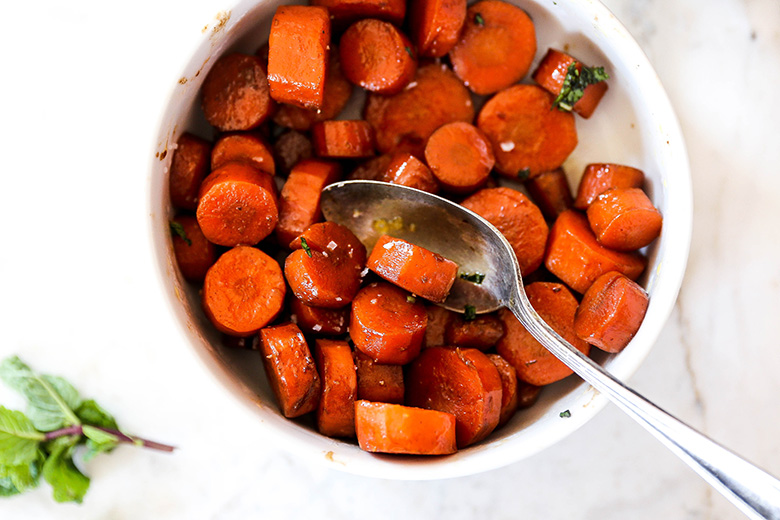 I like to finish off the cooked carrots with a sprinkle of flaky sea salt and some fresh mint. The salt is kind of a non-negotiable, in my humble opinion. But if you find yourself without mint, you could use any finely minced fresh herb that you have on hand (thyme, parsley or dill). And if you've still got nothing, try zesting some citrus (lemon, orange or lime) over the carrots before serving for a little added zip.
Cheers,
Liz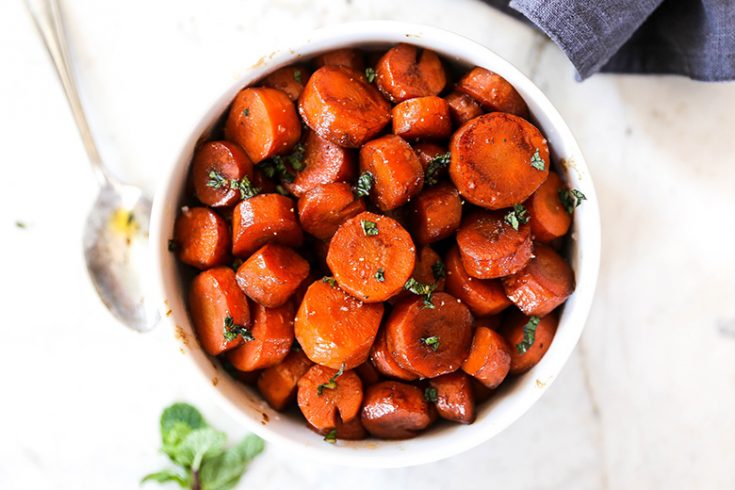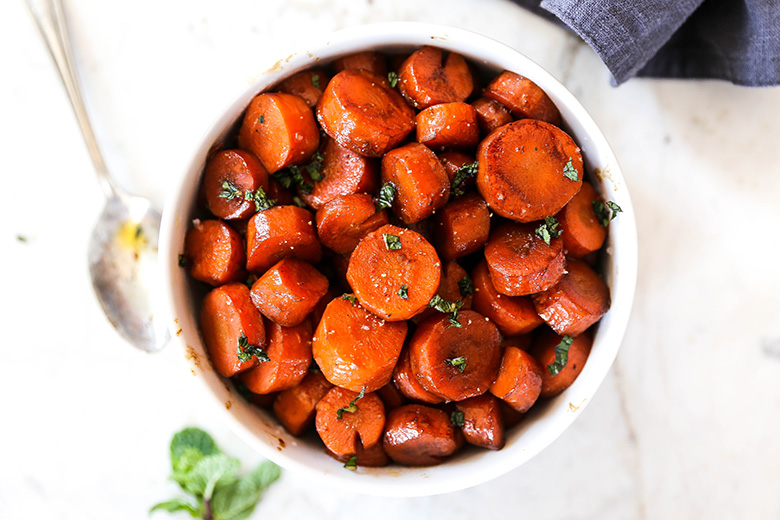 Coffee Glazed Carrot Coins
Yield: Serves about 6
Prep Time: 5 minutes
Cook Time: 20 minutes
Total Time: 25 minutes
Ingredients
4 cups peeled, sliced carrots (from about 5 medium-large carrots)
1/4 cup strongly brewed coffee
1 tablespoon extra-virgin olive oil
1 tablespoon maple syrup
1 tablespoon balsamic vinegar
1/2 tsp. salt
1/4 tsp. black pepper
Fresh mint leaves, minced
Flaky sea salt
Instructions
Add the sliced carrots to a medium saucepan. Add enough water to just barely cover them. Then place the saucepan over medium-high heat and bring to a simmer. Cook the carrots, covered, for 10 minutes.
Meanwhile, combine the coffee, olive oil, maple syrup, vinegar, salt and black pepper in a small bowl. Set aside.
Drain the cooking liquid from the carrots. Keeping the carrots in the same saucepan, pour in the coffee-mixture and then place the saucepan back over medium-high heat. Cook, uncovered, for 4-5 minutes. Most of the liquid will be reduced. Remove the saucepan from the heat.
Transfer the carrots to a serving dish. Top with the mint and a few pinches of flaky sea salt, if desired.
Leftovers can be stored in an airtight container in your refrigerator for 2-3 days.