This post was originally published here September 25, 2017. I've since updated the text and photographs. This simple side dish is one the whole family will love!
Roasted carrots always remind me of Spring. And since we've officially (and finally!) crossed over, I thought these Honey Roasted Rainbow Carrots would be very appropriate for today.
These Honey Roasted Rainbow Carrots are one of my favorite side dishes because: (1) everyone loves them, (2) they truly are a "non-recipe" type of recipe, and (3) they are just so gosh darn pretty. They would make a beautiful addition to your Easter or Mother's Day table. But I think you'll find yourself making them routinely for just any old night of the week. They are one of those universal side dishes that can be paired with almost everything. And with only 5 ingredients, there isn't much standing in your way!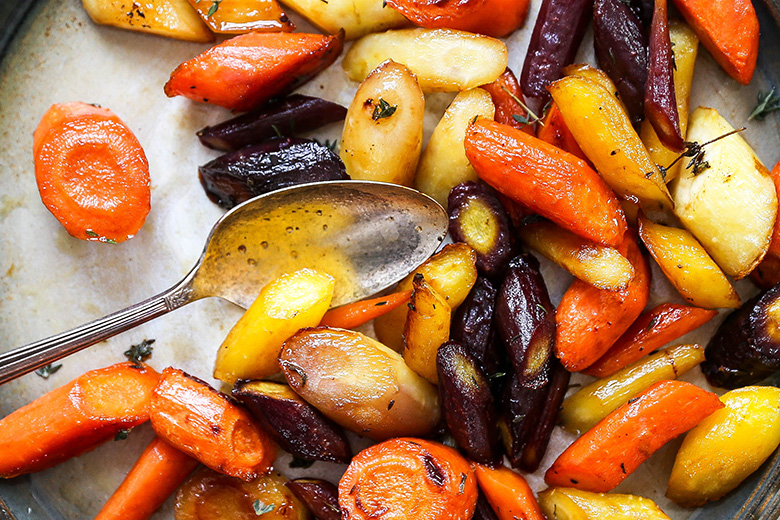 This recipe is simple and straightforward, but there are a few tips that will that ensure these Honey Roasted Rainbow Carrots come out perfect every single time. First, I always use a metal baking pan (instead of a glass baking dish) to roast the carrots. This results in the best caramelization. And we all know those little caramelized bites are the best bites! And second, I try to make the all carrot pieces *approximately* the same size, which will help them cook evenly. So if some of the carrots in your bunch are really thick, you might consider first slicing them in half lengthwise before cutting them into 1-inch pieces.
So. Now that it's officially Spring, which fruits and vegetables are you most looking forward to welcoming into your kitchen.
Cheers,
Liz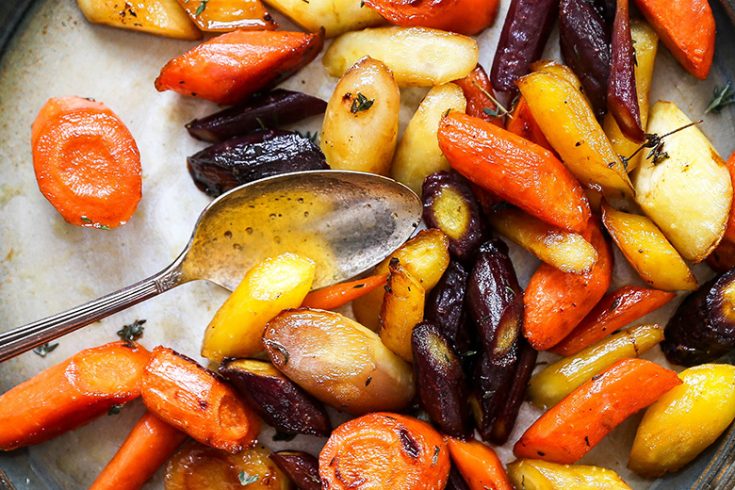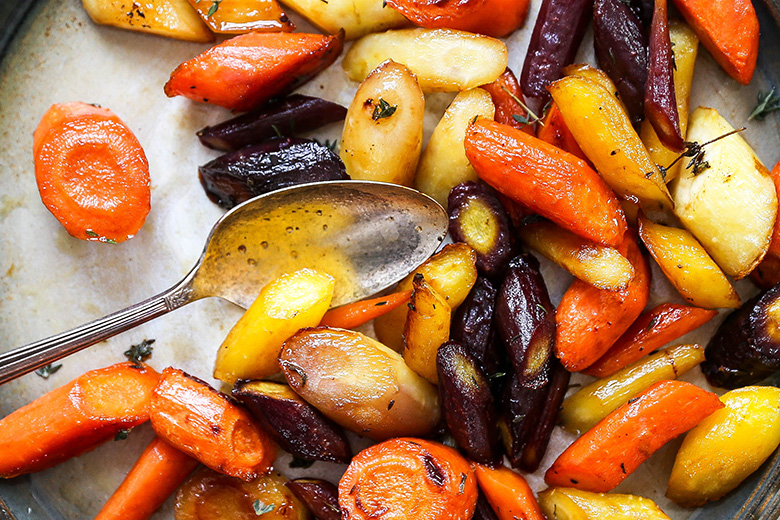 Honey Roasted Rainbow Carrots
Yield: Serves 4-6
Prep Time: 5 minutes
Cook Time: 35 minutes
Total Time: 40 minutes
Ingredients
1 lb rainbow carrots, peeled, trimmed and cut into 1-inch pieces
1 1/2 tablespoons extra-virgin olive oil
1 1/2 tablespoons honey
1 tablespoon fresh thyme leaves
1/2 tsp. salt
Instructions
Pre-heat your oven to 425 degrees.
Add the carrots to a large rimmed baking pan. Drizzle with the olive oil and honey, tossing to coat. Then sprinkle with the thyme leaves and salt.
Transfer the baking pan to your pre-heated oven and roast the carrots for 25-35 minutes, stirring once halfway through, or until they are tender and starting to caramelize in some places. Remove the baking pan from your oven and transfer the carrots to a serving dish. Serve immediately.
Leftovers can be stored in an airtight container in your refrigerator for 2-3 days.