Pi Day is probably the most excited you'll ever see me for a food Holiday. And it just so happens to be TODAY! March 14th = 3.14 = π.
The best way to celebrate Pi Day is, of course, with pie. And I firmly believe that any type of pie is acceptable for Pi Day. Savory, sweet, traditional or non-traditional. It's all good. Just make a pie and eat it. Or maybe make two pies and eat them both!
Last year, I made these cute and classic blueberry hand pies. But this year, I wanted to shake things up a bit with something different. So I decided to make Mini Grasshopper Whoopie Pies. I mean, the word "pie" is in the name twice. So how could I not?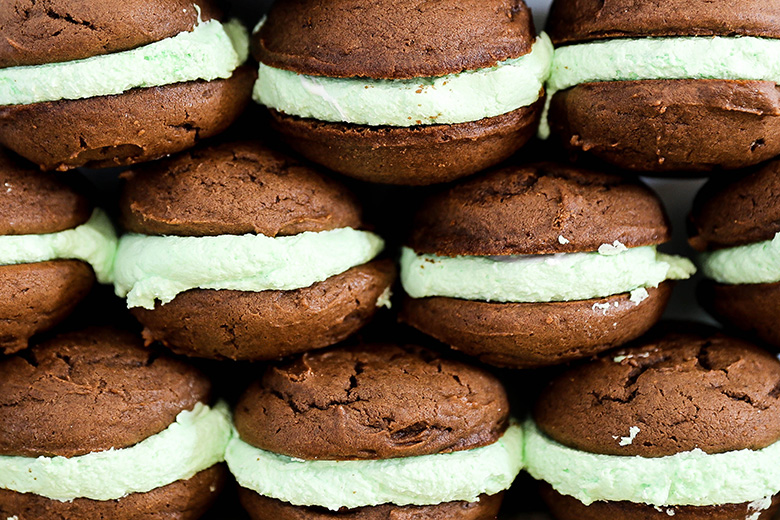 Traditional whoopie pies (which are the official state treat of Maine, btw) consist of a creamy vanilla marshmallow filling sandwiched between two domed chocolate cakes. They are often HUGE. And eating one is an endeavor that should be taken very seriously. You'll need an empty stomach and several napkins at the ready. I wanted to make mine a bit more manageable, so I shrunk them down significantly so that each one is about the size of a small-ish orange. I also deviated from the traditional flavor profile just a smidge, adding in peppermint extract for a cool, minty finish. I guess I was going for a Pi Day and St. Patrick's Day dessert mashup!
My number one piece of advice for this recipe is to use a trigger scoop (I have this one) for portioning out the batter. Because ideally, you want all the chocolate cakes to be the exact same size. And a trigger scoop will make this task MUCH easier. Everything else is pretty straight forward. Whoopie pies are not hard to make and surprisingly quick (no chilling the batter, etc.).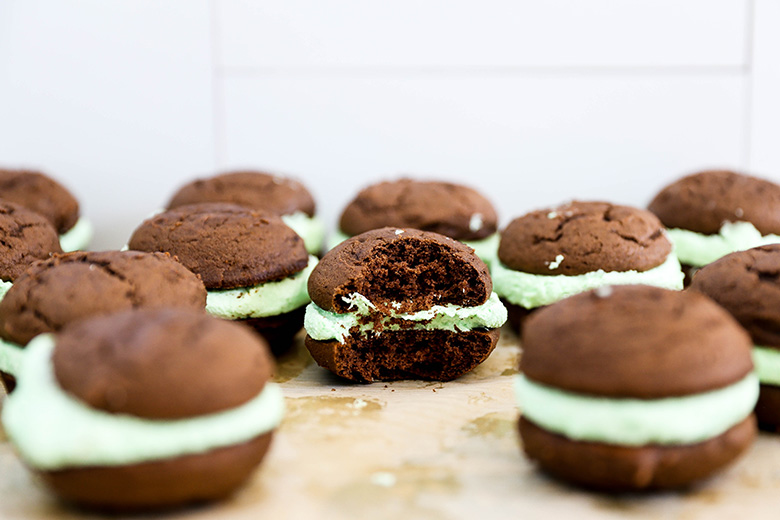 So. Marshmallow Fluff vs. marshmallow creme. Are they the same thing and can they be used interchangeably? Well…it's complicated. Technically, they are not the exact same product (there is some variation in the ingredient list), although you could certainly use marshmallow creme to make the filling, if necessary. But any New Englander will tell you that's not allowed. Marshmallow Fluff is a beloved brand-name product with local roots. And we take that sort of thing very seriously around here. So for authentic whoopie pies, I recommend using Marshmallow Fluff for this recipe. And if you have any leftover when you're done, make yourself a few Fluffernutters!
Speaking of leftovers…these Mini Grasshopper Whoopie Pies are a great make-ahead dessert. While they can certainly be enjoyed on the first day they're made (I might have eaten four!), I think the texture and flavor is actually better on days 2-3. To best store them, wrap each one individually in plastic wrap and place them in your refrigerator.
Cheers,
Liz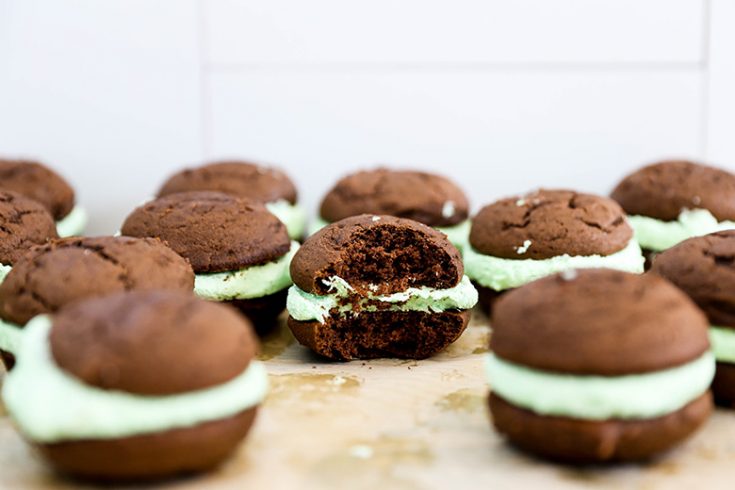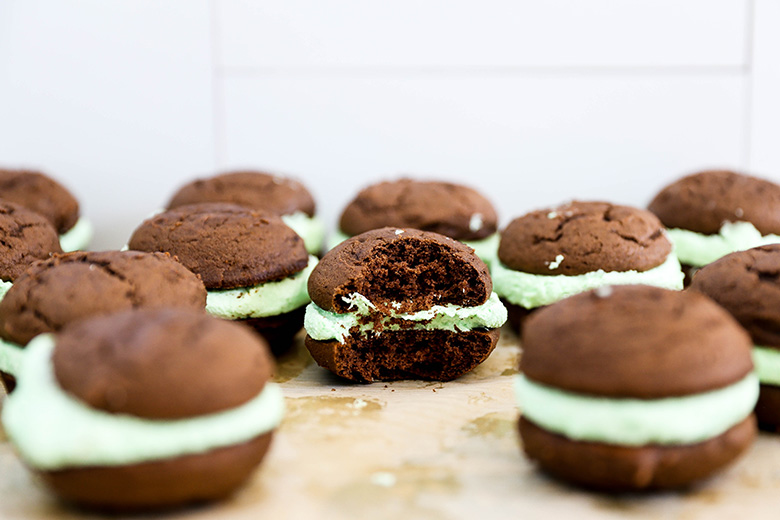 Mini Grasshopper Whoopie Pies
Yield: Makes 16 whoopie pies
Prep Time: 30 minutes
Cook Time: 20 minutes
Total Time: 50 minutes
Ingredients
For the Cakes:
2 cups all-purpose flour
1/4 cup unsweetened cocoa powder
1 tsp. baking powder
1 tsp. baking soda
1 tsp. salt
1 cup whole milk, at room temperature
1 tsp. vanilla extract
1/4 tsp. peppermint extract
1 cup brown sugar, packed
1/2 cup (8 tablespoons) vegetable shortening
1 egg
For the Filling:
1 cup (16 tablespoons) vegetable shortening
1 1/2 cups powdered sugar
1 1/2 tsp. peppermint extract
2 cups Marshmallow Fluff
Green gel food coloring, optional
Instructions
Pre-heat your oven to 350 degrees.
In a medium bowl, combine the flour, cocoa powder, baking powder, baking soda and salt. In a measuring cup, combine the milk and extracts. Set both aside.
In the bowl of your stand mixer fitted with the paddle attachment, cream together the brown sugar, vegetable shortening and egg. Add about one-third of the dry ingredients and beat until partially incorporated. Then add about one-third of the milk mixture and beat until partially incorporated. Stop to scrape down the sides and bottom of the mixing bowl. Then repeat this process until all the dry ingredients and milk mixture have been added and the batter is well combined and smooth.
Light grease a couple baking sheets with non-stick cooking spray. I also like to grease my cookie scoop/spoon.
Scoop the batter out using a medium cookie scoop (or 1 1/2 tablespoons if using a regular spoon) and drop onto your prepared baking sheets, spacing the mounds about 2-inches apart from each another. I can typically fit 9 mounds on each baking sheet.
Transfer the baking sheets to your pre-heated oven and bake for 9-10 minutes. The cakes should be firm around the edges and springy to the touch. Set the baking sheets aside and let the cakes cool for 5 minutes. Then use a spatula to transfer them to a wire rack to continue cooling.
Once all the cakes have been baked and cooled, make the filling. In your stand mixer fitted with the paddle attachment, cream together the vegetable shortening, powdered sugar and peppermint extract. Add the Marshmallow Fluff and beat on low speed to incorporate. While your mixer is on low speed, add in a few drops of green gel food coloring until your desired color is achieved.
To assemble the whoopie pies, place a heaping spoonful of filling on the flat side of half of the cakes. Then top with the remaining cakes, pushing down slightly to help spread the filling to the outer edges of the whoopie pies.
Whoopie pies can be enjoyed immediately. Or wrapped individually in plastic wrap and stored in your refrigerator for 3-4 days.