This post was originally published here August 9, 2013. I've since updated the text and photographs. If you're like me and you're not a fan of mayonnaise, then you need to give this potato salad recipe a try. It's fresh and flavorful!
I'm a little late to the game with bringing you this recipe. I feel like I've missed the mark on all the prime potato salad-eating days (i.e. Memorial Day and 4th of July). But hopefully you'll still find plenty of opportunities to make this Middle Eastern Potato Salad this Summer. It's a great side dish for any occasion. And even for any "non-occasion".
As you are all probably aware of by now, I don't really do mayonnaise. Unless, of course, I'm under some sort of duress. But even then, I usually manage to avoid it.
So potato and pasta salads have never really been my thing. If I want to enjoy those dishes at a Summer gathering, then I better be making them myself. And mayonnaise isn't invited to the party.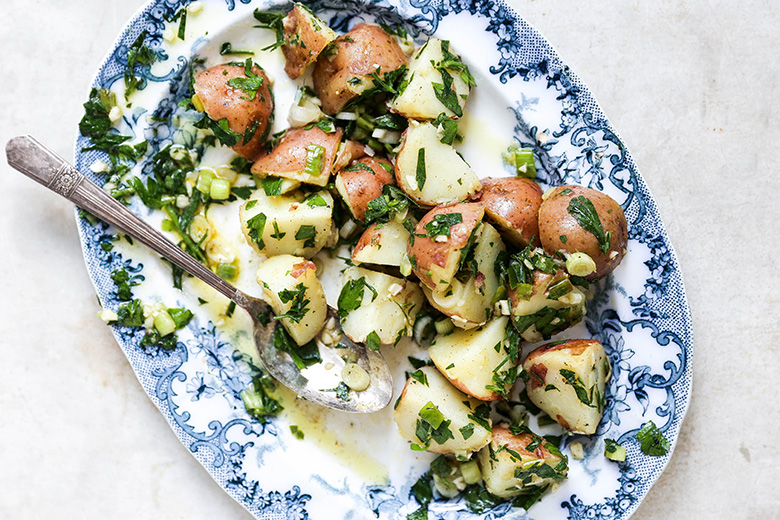 This Middle Eastern Potato Salad checks all the right boxes.
(1) Zero mayonnaise.
(2) Way more fresh parsley then seems necessary (but is totally necessary).
(3) A couple unexpected spices.
(4) Easy to make and travels well.
The best advice I can give you for making this Middle Eastern Potato Salad is to try and start with potatoes that are all approximately the same size. This will make your life so much easier, because the potatoes will all be done cooking around the same time. I like to grab those small mesh bags of new potatoes for this recipe, because I find those potatoes are generally pretty uniform.
Sometimes I like eating this potato salad while it's still slightly warm. But most of the time I chill it first before serving. Either way, it's delicious!
Cheers,
Liz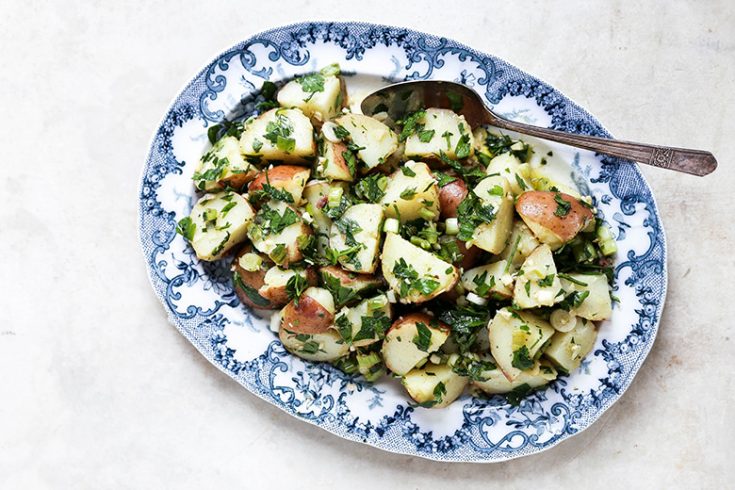 Middle Eastern Potato Salad
Yield: Serves 4-6
Prep Time: 10 minutes
Cook Time: 20 minutes
Total Time: 30 minutes
Ingredients
2 lbs new potatoes
1/3 cup extra-virgin olive oil
4 tablespoons lemon juice
3/4 tsp. cumin
3/4 tsp. salt
1/2 tsp. black pepper
1/8 tsp. allspice
1/8 tsp. coriander
1 1/2 cup parsley, roughly chopped
6 scallions, white and light green parts thinly sliced
4 garlic cloves, peeled and minced
Instructions
Place the potatoes in a large pot and add enough cold water to cover them by about 1-inch. Place the pot over high heat and bring to a boil. Cook the potatoes, uncovered, until they are fork-tender, about 14-16 minutes depending on their size. Drain the potatoes and once they are cool enough to handle, cut them into quarters. Set aside.
Meanwhile, in a large bowl whisk together the olive oil, lemon juice and spices. Then stir in the parsley, scallions and garlic.
Add the potatoes to the dressing while they are still slightly warm. Toss them gently until they are well coated.
The potato salad can be served immediately while it's still slightly warm. Or covered and refrigerated until chilled.
Leftovers can be stored in an airtight container in your refrigerator for 2-3 day.