And just like that, we're thick into the middle of Summer!
I'm feverishly digging into my Summer reading list. I'm eating popsicles and ice cream cones by the dozen. And I'm taking all my lunch breaks by the pool. It's safe to say, I'm fully in my element.
I also firmly believe this is the best time of year to be a food blogger. I know Thanksgiving and Christmas recipes get all the attention. But as far as I'm concerned, they will never measure up to the dishes created and consumed during the Summer months. Our local produce is just about to explode onto the scene. And I'm fully here for all of it.
So if you need me, I'll be busy savoring every last juicy tomato, tender snap pea and sun-ripened blueberry while I can.
This Tortellini and Smashed Cucumber Salad with Corn and Tomatoes is a full-out celebration of Summer. And it's a quick and easy way to add lots of seasonal produce to your weekly menu!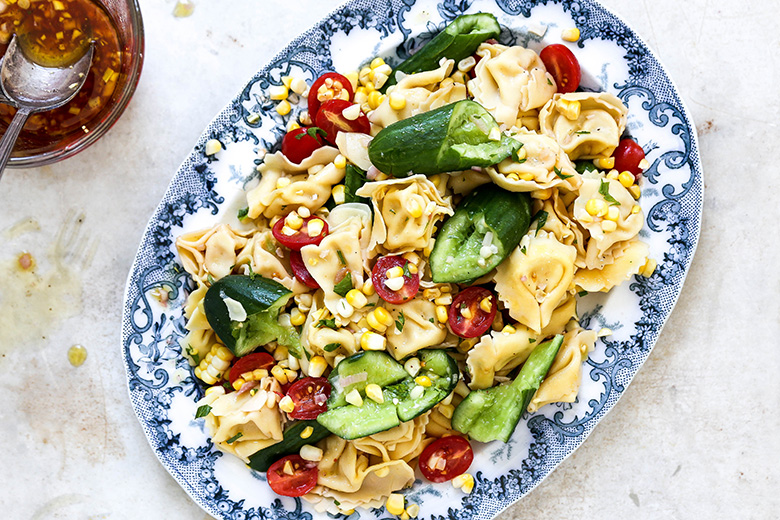 Everyone needs a go-to pasta salad recipe for those last minute potlucks and parties that always happen to pop-up during the Summer months. But up until now, I didn't really have one to call my own. I typically shy away from most pasta salads that I encounter in the wild (I have a combined fear of mayonnaise, weird pickled items and unidentifiable meats). So it seemed as if the only real way of solving this problem would be if I gave pasta salad a major makeover, creating a recipe that I'd actually want to eat myself. And here we are.
This pasta salad recipe features plump, cheesy tortellini tossed in a simple olive oil and red wine vinegar dressing (no mayonnaise here!). I've added in some fresh corn "off" the cob kernels, halved tomatoes and chopped parsley (although any fresh herb you have from your garden would be great). And my new favorite trick: smashed cucumbers.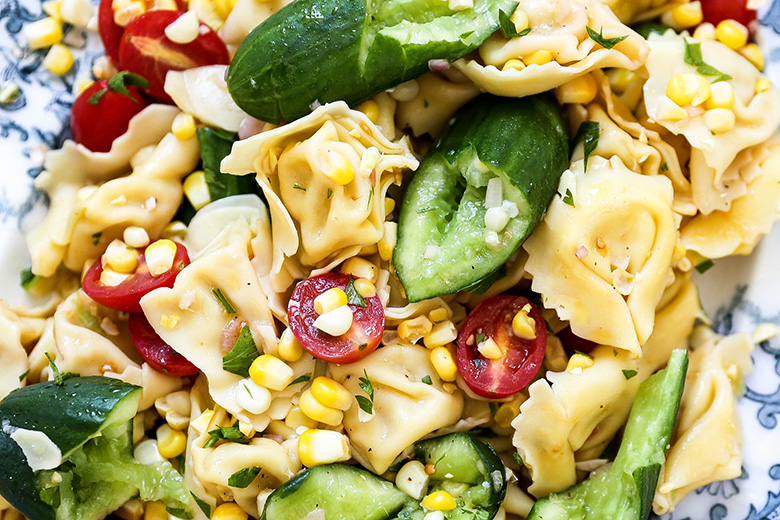 I've seen some other recipes using smashed cucumbers and it's been one of those things on my "to-try" list for a while. And now I've finally done it. And guess what? It's pretty fun! I mean, you get to smash things in your kitchen. It's good therapy!
The smashed cucumbers have an appealing rustic quality. And they maintain a fantastic level of crunch, which gives this dish a nice fresh feel. There are absolutely zero sad, soggy salad vibes here! In fact, this Tortellini and Smashed Cucumber Salad with Corn and Tomatoes is very sturdy. So feel free to pack it up and take it with you to your next cookout or picnic. Or keep it all to yourself and savor the leftovers!
I like to enjoy this Tortellini and Smashed Cucumber Salad with Corn and Tomatoes as a meal all on its own. But it's also a great side dish for burgers, grilled chicken and more! I hope you put it on your "to-try" list this Summer!
Cheers,
Liz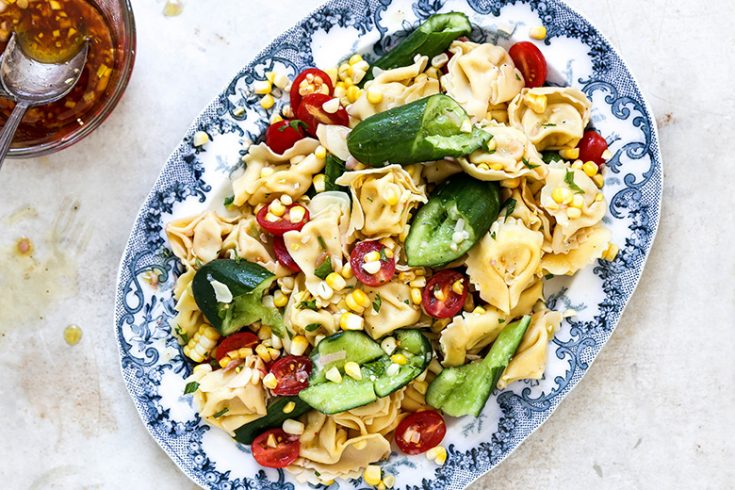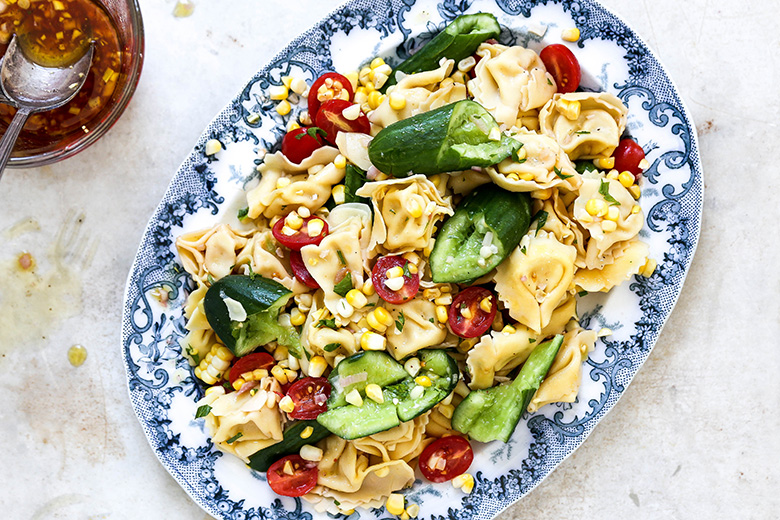 Tortellini and Smashed Cucumber Salad with Corn and Tomatoes
Yield: Serves 6-8
Prep Time: 15 minutes
Cook Time: 10 minutes
Total Time: 25 minutes
Ingredients
6-8 mini cucumbers
1/2 tsp. salt, divided
1/4 tsp. granulated sugar
1/2 cup red wine vinegar
1/4 cup extra-virgin olive oil
2 garlic cloves, peeled and minced
1/4 cup peeled and minced shallot
1/4 tsp. black pepper
1/4 tsp. red pepper flakes
1.25 lbs (20-ounces) cheese tortellini
3 ears cooked corn, kernels removed
About 2/3 pint cherry or grape tomatoes, halved
1/4 cup fresh parsley, chopped
Instructions
Place the cucumbers on a cutting board and use a rolling pin to gently smash them until they are just broken open/split in a few places. Then roughly tear them into 2-inch pieces and place the pieces in a strainer set over your sink or a bowl. Sprinkle with 1/4 tsp. of the salt and the granulated sugar and let them sit while you prepare the remaining ingredients.
In a medium bowl, whisk together the red wine vinegar, olive oil, garlic, shallot, black pepper, red pepper flakes and the remaining 1/4 tsp. of salt. Set aside.
Bring a large pot of water to a boil. Add the tortellini and cook according to the package instructions. Drain and add to a large bowl. Pour about half of the dressing over the tortellini while it's still warm and toss gently to coat. Set aside and let the tortellini cool to room temperature.
Add the corn kernels, tomatoes, parsley and the drained cucumber pieces to the tortellini. Toss gently to combine and drizzle with some of the remaining dressing, using as much or as little to suit your taste preferences.
This salad can be served immediately at room temperature. Or chilled in your refrigerator before serving. Leftovers can be stored in an airtight container in your refrigerator for 1-2 days.