Disclosure: This post is sponsored by Duda Farm Fresh Foods. All opinions are my own. Thank you for supporting brands and companies that help to keep Floating Kitchen afloat!
Today I've teamed up with Duda Farm Fresh Foods to get a jump start on grilling season with this Grilled Romaine Salad with Cacio e Pepe Chickpeas and Herb Dressing. Their Romaine Hearts are crunchy, flavorful and sturdy (yes, this is important!), making them my go-to lettuce for grilling. And they're super convenient too, which means I can get any number of grilled salads and side dishes on the table quickly and easily. Dandy Romaine Hearts will make your Spring and Summer entertaining delicious and fun!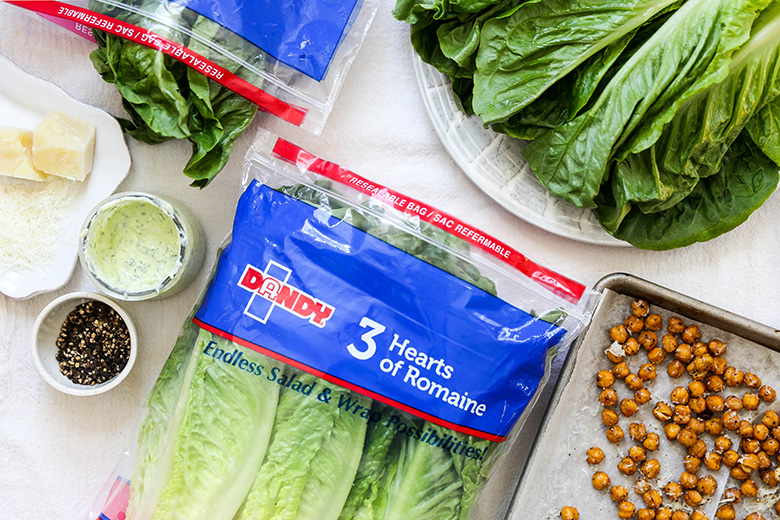 You probably know by now that I'm no stranger to grilling ALL THE THINGS. And salads are no exception. I love grilled salads for their ease, slightly smoky flavor and pretty presentation. The key to making a great grilled salad is simple: don't overdo it. A couple minutes of cooking time is all you really need. You want to aim for a few grill marks and some darkening of the outermost leaves. And that's it. Any more than that and you run the risk of ending up with a limp salad. And that's not the look we're going for.
I wanted to incorporate the elements of one of my favorite pasta dishes into today's recipe, so I made cacio e pepe-flavored chickpeas. Cacio e pepe literally means "cheese and pepper". So these chickpeas are coated with ground black pepper and freshly grated Pecorino Romano. And let me tell you, they are highly addicting. I could easily eat a whole tray of these just as a snack alone. So if you don't think you can keep your hands off of them, you might want to double up on the recipe! They add great crunch and flavor to this salad!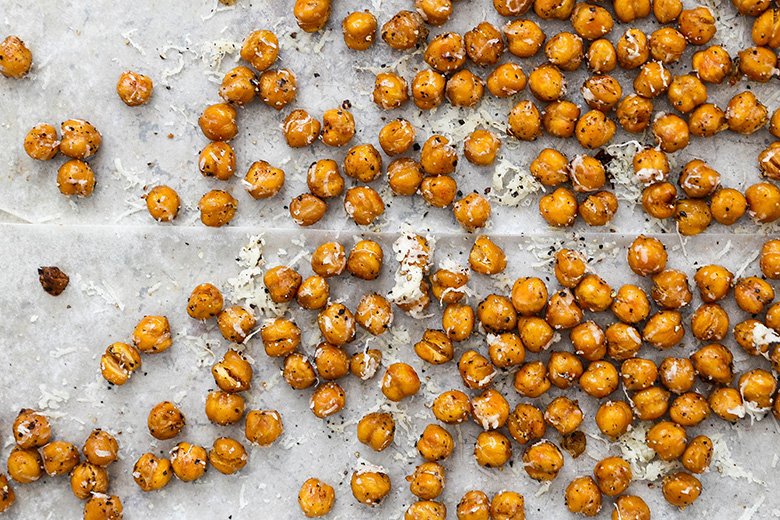 As I mentioned above, grilling the Dandy Romaine Hearts only takes a couple of minutes, so you'll want to have the cacio e pepe chickpeas and herb dressing prepped before you add the lettuce to your pre-heated grill. The easiest way to make this yogurt-based dressing is in your food processor, but a blender will also work if you don't have a food processor. This dressing is lighter and has more freshness to it than a traditional caesar dressing. It's my new go-to dressing now that we're finally transitioning into warmer days.
This Grilled Romaine Salad with Cacio e Pepe Chickpeas and Herb Dressing is great as either a side dish or a main meal. I like to serve one half of a romaine heart if it's a side dish, or both halves if I'm enjoying it as a main meal. I do recommend scaling the recipe up or down as needed, since grilled lettuce doesn't keep particularly well as leftovers. You'll want to grill only as much as you'll need.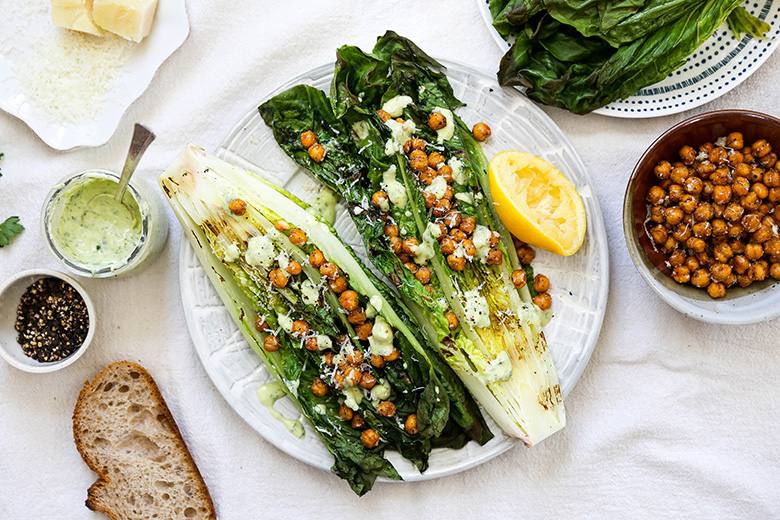 If you try this Grilled Romaine Salad with Cacio e Pepe Chickpeas and Herb Dressing, tag us on social media and show us those grill marks! And be sure to check out the Duda Farm Fresh Foods website for lots more fresh recipe ideas!
Cheers,
Liz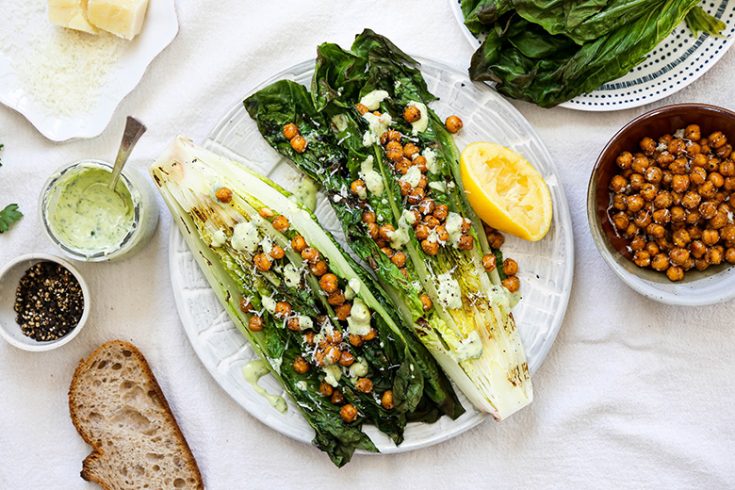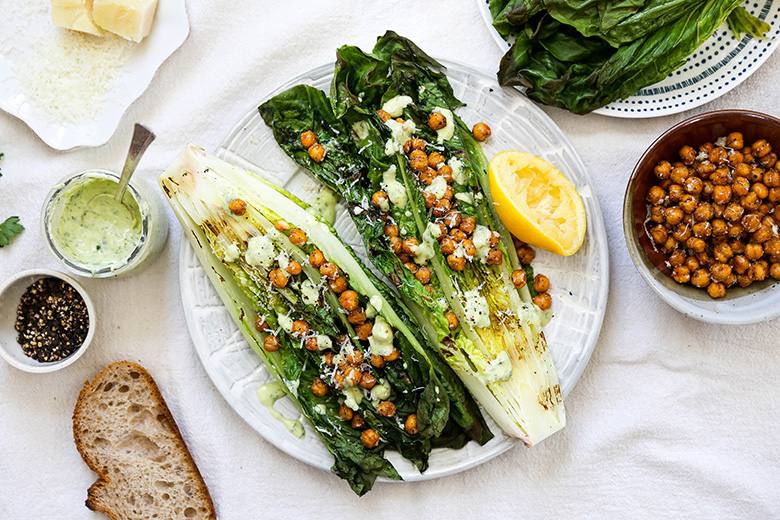 Grilled Romaine Salad with Cacio e Pepe Chickpeas and Herb Dressing
Yield: Serves 3-6
Prep Time: 10 minutes
Cook Time: 25 minutes
Total Time: 35 minutes
Ingredients
For the Chickpeas:
1 (16-ounce) can chickpeas, rinsed and drained
1/2 tsp. freshly ground black pepper
1/4 tsp. salt
2 tablespoons freshly grated Pecorino Romano
For the Dressing:
1 garlic clove, peeled
1 tablespoon fresh cilantro
1 tablespoon fresh parsley
1 tablespoon fresh basil
1/4 cup extra-virgin olive oil
1/4 cup Greek yogurt
1/4 cup fresh squeezed lemon juice
1 tsp. Dijon mustard
1/4 tsp. salt
1/4 tsp. black pepper
2-3 tablespoons water
For the Romaine:
3 Dandy Romaine Hearts, halved lengthwise
1-2 tablespoons extra-virgin olive oil
Half a lemon
3 tablespoons freshly grated Pecorino Romano
Instructions
To make the chickpeas, pre-heat your oven to 400 degrees. Line a rimmed baking pan with parchment paper and set it aside.
Spread the chickpeas out onto a paper towel. Then use a second paper towel to pat the tops dry. Add the dried chickpeas to a bowl and drizzle with the olive oil, tossing to coat. Then sprinkle with the black pepper and salt, tossing to coat.
Spread the chickpeas out onto your prepared baking pan and transfer them to your pre-heated oven. Roast for 20 minutes, giving the pan a shake once halfway through the cooking time. Remove the baking pan from your oven and while the chickpeas are still hot, sprinkle them with the Pecorino Romano. Set aside.
Meanwhile, make the dressing. Add the garlic and herbs to your food processor with the blade attachment and pulse until coarsely chopped. Then add the remaining ingredients and process until combined and mostly smooth. Transfer the dressing to a clean container and refrigerate it until you're ready to use it.
Pre-heat your grill to medium-high. Brush the cut sides of the romaine hearts with olive oil. Then place the romaine hearts directly on your grill grates, cut-side down. Cook for about 2 minutes, or just until some of the leaves start to develop grill marks and darken around the edges.
Remove the romaine hearts from the grill and place the halves cut-side up on serving plates. Immediately squeeze some fresh lemon juice over the surface of the leaves. Then top with the chickpeas, a drizzle of the dressing and a sprinkle of Pecorino Romano. Serve immediately.