This post was originally published here May 26, 2016. I've since updated the text and photographs. This colorful salad is from Heather Christo's cookbook, Pure Delicious: 150 Allergy-Free Recipes for Everyday and Entertaining. A must-have cookbook for anyone with food allergies or sensitivities.
I'm not a big planner when it comes to Summertime activities. I like to just see where the days and weeks take me. Impromptu afternoons at the beach and randomly pulling over for any ice cream stand that happens to cross my path is much more my speed.
But I can get down for some elaborate plans when it comes to food. The next few months will be buzzing with fresh, local ingredients and I want to be sure I take advantage of them all. And not to mention, there will be so many fun food-related activities happening that I don't want to miss out on. I'm here for ALL the cookouts and parties!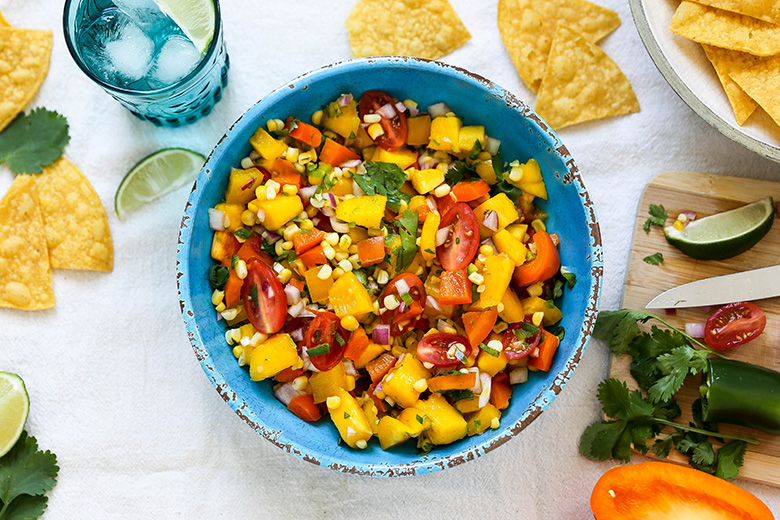 This Fresh Corn and Mango Salad should absolutely be part of your food-related plans this season. This colorful medley of chopped fruits and vegetables is a versatile recipe that can be enjoyed in so many ways. Serve it as a potluck side dish. Spoon it over grilled chicken or fish. Or dig in with your favorite tortilla chips, which is my personal favorite way to eat it. This savory-sweet Fresh Corn and Mango Salad does it all!
Hint: this would be a good one to make for upcoming Cinco de Mayo!
If you don't have fresh corn, frozen corn is a great substitute in this recipe. And if you can't find honey mangoes, one of the larger red mangoes should do the trick.
This Fresh Corn and Mango Salad recipe comes from Heather Christo's cookbook, Pure Delicious: 150 Allergy-Free Recipes for Everyday and Entertaining. Every recipe in Heather's cookbook is free of gluten, dairy, eggs, soy, peanuts, tree nuts, shellfish and cane sugar. So if you or someone you love is living with food allergies and sensitives, this cookbook is a real gem. And if you're not struggling with those things, but you simply just love fresh, beautifully prepared foods, then this cookbook is also for you. Basically, what I'm saying is everyone will love these recipes!
Cheers,
Liz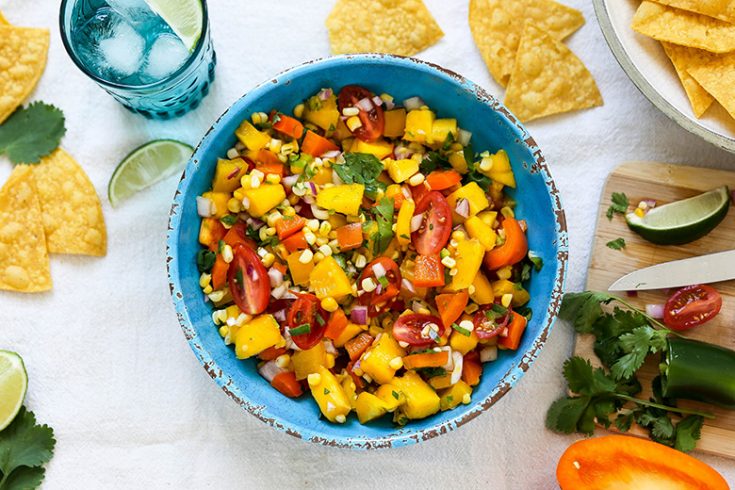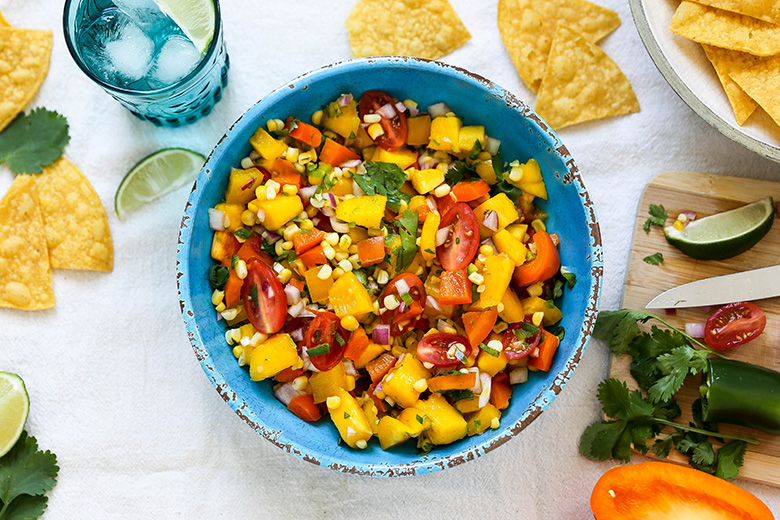 Fresh Corn and Mango Salad
Yield: Serves about 4
Prep Time: 10 minutes
Total Time: 10 minutes
Ingredients
2 ears of corn, husks and silks removed
2 honey mangos, peeled, pitted and diced
1/2 yellow bell pepper, diced
1/2 orange bell pepper, diced
1/2 red onion, peeled and diced
1 cup cherry tomatoes, halved
1 jalapeño pepper, minced
1/2 cup fresh cilantro, chopped
2 tablespoons rice vinegar
2 tablespoons fresh squeezed lime juice
Zest from 2 limes
1 tablespoon extra-virgin olive oil
1/4 tsp. salt
Instructions
Using a sharp knife, slice the corn kernels from the cobs. Add the corn kernels to a large bowl.
Add all the remaining ingredients, tossing to combine.
You can serve this salad immediately. Or cover and refrigerate it for up to 1 day.