The chopped chicken breast is the most boring part of a Cobb salad.
There. I said it.
I've probably ruffled some feathers with that statement. But I'm not sorry. Instead, I'm fixing this little problem by replacing the traditional chopped chicken breast with thick slabs of pan-fried halloumi cheese. You're welcome.
Is the Cobb salad the original Big F*cking Salad? I think it might be!
So what is halloumi cheese and why do you need it in your life and in your Cobb salads? Halloumi cheese is a semi-firm unripened cheese that's made from goat's and/or sheep's milk. It has a mild salty, tangy flavor. And a very firm texture. Halloumi cheese also has a very high melting point, which means it can withstand pan frying or grilling. In fact, eating halloumi cheese uncooked, while perfectly safe, isn't all that exciting. You really MUST cook it to experience peak deliciousness. When cooked, the outside of the halloumi cheese becomes browned and crisped, while the inside softens ever so slightly. It's a textural dream! And it makes this Halloumi Cobb Salad even more exciting than the original version!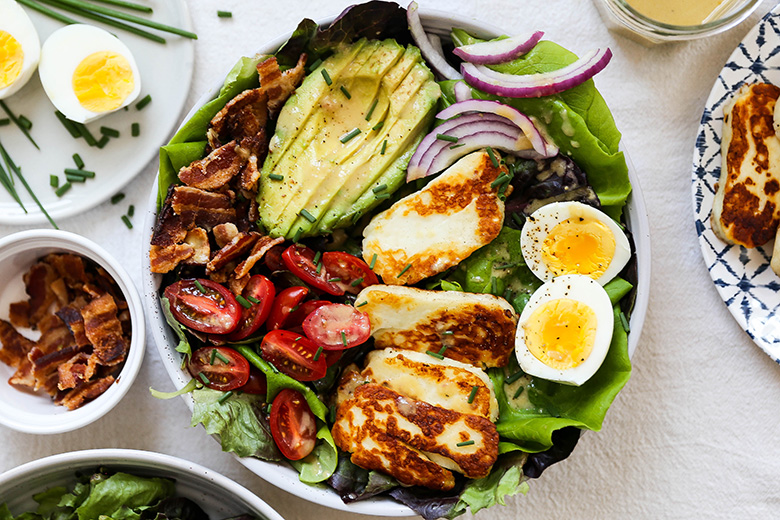 If I've done a good job at convincing you to use halloumi cheese in your Cobb salad, then most of my work is done here. Because the rest of the ingredients in this Halloumi Cobb Salad are more in line with traditional preparations, including: crispy bacon, hard boiled eggs, tomatoes, avocado, chives, lots of leafy greens and a red wine-based vinaigrette. No big surprises here.
The recipe below might seem long at first glance. But that's because I've written out all the instructions for how I like to cook the bacon and the eggs. If these steps are second nature to you, or if you have your tried and true ways of cooking these items (I know people are fussy about their bacon and eggs!), then you'll speed through this part of the recipe. You can also prepare these ingredients in advance for quick salad assemblies throughout the week.
Cheers,
Liz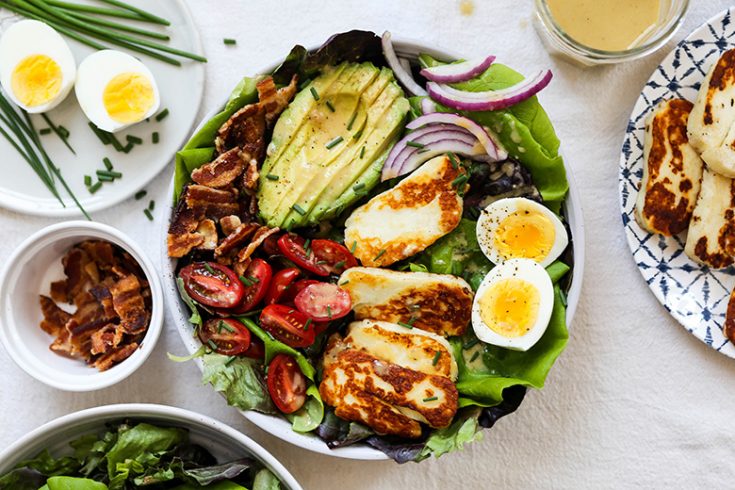 Halloumi Cobb Salad
Yield: Serves 2
Prep Time: 30 minutes
Cook Time: 30 minutes
Total Time: 1 hour
Ingredients
For the Dressing:
1/4 cup extra-virgin olive oil
1/4 cup red wine vinegar
2 tablespoons diced shallot
1 tablespoon Dijon mustard
1/2 tsp. salt
1/4 tsp. black pepper
1/4 tsp. granulated sugar
For the Salad:
4 strips bacon
2 eggs
1 tablespoon extra-virgin olive oil
6 ounces halloumi cheese, sliced into 1/4-inch thick slabs
About 6 cups baby red and green lettuce leaves
1 avocado, pitted, peeled and sliced
1 cup halved cherry tomatoes
1/4 cup sliced red onion
2 tablespoons fresh chives, minced
Instructions
To make the dressing, add all the ingredients to your food processor fitted with the blade attachment. Process until mostly smooth and thickened, about 1 minute. Transfer the dressing to a clean container and refrigerate it until you're ready to use it.
Pre-heat your oven to 425 degrees. Line a rimmed baking sheet with parchment paper and lay the bacon strips out into a single layer. Transfer the baking sheet to your pre-heated oven and bake the bacon strips for 12-15 minutes, checking for doneness at 12 minutes. I prefer my bacon to be more on the crispy side for salads, so I usually continuing cooking the strips for an additional 2-3 minutes. Remove the baking sheet from your oven and carefully transfer the bacon strips to a paper-towel lined plate to drain and cool. Once completely cooled, chop into bite-sized pieces.
Meanwhile, place the eggs in a small saucepan and cover them with about 1-inch of cold water. Place the lid on the saucepan and bring the water to a boil over high heat. Then turn off the heat and let the eggs sit in the hot water for 7-10 minutes, depending on your preferred level of doneness. For reference, the ones in the photographs are cooked 8 minutes. Remove the eggs from the saucepan using a slotted spoon and place them in a bowl of ice water to stop the cooking. Once completely cooled, peel the eggs, discarding the shells, and slice them in half.
To cook the halloumi, warm the olive oil in a medium skillet over medium-high heat. Add the sliced halloumi cheese in a single layer and cook until browned on the first side, about 30-60 seconds. Using a pair of tongs, flip the halloumi cheese over and cook it on the second side. Transfer the halloumi cheese to a clean plate and set aside.
To assemble the salads, divide the lettuce between two bowls and drizzle it with some of the dressing. Then top with the bacon, eggs, halloumi, tomatoes, and red onion, dividing the ingredients evenly between the two bowls. Drizzle with more of the dressing and sprinkle with the chives. Enjoy immediately.