Did you know that I'm a total sucker for foods where you get the eat the bowl? Well, I am.
Maybe it's the cute presentation. Maybe it's because I like knowing I'm getting all the nutrients and benefits from every single part of the food. Or maybe it's because I really hate doing the dishes.
In reality, I think it's probably a combination of all of those things.
So let's talk about delicata squash and why it's the best "bowl" for eating (well, except for a bread bowl because CARBOHYDRATES).
Unlike some of it's other squash relatives, delicata squash has a thin skin that's totally edible. So you can just dig right in (and straight through) when eating one of these babies. No fiddling around with peeling or trying to scrape the flesh out and away the skin. That's a win.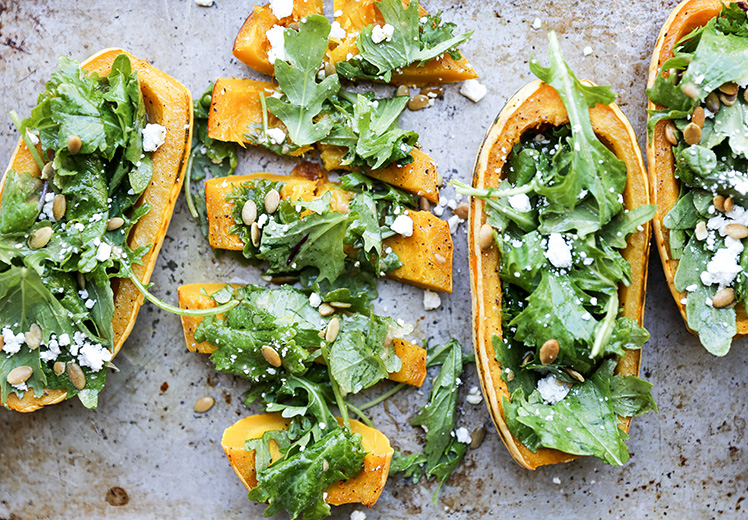 I've stuffed roasted delicata squash with all kinds of things in the past, but I'm particularly excited about this idea of using it as a bowl for some lightly dressed salad greens. There is something fantastic about the contrast of cold, crunchy greens paired with warm, soft squash that is really pleasing to the senses. I think once you try it, you'll be totally hooked.
These Delicata Squash Salad Bowls are great for lunch or a light dinner. And they're also a really fun and attractive side dish for the Holidays.
Cheers,
Liz
Recipe inspired by Gourmande in the Kitchen
Ingredients
For the Salad Bowls
2 delicata squash
2 tablespoons extra-virgin olive oil
1/2 tsp. salt
1/2 tsp. pepper
6 cups salad greens (I used a mix of baby kale, spinach and arugula)
2 tablespoons roasted and salted pumpkin seeds
1/3 cup goat cheese, crumbled

For the Dressing
2 tablespoons extra-virgin olive oil
2 tablespoons fresh lemon juice
1 tablespoon tahini paste
1 tablespoon honey
1/8 tsp. black pepper
Instructions
Pre-heat your oven to 400 degrees. Cut the delicata squash in half lengthwise. Scoop out and discard the seeds. Trim off and discard any stems or woody spots.
Coat all sides of the squash with the olive oil. Place the squash, cut side up, on a rimmed baking sheet. Sprinkle with the salt and pepper. Transfer to your pre-heated oven and roast for about 30 minutes, or until the squash is tender. Remove the squash from the oven and set it aside to cool slightly.
While the squash is roasting, make your salad dressing. Add all of the ingredients to a small bowl and whisk to combine. Set aside.
To serve, gently toss the mixed greens with the salad dressing. Fill each squash bowl with about 1 1/2 cups of the dressed greens. Top with pumpkin seeds and goat cheese crumbles. Serve immediately.
https://www.floatingkitchen.net/delicata-squash-salad-bowls/