It's officially Spring, which means it's time to add asparagus to everything!
Asparagus is a welcome sign that we've made it over the hump of Winter. And after months of sweet potatoes, beets, squash and cauliflower, I'm excited to start putting more fresh, tender greens on my plate. My palate is ready to be cleansed!
This Asparagus Caprese Salad is quick and simple to make. In fact, it's so easy that I'm even tempted to call it a "non-recipe recipe"!
You're going to start by cooking some chopped asparagus (I like thicker asparagus spears for this recipe) in boiling water for 2-3 minutes. Then immediately plunge that asparagus into a bowl of ice water to stop the cooking process. Don't skip this step. The ice water bath keeps the asparagus crisp-tender and helps to preserve its beautiful green color.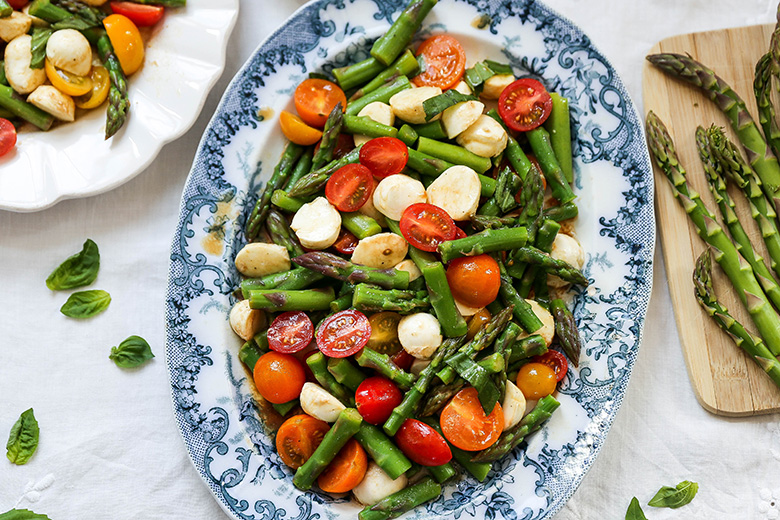 Next, toss the cooked asparagus with some halved cherry tomatoes, fresh mozzarella and a simple homemade balsamic dressing. Then finish the salad with fresh basil. That's it!
If you wanted to do more, you could add some thinly sliced red onion or chopped nuts. But I'm enjoying this very streamlined version. It feels right for Spring.
This Asparagus Caprese Salad is great served right away. Or you can chill it before serving. Try it this year for Easter or Mother's Day!
Cheers,
Liz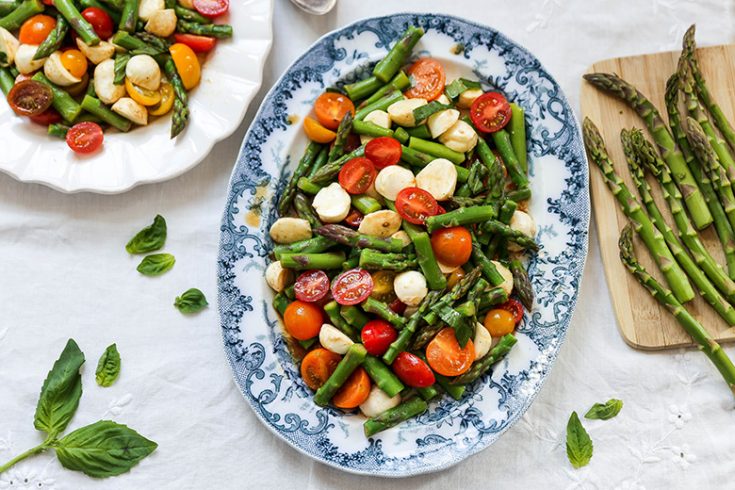 Asparagus Caprese Salad
Yield: Serves about 6
Prep Time: 10 minutes
Cook Time: 5 minutes
Total Time: 15 minutes
Ingredients
For the Dressing:
2 tablespoons extra-virgin olive oil
2 tablespoons balsamic vinegar
1 tsp. maple syrup
1/2 tsp. Dijon mustard
1/4 tsp. salt
1/4 tsp. black pepper
For the Salad:
10 ounces asparagus spears, trimmed and cut into 1-inch pieces (about 3 cups)
8 ounces cherry tomatoes, halved (about 2 cups)
8 ounces fresh ciliegine mozzarella balls, drained and halved
1/4 – 1/2 cup thinly sliced fresh basil leaves
Instructions
Whisk together all the ingredients for the dressing and set aside.
Bring a pot of water to a boil. Add the chopped asparagus and cook for 2-3 minutes. Remove the asparagus from the boiling water using a slotted spoon and immediately add it to a bowl of ice water to stop the cooking process. Drain once cooled.
Add the tomatoes, mozzarella and asparagus to a bowl. Drizzle on the dressing and toss until well coated. Add the basil and toss to combine.
This salad can be served chilled or at room temperature.