Everything has finally started to turn lush and green around here. Which has inspired me to make this super easy Spring Green Minestrone Soup! It's light and "brothy". And it's filled with all the tender green vegetables that I could get my hands on!
This Spring Green Minestrone Soup takes only 30 minutes to prepare. The first step is to get your ditalini pasta cooking in a pot of boiled water. I prefer to cook my pasta for soups separately (as opposed to cooking it in the soup itself), because I find this results in a "cleaner" tasting/less starchy broth.
While the ditalini cooks, you can prepare the rest of the soup. Start by cooking some shallots and celery in olive oil until they are well softened. Stir in the garlic, salt and black pepper. Then add the vegetable broth and bring the soup to a boil. Now you can start adding in the asparagus, sugar snap peas, spinach and basil. These vegetables only need a few minutes to cook. Which means they stay green and vibrant.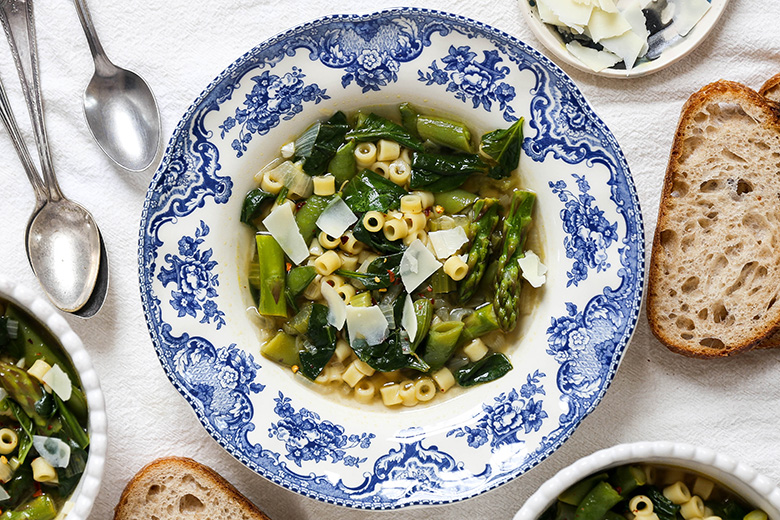 To finish the soup, add some fresh squeezed lemon juice and stir in your cooked and drained ditalini. And that's it! I love this dish for lunch or a light dinner.
This Spring Green Minestrone Soup is vegan. But if you're not vegan/dairy free, I highly recommend serving it with some shaved Parmesan cheese. It's very yummy that way!
Other green things that I think would be awesome in this soup include: sliced zucchini, shelled peas, green beans or any other leafy green (chard, kale, etc.). If you have some frozen pesto in your freezer, you could stir in a spoonful of that, too. This soup is highly adaptable!
Cheers,
Liz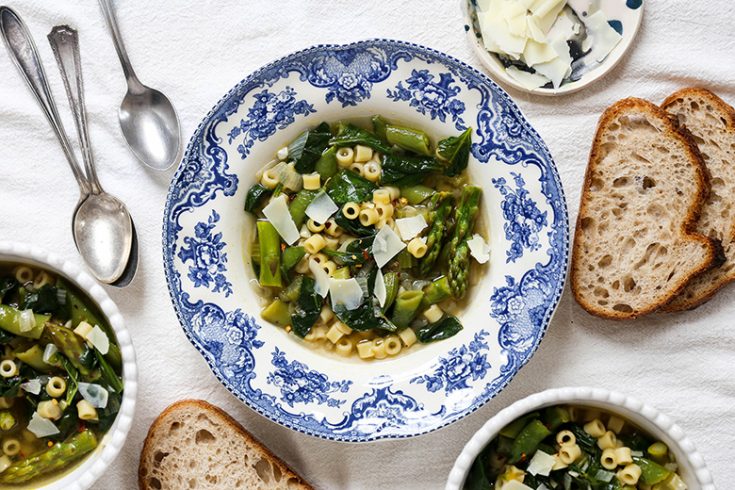 Spring Green Minestrone Soup
Yield: Serves about 4
Prep Time: 5 minutes
Cook Time: 25 minutes
Total Time: 30 minutes
Ingredients
1/2 cup uncooked ditalini pasta
2 tablespoons extra-virgin olive oil
1 cup peeled and sliced shallots
1/2 cup sliced celery
1 garlic clove, peeled and minced
1/2 tsp. salt
1/4 tsp. black pepper
4 cups vegetable broth
1 cup chopped asparagus
1 cup chopped sugar snap peas
2 cups loosely packed fresh spinach leaves
1/2 cup loosely packed fresh basil leaves
2-3 tablespoons fresh squeezed lemon juice
Instructions
Bring a pot of water to a boil and cook the ditalini according to the package instructions until it's all dente (mine was 9 minutes). Drain and set aside.
While the ditalini cooks, make the soup. Warm the olive oil in a heavy bottom pot over medium heat. Add the shallots and celery and stir to coat them in the oil. Cook, stirring occasionally, until well softened, about 5-7 minutes. You don't want the vegetables to take on too much color, so if they are starting to brown, reduce the heat.
Add the garlic, salt and black pepper. Cook for another 2 minutes.
Add the vegetable broth and bring the soup to a boil. Then reduce the heat to maintain a simmer. Cook for 5 minutes. Stir in the asparagus and snap peas and cook for 5 minutes more. Then stir in the spinach and basil and cook until wilted, about 2-3 minutes.
Stir in the lemon juice and drained ditalini and cook until the ditalini is warmed through. Taste and add additional salt and black pepper, if necessary.
Leftovers can be stored in an airtight container in your refrigerator for 2-3 days.