I always associate Springtime with brunch. Everyone seems to come out of hibernation with a new sense of purpose: to have brunch. Easter, Mother's Day, graduations, wedding showers, etc. These are all brunch heavy events.
So if you're currently making your way around the brunch circuit, then these pretty pink Fresh Strawberry Scones with Strawberry Glaze might be just the thing you need! These tender, moist scones are filled with chopped fresh strawberries and drizzled with a glaze made from fresh strawberries as well. So every bite of these scones is bursting with strawberry flavor!
Scones are kind of the ideal pastry for hosting brunch, because they can easily be made the morning of your gathering. The dough comes together in less than 10 minutes. And the scones bake up in just a little over 20 minutes. There is a 15 minute chill time immediately before baking the scones that you definitely should not skip out on. If you do, you run the risk of ending up with misshapen/flat/sad scones. But I always use that time to tidy up my kitchen mess (or myself!), so it doesn't feel like any time is "wasted" at all!
If you've made any of my scone recipes before, you might have noticed that I often use a food processor to incorporate the butter and wet ingredients into the dry ingredients. For these Fresh Strawberry Scones with Strawberry Glaze, I've opted to do those steps by hand in a large bowl. But you could certainly use your food processor for this recipe, if desired. They will come out great either way! You can check my posts here and here, for reference on that method.
If you try my Fresh Strawberry Scones with Strawberry Glaze this Spring or Summer, snap a picture and show me how pretty they turned out!
Cheers,
Liz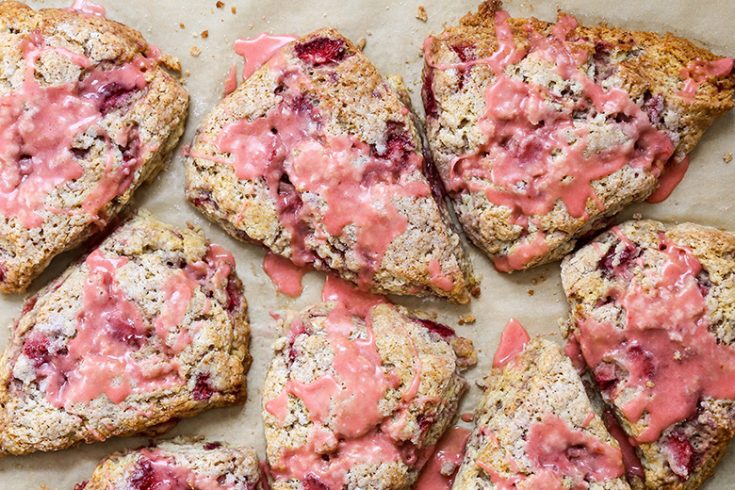 Fresh Strawberry Scones with Strawberry Glaze
Yield: Makes 8 scones
Prep Time: 10 minutes
Cook Time: 25 minutes
Additional Time: 15 minutes
Total Time: 50 minutes
Ingredients
For the Scones:
2 cups all-purpose flour, plus more for dusting your hands and work surface
1/2 cup, plus 1 tablespoon, granulated sugar, divided
2 tsp. baking powder
1/2 tsp. baking soda
1/2 tsp. salt
1/2 cup (8 tablespoons) unsalted butter, cut into small pieces and chilled
1/2 cup, plus 1 tablespoon, heavy cream, divided
1 egg
1 tsp. vanilla extract
1 cup chopped fresh strawberries
For the Strawberry Glaze:
1/2 cup chopped fresh strawberries
1 tsp. granulated sugar
1 tsp. water
1/2 cup powdered sugar
Instructions
In a large bowl stir together the flour, 1/2 cup of the granulated sugar, baking powder, baking soda and salt. Add the cold butter and use your hands to work it into the dry ingredients by tossing and squeezing it between your fingers until the butter pieces are approximately pea-sized.
In a second bowl, whisk together 1/2 cup of the heavy cream, egg and vanilla extract. Pour this over the dry ingredients and use a wooden spoon to stir everything together until the ingredients are about 50 percent incorporated. Then add the chopped strawberries and stir until the ingredients are well combined and most of the dry ingredients are moistened. The dough will be somewhat tacky, but shouldn't be overly wet. If it is, you can incorporate another 1-2 tablespoons of flour into the dough.
Dump the dough out onto a well-floured surface. Dust your hands with flour and use them to bring the dough together, shaping and flattening it into a round disk that is approximately 1-inch thick. Cut the disk into eight wedges using a knife.
Line a large baking sheet with parchment paper. Transfer the wedges to the baking sheet, spacing them about 2-inches apart. Slide the baking sheet into your refrigerator for 15 minutes to chill the wedges.
Meanwhile, pre-heat your oven to 400 degrees.
Remove the baking sheet from your refrigerator and brush the tops of the wedges with the remaining tablespoon of heavy cream and sprinkle with the remaining tablespoon of granulated sugar. Transfer to your pre-heated oven and bake for 21-23 minutes, or until golden brown around the edges. Remove the baking sheet from your oven and allow the scones to rest for 10 minutes before transferring them to a wire rack to finish cooling.
While the scones are cooling, make the glaze. In a small saucepan over medium heat, combine the chopped strawberries, granulated sugar and water. Simmer, stirring occasionally, until the strawberries are very soft and have released their juices, about 5 minutes. Remove from the heat and set aside to cool. Once cooled, strain the strawberries through a fine mesh strainer into a clean bowl, collecting the juices. You can use the back of a spoon to help press out as much of the juice as possible. You want approximately 2 tablespoons of juice.
In a small bowl, stir together the powdered sugar and strawberry juice until smooth. Spoon over the cooled scones.
These scones are best enjoyed on the day of baking. Leftovers can be stored in an airtight container at room temperature for 1 day.