If you're in the mood to be encased in all the cozy Fall vibes, then get ready to bake up a couple loaves of my Chai Spiced Apple and Walnut Bread. Because your house will smell A-MAZING. And your taste buds will be very happy, too!
Quick breads have always been one of my favorite types of baked goods to make. They are, as their name implies, relatively quick to prepare from start to finish. But I also love how customizable and forgiving they can be. Over the years, I've been able to whip up many different versions based off a relatively standard formula. Which means I can have whatever flavor combinations my little heart desires at somewhat of a moment's notice!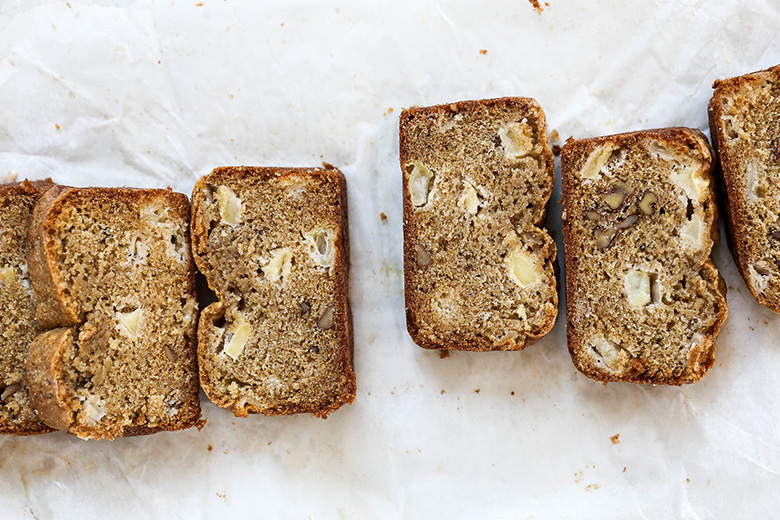 Since I'm craving all things apple right now (I'm still not feeling ready to embrace pumpkin), I decided that an apple quick bread was a much needed recipe to have here on the blog. To make sure I packed in as much apple flavor as possible, I used a combination of grated apple and chopped apple in the batter. So not only do you get apple in every single bite of this bread, you also get lots of big, distinct chunks of apple that you can really sink your teeth into.
I also took some inspiration from these apple scones that I made a couple years ago and incorporated some traditional chai spices into the recipe. They make this apple quick bread feel extra warm and comforting. And they're the reason that your house will smell so good as you bake this.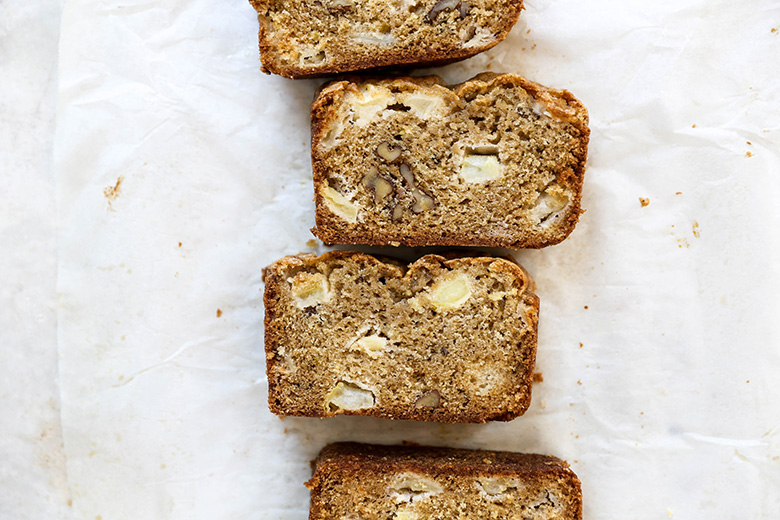 This recipe does make two loaves. You can tightly wrap the second loaf after it's fully cooled and stash it in your freezer for a later time. Or you can give one away to someone who needs a little pick-me-up. I've found that the gift of freshly baked bread is always welcome!
A thick slice of this Chai Spiced Apple and Walnut Bread is just about the perfect thing to enjoy with a cup of tea or coffee on a crisp Fall day!
Cheers,
Liz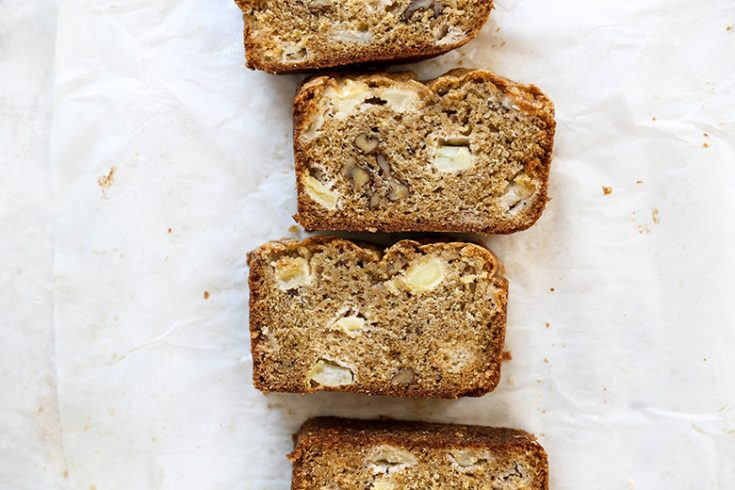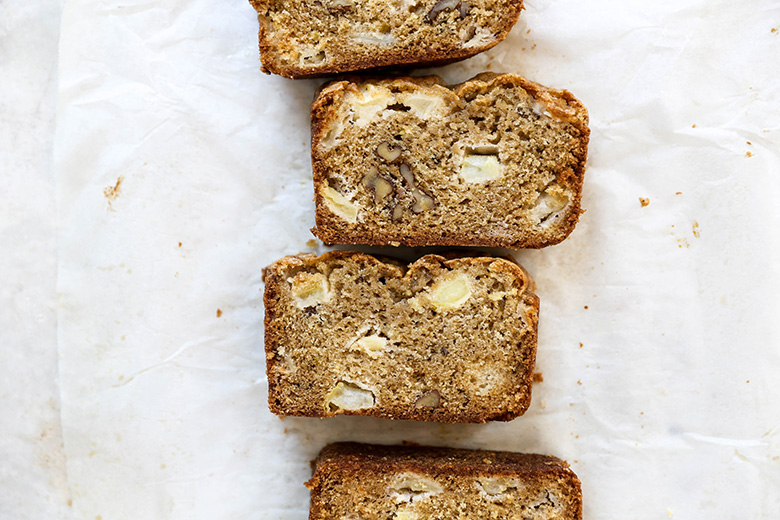 Chai Spiced Apple and Walnut Bread
Yield: Makes 2 loaves
Prep Time: 15 minutes
Cook Time: 55 minutes
Total Time: 1 hour 10 minutes
Ingredients
For the Chai Spice Mix:
1 1/2 tsp. ground cinnamon
1 1/2 tsp. ground ginger
1/2 tsp. ground cloves
1/2 tsp. ground cardamom
1/2 tsp. ground nutmeg
1/4 tsp. ground black pepper
For the Bread:
3 eggs
1 3/4 cups granulated sugar
1 cup vegetable oil
1 cup peeled and grated apple
1 tsp. vanilla extract
3 cups all-purpose flour
1 tsp. salt
1 tsp. baking soda
1 tsp. baking powder
3-4 tsp. chai spice mix, depending on your taste preferences
2 cups peeled and chopped apples
1 cup chopped walnuts
Instructions
Pre-heat your oven to 325 degrees. Line two 8 X 4-inch loaf pans with parchment paper, leaving about an inch hanging over the sides, and spray lightly with non-stick cooking spray. Set aside.
In a small bowl, stir together all the ingredients for the chai spice mix. Set aside.
In the bowl of your stand mixer fitted with the paddle attachment, lightly beat the eggs. Then add in the sugar, vegetable oil, grated apple and vanilla extract, beating until well combined.
In a separate bowl, stir together the flour, salt, baking soda, baking powder and the chai spice mix. I recommend using three teaspoons of the chai spice mix for a subtle spiciness. Or you can go up to four teaspoons for more flavor. Then slowly add these dry ingredients to the bowl of your stand mixer, beating on low speed, until they are fully incorporated into the wet ingredients. Stir in the chopped apples and walnuts.
Divide the batter evenly between your two prepared loaf pans. Transfer the loaf pans to your pre-heated oven and bake the bread loaves for 55 minutes, or until a toothpick inserted into the middle comes out mostly clean. Remove the loaf pans from your oven and place them on a wire rack to cool for 10 minutes. Then using the overhanging parchment paper, lift the bread loaves out from their pans and place them on a wire rack to continue cooling. One cooled, slice and enjoy.
Leftovers can be wrapped tightly in plastic wrap and kept at room temperature for 2-3 days. You can also freeze the wrapped loaves for longer storage.