I'm so glad it's March. Because February was like a circus. And not like a nice, family-friendly trip to the circus. No. This circus was filled with evil clowns, rusty broken down Ferris wheels and enough cotton candy to make you want to throw up. Everyone left crying and screaming.
So today, I'm celebrating March and the fresh, clean feeling that comes with the start of a new month. And since March is all about St. Patricks day, I figured we should bake up a little St. Patrick's Day themed bread.
What makes this bread St. Patrick's day themed? How about the 12 ounces of Guinness beer poured straight into the batter. Giddy up.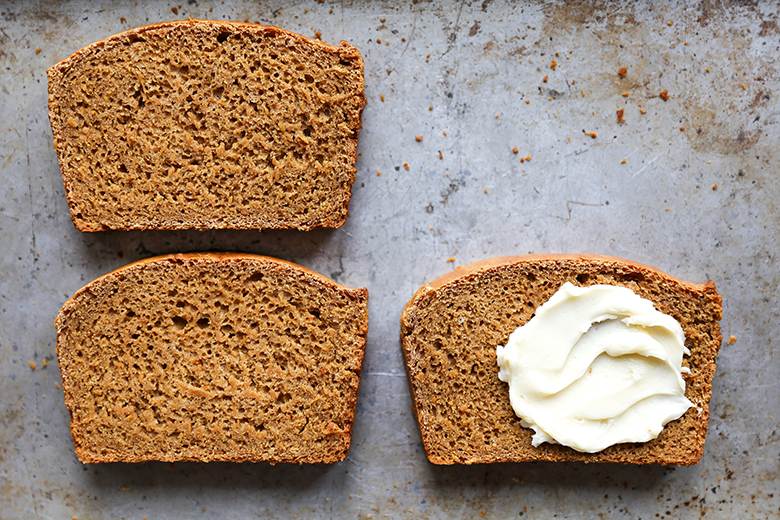 The result of your baking endeavors is a dark, fully risen bread that tastes of roasted barley and is hardly sweet at all. Which is why we are going to slather it with some homemade maple butter. This is breakfast heaven. And not to mention, a socially acceptable way to enjoy beer before noon.
The ingredient list is short and you only need one bowl to mix the batter. So you really have no excuses not to make this Guinness Molasses Bread with Maple Butter. Go do it!
Cheers,
Liz
Recipe barely adapted from Hank Shaw via Simply Recipes
Ingredients
For the Bread
2 3/4 cups all-purpose flour
1/4 cup cornstarch
1/2 cup sugar
4 1/2 tsp. baking powder
1 tsp. salt
1/3 cup molasses (I used blackstrap molasses)
12 ounces Guinness stout beer, cold

For the Maple Butter
1/2 cup (8 tablespoons) unsalted butter, softened at room temperature
2 tablespoons maple syrup
1/4 tsp. salt
Instructions
Pre-heat your oven to 350 degrees. Generously grease a 9 X 5-inch loaf pan. Set aside.
In a large bowl, whisk together the flour, corn starch, sugar, baking powder and salt. Slowly pour the Guinness into the dry ingredients. Using a wooden spoon, start incorporating the beer into the dry ingredients and when you are about halfway done, add the molasses. Finish stirring until everything is well combined, being careful not to over work the batter (you want to preserve as much of the carbonation from the beer as possible).
Pour the batter into your prepared loaf pan. Transfer to your pre-heated oven and bake for 45-50 minutes, or until a toothpick inserted into the center comes out clean. Remove the bread from the oven and allow it to cool in it's loaf pan for about 10 minutes before turning it out onto a wire rack to finish cooling. Allow the bread to cool completely before slicing. Once cooled, the bread can be wrapped and stored at room temperature for 2-3 days.
Meanwhile, make the maple butter. Using a hand mixer, mix the butter with the maple syrup and salt until well combined and smooth. Transfer the maple butter to a small container. Store at room temperature for 1-2 days, or in your refrigerator for 1-2 weeks.
Notes
1. You can replace the maple syrup with honey, if you prefer.
https://www.floatingkitchen.net/guinness-molasses-bread-with-maple-butter/