This post was originally published here May 26, 2013. I've since adjust the recipe slightly. And I've updated the text and photographs to reflect those changes.
Who else is excited for brussels sprouts!?!?
I just adore brussels sprouts. I could eat them with every single meal this time of year. My favorite way to prepare them is by roasting them at high heat. But I also sometimes like to shred them and turn them into a salad.
No matter how they're prepared, you can guarantee I'm going to devour them.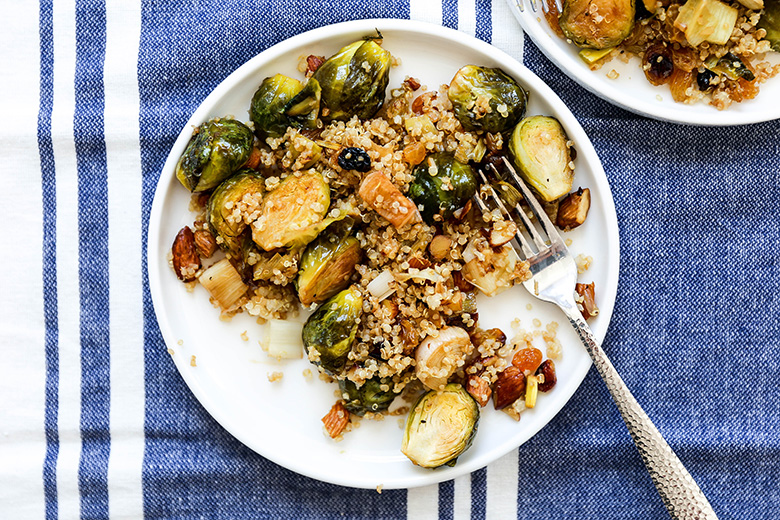 These Roasted Brussels Sprouts and Leeks with Quinoa is a side dish I often make for Thanksgiving. I like that this recipe is both gluten free and vegan, so it can be enjoyed by a lot of the people sitting around my table. And it earns extra bonus points because it's just as yummy eaten warm as it is eaten at room temperature. Which means you don't have to be a total warrior ninja trying to perfectly time every single side dish that comes out of your oven on Thanksgiving. You can let this one sit for a beat without any disastrous side effects.
I mentioned this in my blog post two weeks ago, but please make sure to wash your leeks very thoroughly before using them. They tend to be sandy. And we definitely do not want any sand in our side dishes!
Need this recipe to feed a few more people? Try stirring in an additional cup of quinoa at the end (if you do, you might also want to drizzle in a little extra olive oil and balsamic vinegar) to help stretch it out. I've done this a couple of times and it works out great!
Cheers,
Liz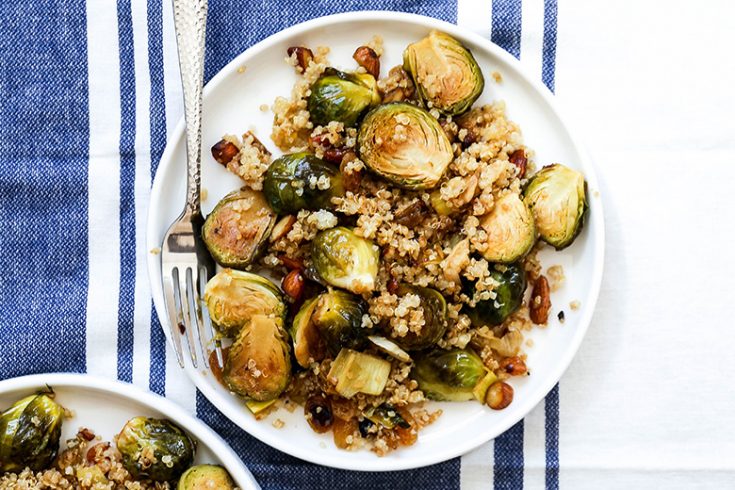 Roasted Brussels Sprouts and Leeks with Quinoa
Yield: Serves 4
Prep Time: 10 minutes
Cook Time: 20 minutes
Total Time: 30 minutes
Ingredients
12 ounces brussels sprouts, trimmed and halved
1 leek, white and light green bottom portion thinly sliced
4 garlic cloves, peeled and minced
4 tablespoons extra-virgin olive oil, divided
1/2 tsp. salt
1/4 tsp. black pepper
1/3 cup raw almonds, chopped
1/3 cup golden raisins
3 tablespoons balsamic vinegar, divided
1 tablespoon maple syrup
1 cup cooked quinoa
Instructions
Pre-heat your oven to 425 degrees.
Add the brussels sprouts, sliced leek and garlic to a 9 X 13-inch baking pan. Drizzle with 3 tablespoons of the olive oil and sprinkle with the salt and black pepper, stirring to coat the vegetables in the olive oil. Transfer the baking pan to your pre-heated oven and roast for 10 minutes.
Remove the baking pan from your oven and add the almonds, golden raisins, 2 tablespoons of the balsamic vinegar and the maple syrup. Stir to coat. Then return the baking pan to your oven and roast everything for an additional 10 minutes.
Remove the baking pan from your oven and while it's still warm, stir in the cooked quinoa and the remaining tablespoon of olive oil and balsamic vinegar.
This dish can be served immediately while it's still warm. Or at room temperature.
Leftovers can be stored in an airtight container in your refrigerator for 2-3 days.