This post was originally published here October 8, 2014. I've adjusted the recipe slightly. And I've updated the text and photographs to reflect those changes.
I know you've all been anxiously awaiting my first Big F*cking Salad recipe post of the year. And here she is!
Phew. We can all breathe a sigh of relief now.
If one of your goals is to incorporate a greater variety of fruits and vegetables into your life, then I humbly suggest you start making a BFS on the regular. Daily if you can. It's been a life changing maneuver for me. Which I have to admit surprised me. Because I was already a person who was eating a lot of salads (or so I thought). But now, I find that I'm enjoying them even more!
I also really like saying BFS.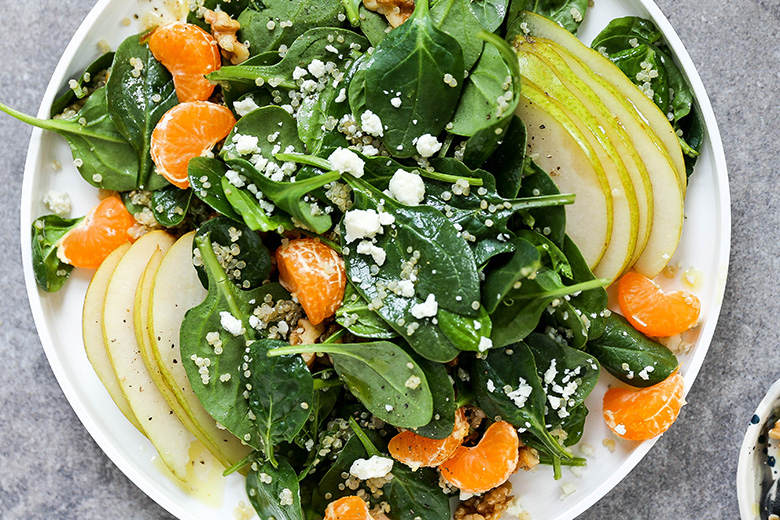 This Spinach and Quinoa Salad with Pears and Oranges is easy to assemble for quick lunches and dinners. The only step that takes some planning is making sure you have the cooked and cooled quinoa ready to go. But I think once you start getting more into the routine of a daily BFS, you'll find yourself preparing a large batch of quinoa (or whatever other grain(s) you like) at the start of your week to keep on hand in your refrigerator. This is what I do. And it definitely makes things very streamlined and simple. The less barriers between me and my BFS, the better!
Baby spinach makes up the bulk of this salad. It's a green I find that I enjoy eating in the cooler months, because it has a bit more of a "chew" factor than some of the more tender mixed baby greens do. And that additional heartiness helps to keep me satisfied. This salad also has sliced pear, mandarin orange segments, chopped walnuts and crumbled blue or gorgonzola cheese.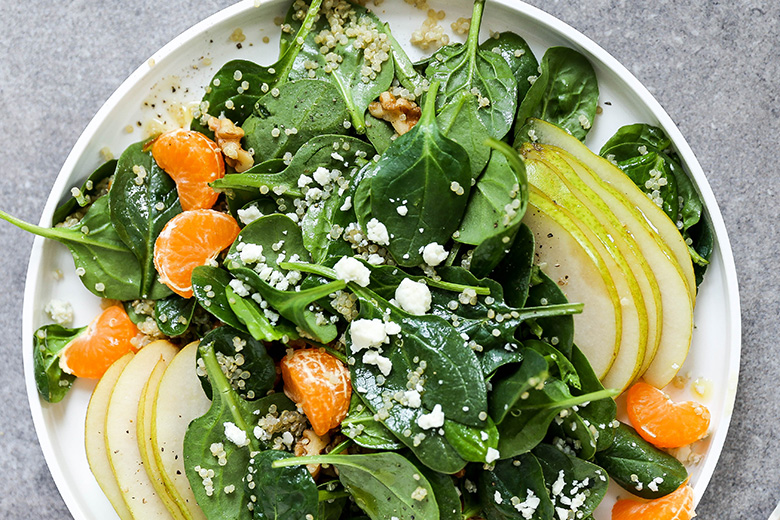 But one of my favorite parts about this Spinach and Quinoa Salad with Pears and Oranges is the homemade dressing. It has a couple tablespoons of orange marmalade mixed into it, so it's sweet and delicious. And it helps to give each bite of this salad some citrusy goodness! If you're really going to be serious about your BFS journey, then I highly recommend getting into a groove of making your own salad dressings. They don't have to be complicated. Just a few pantry staple ingredients is all you usually need. And it's typically a breeze to double or triple them. I store mine in mason jars in my refrigerator, so I can just shake them up and pour them on whenever a BFS craving strikes!
Cheers,
Liz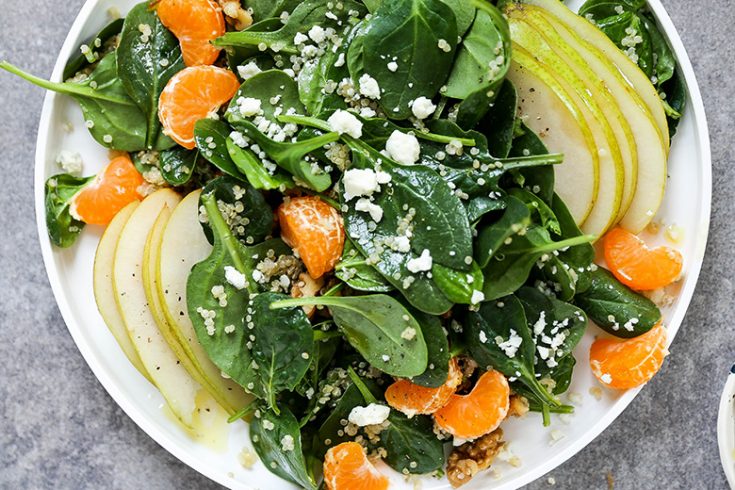 Spinach and Quinoa Salad with Pears and Oranges
Yield: Serves 2-4
Prep Time: 10 minutes
Total Time: 10 minutes
Ingredients
For the Dressing:
3 tablespoons extra-virgin olive oil
3 tablespoons apple cider vinegar
2 tablespoons orange marmalade
1/4 tsp. salt
1/4 tsp. pepper
For the Salad:
4 cups baby spinach
1 cup cooked quinoa, cooled
1 pear, cored and sliced
2 mandarin oranges, peeled and segmented
1/2 cup walnuts, roughly chopped
1/2 cup crumbled blue cheese or gorgonzola cheese
Instructions
Add all the ingredients for the dressing to a small bowl and stir until well combined. Set aside.
Add the spinach and quinoa to a large bowl. Drizzle with a couple tablespoons of the dressing and toss until well coated. Then add the sliced pear, orange segments, walnuts and crumbled cheese. Toss gently to combine, drizzling in additional dressing if desired. Serve immediately.