This post was originally published here February 25, 2015. I've adjusted the recipe slightly. And I've updated the text and photographs to reflect those changes. This vegan, gluten-free granola is great for breakfast or snacking. I hope you try it out!
These first few days of January are some of my favorite days of the entire year. After two months of Holiday preparations, heavy work load and general overindulgence, it's nice to bask in the stillness and quiet of the new year.
One thing I always do this time of year is clean and re-organize my kitchen pantry. It's not based on any kind of resolution, per se. Just something that I like to consistently do. As you can imagine, I have a lot of food around here. And it can get a little overwhelming and unruly!
Now, I certainly don't consider this Vegan Cashew Granola with Banana Chips, Cranberries and Cacao Nibs to be an "afterthought" recipe. But I'd be lying if I didn't admit that it's conception was indeed brought on by a lot of "what should I do with this half eaten/partially torn bag/questionable jar of XYZ".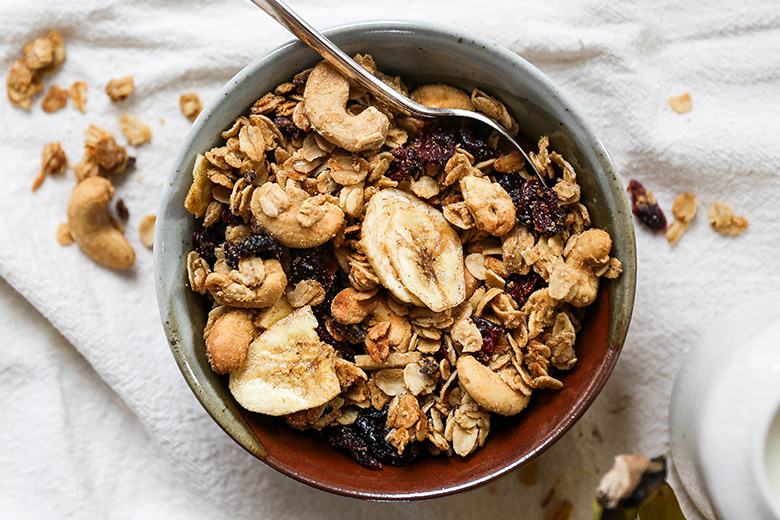 So it's a little of this. And a little of that. But you know, that's exactly how I like my granola to be anyways. A few nuts, some dried fruit and a little bit of chocolate (of course!). It's hard to pick a bad combination.
I like using this Vegan Cashew Granola with Banana Chips, Cranberries and Cacao Nibs to top my yogurt. And it's good with milk, too. If you're looking for more of a "snacking granola" that you can eat straight out of the jar, then I highly recommend trying my Super Chunky Maple Pecan Quinoa Granola. It's got big pieces that you can really grab on to!
Cheers,
Liz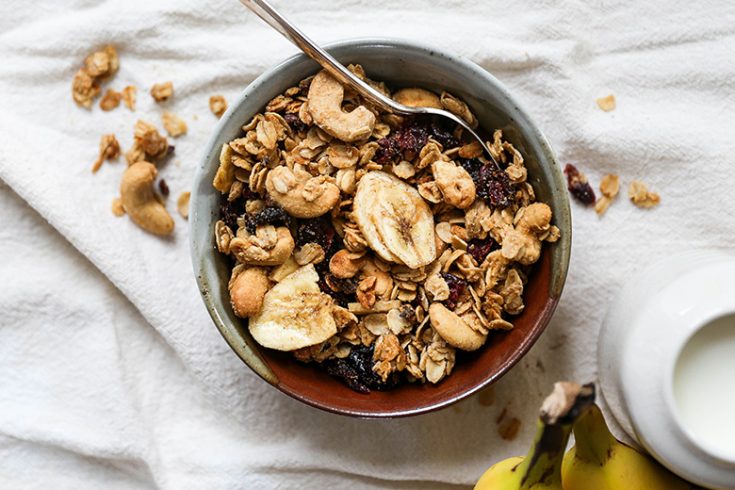 Vegan Cashew Granola with Banana Chips, Cranberries and Cacao Nibs
Yield: Makes about 6 cups
Prep Time: 5 minutes
Cook Time: 25 minutes
Total Time: 30 minutes
Ingredients
4 cups old-fashioned oats
1 cup unsalted cashews
1/4 cup cacao nibs
1/4 tsp. salt
1/2 cup cashew butter
1/3 cup maple syrup
1/3 cup coconut oil, melted
1 cup banana chips
1/2 cup dried cranberries
Instructions
Pre-heat your oven to 350 degrees. Line a large rimmed baking sheet with parchment paper and set aside.
In a large bowl, stir together the oats, cashews, cacao nibs and salt. Set aside.
In a medium saucepan over low-medium heat, stir together the cashew butter, maple syrup and coconut oil. Continue stirring until the mixture is smooth and well combined. Then remove the saucepan from the heat and pour this liquid mixture over the dry ingredients. Stir until the dry ingredients are well coated and moistened.
Spread the mixture out onto your prepared baking sheet. Transfer to your pre-heated oven and bake for 20-25 minutes, stirring once halfway through. Remove the baking sheet from your oven and let the granola cool to room temperature. Once cooled, stir in the banana chips and dried cranberries.
The granola can be stored in an airtight container at room temperature for up to two weeks.