The internet has officially morphed into one gigantic Christmas cookie.
Not that I'm really complaining. Because I'm never one to turn down a Christmas cookie. But I've got that nagging feeling that I could really use a heavy dose of fruits and vegetables right about now.
Is anybody else feeling this way? If you're nodding your head in agreement, then you need to get up and go make yourself this Avocado Toast with Persimmon, Pomegranate and Fennel. Which by the way, is as equally colorful and festive as any Christmas cookie that I've ever seen. I'm officially proclaiming pomegranate seeds to be nature's sprinkles!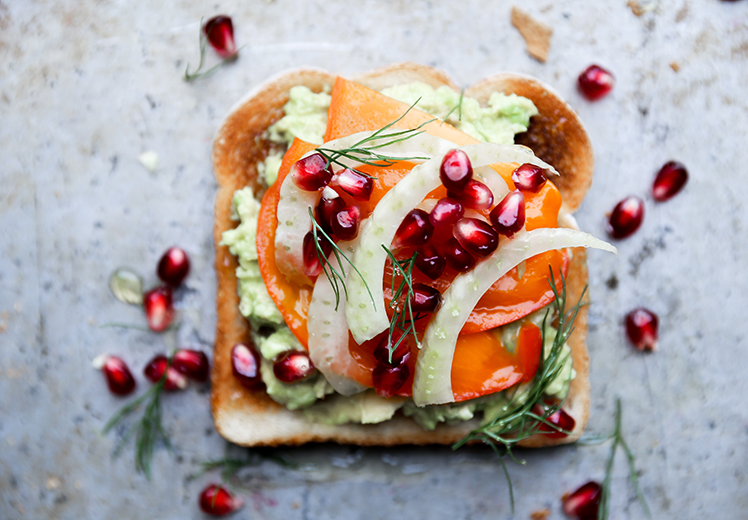 This toast is one of those "non-recipe" recipes. Which are sometimes the best kind of recipes, in my personal opinion. I started with a simple avocado and goat cheese mash. And then topped it with some of my favorite winter staples: persimmon, pomegranate seeds and thinly sliced fennel. A drizzle of honey is the perfect finishing touch to sweetened the deal. As well as a few of the fennel fronds (don't toss 'em!). The results are a combination of flavors and textures so intriguing, that I deemed it worthy of sharing here. Even though it's technically a "non-recipe".
If you're new to shopping for and eating persimmons, you might want to do a little reading before you embark on your journey. There are two types of persimmon fruit: astringent and non-astringent. Both are edible, but the astringent persimmons need to be VERY ripe before consuming or else you'll get an unpleasant furry sensation in your mouth from the extremely high levels of tannins. I had this experience several years ago when I encountered an astringent persimmon for the first time and let's just say, it isn't something I'd like to repeat anytime soon.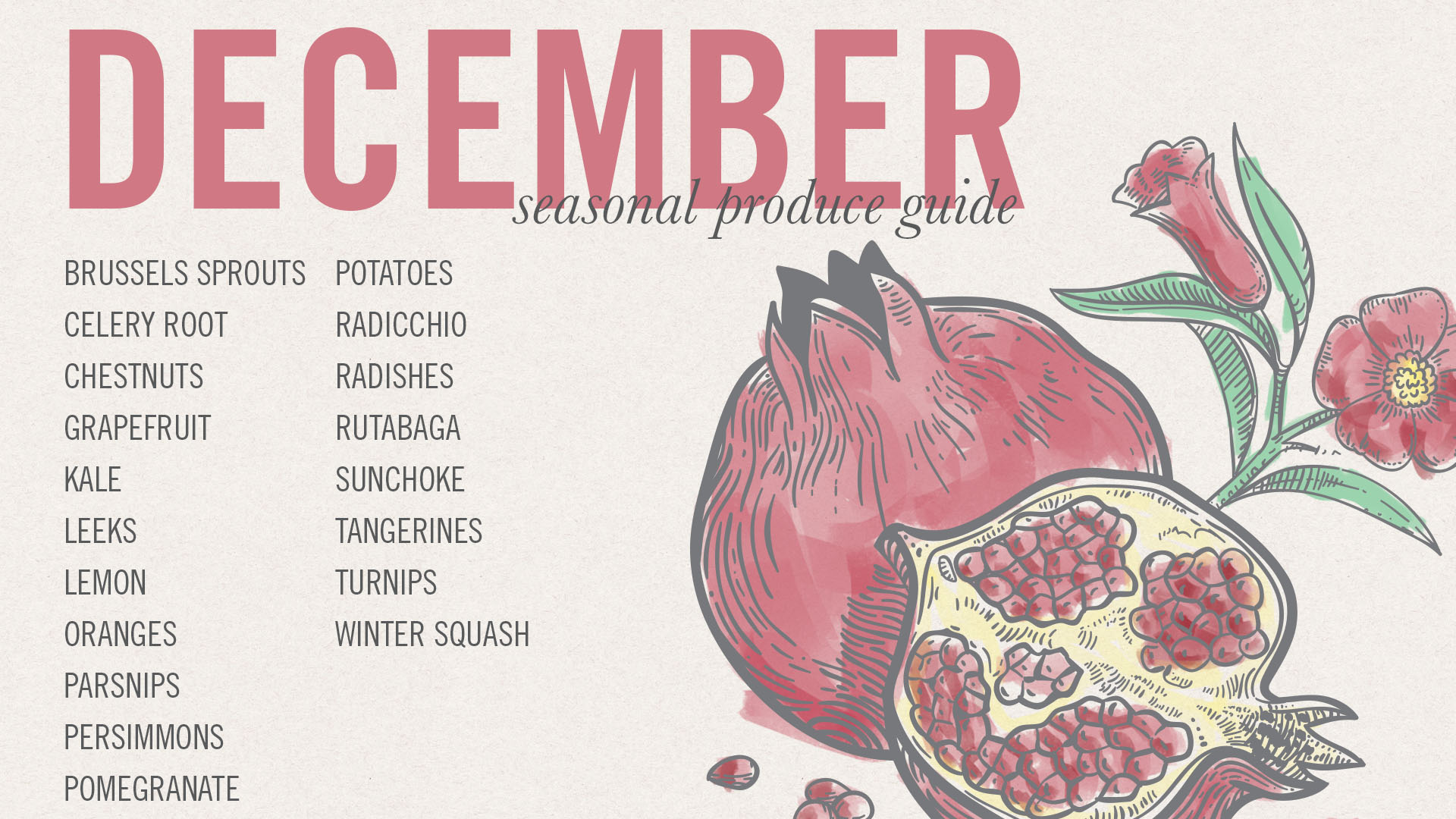 In addition to persimmons and pomegranates, there are a lot of other delicious fruits and vegetables to be celebrated during the month of December. Take a peak at Becky's seasonal produce guide and graphic, as well as the delectable links listed below from some of my blogging friends, and get inspired! December is so much more than just cookies!
Cheers,
Ingredients
1 avocado
1 tablespoon goat cheese
1/2 tsp. lime juice
1/4 tsp. salt
2 pieces of bread, toasted
Thinly sliced persimmon
Thinly sliced fennel bulb, plus a few fennel fronds
2 tablespoons pomegranate seeds
2 tsp. honey
Instructions
Cut the avocado in half. Remove and discard the seed. Scoop the flesh out into a bowl. Add the goat cheese, lime juice and salt. Lightly mash with a fork.
Spread the mashed avocado out onto the toast, dividing it evenly between the two slices. Top with a few slices of persimmon and fennel. Then sprinkle with the fennel fronds and pomegranate seeds. Drizzle with honey. Serve and enjoy.
https://www.floatingkitchen.net/avocado-toast-with-persimmon-pomegranate-and-fennel/
December Eat Seasonal Recipes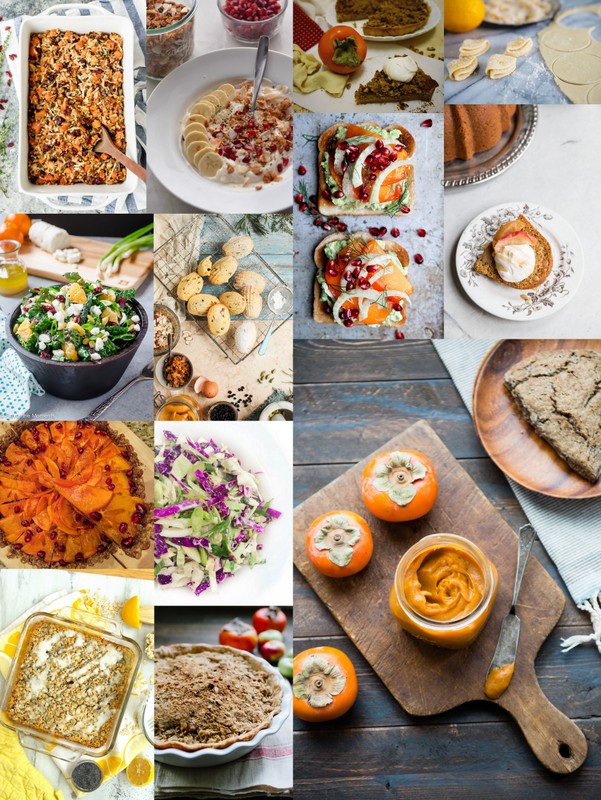 Chicken and Wild Rice Casserole with Butternut Squash and Cranberries by Well Plated
Pomegranate Yogurt Bowls by Mountain Mama Cooks
Persimmon Pumpkin Tart with Streusel Top by Suitcase Foodist
Meyer Lemon Cottage Cheese Sugar Cookies by Food for My Family
Kale Salad with Goat Cheese, Cranberries and Orange by Flavor the Moments
Christmas Stollen Madeleines with Preserved Lemon by Simple Bites
Butternut Squash Cake with Roasted Apples and Spiced Cream by Vintage Mixer
Persimmon Tart with Pecan Crust by Letty's Kitchen
Cabbage Slaw with Honey Lime Yogurt Vinaigrette by The Lemon Bowl
Roasted Persimmon Butter by Cafe Johnsonia
Lemon Poppyseed Baked Oatmeal by Project Domestication
Persimmon Apple Crumb Pie by Kitchen Confidante
Asian Orange Glazed Chicken by Foodie Crush