Let's all stop and admire the cheesy goodness that is this Easy Baked Gnocchi with Tomatoes and Mozzarella.
Seriously. Will you just LOOK at that spectacular layer of ooey, gooey, melty deliciousness. I can barely even handle it.
Now, I'm no stranger to eating outrageously cheesy foods. But for some reason, they don't make an appearance here on the blog very often. Maybe it's because I try to keep the recipes I share here a bit healthier. Or maybe it's because cheese is REALLY HARD to photograph (add that to the list of things I didn't know before starting this job).
Whatever the reason, this time I managed to successfully break the cheese barrier. So here I am with this simple, comforting and satisfying (and did I mention cheesy?) vegetarian dinner.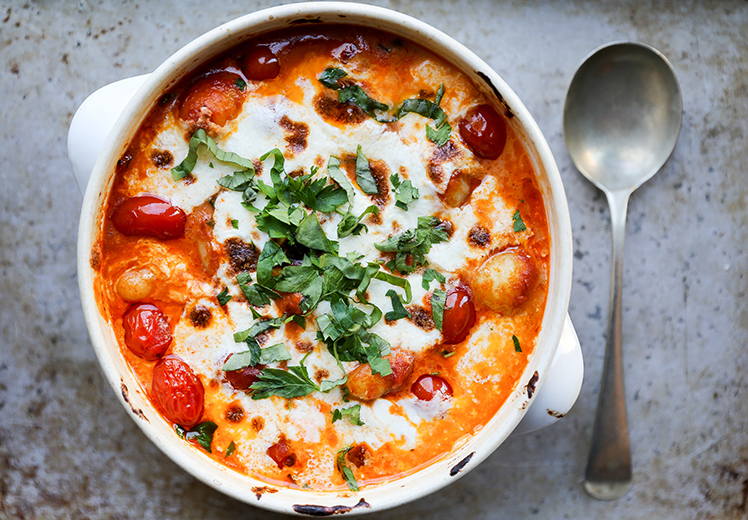 This Easy Baked Gnocchi with Tomatoes and Mozzarella is perfect for a weeknight meal, which is why I'm sharing it today as part of our monthly 30 Minute Thursday series. To get it made in under 30 minutes, you'll want to work on creating the sauce while the gnocchi is cooking. And then once everything is baking in the oven, you'll have time to toss together a salad or sauté up a side vegetable. It's a total low stress situation.
Make sure to check out the links below to see what my blogging friends are bringing to the table this month for #30MinuteThursday. And if you make any of the dishes from our series, be sure to give us a shout out on social media!
Cheers,
Liz
Recipe adapted from What's Gaby Cooking
Ingredients
1 lb package store-bought gnocchi
2 tablespoons extra-virgin olive oil
1/2 cup thinly sliced shallots
4 garlic cloves, peeled and minced
1 tablespoon tomato paste
1/2 tsp. salt
1/2 tsp. black pepper
1/4 tsp. ground nutmeg
2 cups fresh cherry tomatoes
1 (15-ounce) can tomato sauce (I used no salt added tomato sauce)
2 tablespoons balsamic vinegar
1/4 cup fresh basil, chopped
1/4 cup fresh parsley, chopped
1 tablespoon heavy cream
8 ounces fresh mozzarella cheese, torn into pieces
Instructions
Pre-heat your oven to 400 degrees. Spray an oven safe dish (I used an 8-inch round baking dish) with non-stick cooking spray and set aside.
Bring a large pot of salted water to a boil. While the water is coming to a boil, make the sauce. Add the gnocchi and cook according to the package instructions. Drain and set aside.
Meanwhile, heat the olive oil in a large saucepan or skillet over medium-high heat. Add the sliced shallots and cook, stirring frequently, for about 3 minutes. Add the garlic and cook for an additional 1 minute. Stir in the tomato paste, salt, black pepper and nutmeg, cooking for about 30 seconds more. Add the cherry tomatoes, tomato sauce and balsamic vinegar. Bring the sauce to a simmer and cook, stirring occasionally, for about 5-7 minutes. Remove the sauce from the heat. Stir in the fresh herbs, heavy cream and the cooked gnocchi.
Transfer about half of the gnocchi/tomato mixture to your prepared oven safe dish. Top with about half of the torn mozzarella cheese. Then add the remaining gnocchi/tomato mixture and top with the remaining mozzarella cheese. Transfer the dish to your pre-heated oven and cook for 10 minutes. If you want to brown the cheese, you can place the dish under your broiler for 1-2 minutes.
Remove the baked gnocchi from your oven and allow it to rest for 5 minutes before serving. Top with additional fresh herbs, if desired.
Leftovers can be stored in an airtight container in your refrigerator for 2-3 days.
https://www.floatingkitchen.net/easy-baked-gnocchi-with-tomatoes-and-mozzarella/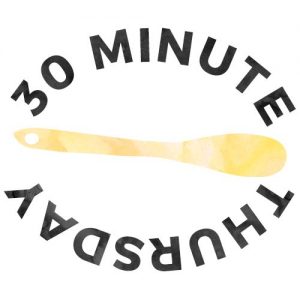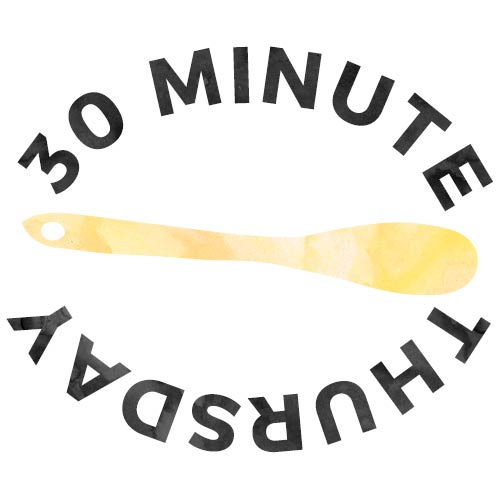 One Pot Lemon Thyme Chicken and Rice from Bake.Eat.Repeat.
Shrimp Scampi Zoodles from Flying on Jess Fuel
Chicken Parmesan Meatballs with Easy Tomato Sauce from Kristine's Kitchen
Creamy Lemon Spinach One-Pot Pasta from My Sequined Life
One Pan Chicken Fettuccine Alfredo from Pumpkin 'N Spice
One-Pot Parmesan Risotto with Sausage and Kale from Whole and Heavenly Oven