Remember last week when I rambled on and on about how much I love these very simply prepared brussels sprouts?
Well, now I've gone and trashed them up with cheese, barbecue sauce, shredded pork and carbohydrates.
And you know what? I'm not sorry about it. And after just one bite of my BBQ Pulled Pork Pizza with Brussels Sprouts, I don't think you'll be sorry about it either.
Who knew crispy brussels sprout leaves on pizza could be so good?!?!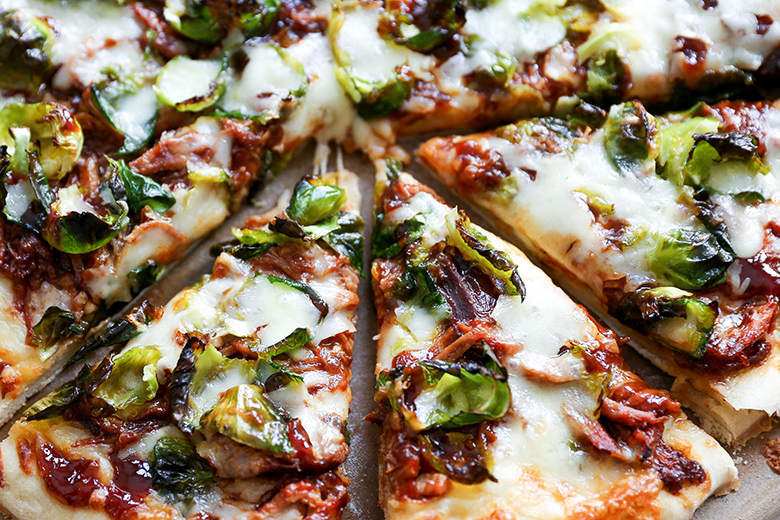 You can totally go all out with this pizza and make everything from scratch (yeah you!). Or you can save yourself some time by using your favorite bottled barbecue sauce and picking up a pre-made ball of pizza dough (look for them in the refrigerated section of your grocery or ask your favorite pizza parlor to sell you one!). That's what I did. And there is no shame in taking a few shortcuts every once in a while. Especially when the outcome is this good.
Cheers,
Liz
Ingredients
For the Pork
1 pork tenderloin, about 1 1/4 to 1 1/2 lbs
1 1/2 cups barbecue sauce

For the Pizza
1 lb pizza dough
3 cups loosely packed brussels sprout leaves (from about a dozen brussels sprouts)
1 tablespoon extra-virgin olive oil
1 1/2 cups shredded mozzarella cheese
2-3 cups barbecue pulled pork
3/4 cups shredded fontina cheese
1/4 cup barbecue sauce
Instructions
Make the pulled pork. Place the pork tenderloin in your slow cooker and cover it with the barbecue sauce. Place the lid on your slow cooker and turn it on. Cook the pork on high for about 4 hours or on low for about 8 hours. The pork is done when it is extremely tender and falls apart easily. Using two forks, shred the pork into smaller pieces, adding a bit more barbecue sauce or a tablespoon or two of water if it looks dry. Set aside and keep warm.
Make the pizza. If your dough has been in the refrigerator, remove it and place it on your counter top to rest for about 20-30 minutes. Pre-heat your oven to 400 degrees. If you're using a pizza stone, warm it in your oven as the oven pre-heats. If you're using a large baking sheet, dust it lightly with cornmeal and set it aside (no need to pre-heat it).
Place the brussels sprout leaves in a medium bowl and toss gently with the olive oil. Set aside.
On a floured surface, roll out the dough until it's roughly a 12-inch circle. If the dough is elastic and hard to work with, let it rest for a few more minutes. Carefully transfer the dough to your warmed pizza stone or baking sheet. Sprinkle the mozzarella cheese evenly over the surface of the dough. Top with the barbecue pulled pork and the brussels sprout leaves. Then sprinkle with the fontina cheese and drizzle the remaining barbecue sauce on top.
Transfer the pizza to your pre-heated oven and bake for 14-18 minutes. The crust should be starting to brown, the cheese should be melted and some of the brussels sprouts leaves should be crispy. Remove the pizza from the oven and allow it to rest for about 5 minutes. Then using a large spatula, transfer the pizza to a cutting board and cut it into 8 slices. Serve immediately.
Leftovers can be stored in an airtight container in the refrigerator for 2-3 days.
https://www.floatingkitchen.net/bbq-pulled-pork-pizza-with-brussels-sprouts/