I'm going to keep things short and sweet today, because I'm currently racing off to the airport to catch a flight to Florida. I'm joining some of my amazing blogging friends for three days of relaxation, workshops, brainstorming, networking and of course, eating and drinking.
So the fact that today is #30MinuteThursday couldn't be more perfect. Because I've got a quick and easy recipe to go along with this abbreviated blog post. That just makes sense to me.
In case you missed it, 30 Minute Thursday is a new series we started last month. The idea is pretty simple and self explanatory: we post recipes for meals that can be made in 30 minutes or less. Yeah! This month, I'm bringing these Cauliflower-Apple Fritters with Mixed Greens to the party. The fritters are great just on their own. But to turn them into a complete meal, I like to pile them on top of my favorite salad fixings for a satisfying and healthy vegetarian entrée.
Be sure to check out all the links below to see what my friends cooked up this month. And if you make my Cauliflower-Apple Fritters with Mixed Greens, or any of the other recipes from 30 Minute Thursday, be sure to give us a shout out on social media and tag your creations #30MinuteThursday so we can see them!
Cheers,
Liz
Ingredients
For the Fritters
1 1/2 cups finely diced cauliflower
1 1/2 cups shredded apple (about 1 medium apple)
4 scallions, white and light green parts thinly sliced
1/2 jalapeño, finely diced
1 tablespoon fresh parsley, chopped
1 tsp. salt
1/2 tsp. fennel seeds, lightly crushed
1 egg
1/4 cup all-purpose flour
1-2 tablespoons extra-virgin olive oil

For the Salad
Mixed greens
Cherry tomatoes, halved
Balsamic Vinegar
Extra-virgin olive oil
Instructions
Make the fritters. In a large bowl combine the cauliflower, apple, scallions, jalapeño, parsley, salt, fennel seeds and egg. Add the flour and stir until everything is well coated. Set aside.
Heat a large non-stick skillet over medium-high heat. Warm about 1 tablespoon of the olive oil. Using a 1/4 cup measuring cup, drop mounds of the fritter batter into the skillet. Flatten out the mounds slightly using the bottom of the measuring cup or the back of a spatula. Let the fritters cook for about 4-5 minutes, or until brown and crisp. Then flip them and cook for an additional 3-4 minutes on the second side. If your skillet is getting dry, add a little more olive oil. Remove the fritters from the skillet and place on a paper towel-lined plate. Set aside.
Make up the salad. I created a very simple salad of mixed greens and cherry tomatoes with a balsamic and olive oil dressing. You can use whatever salad ingredients and dressing you prefer.
To serve, divide the salad between plates. Place 2-3 fritters on top. Enjoy immediately.
Notes
1. I used my food processor with the shredding attachment to process the cauliflower and apple.
https://www.floatingkitchen.net/cauliflower-apple-fritters-with-mixed-greens/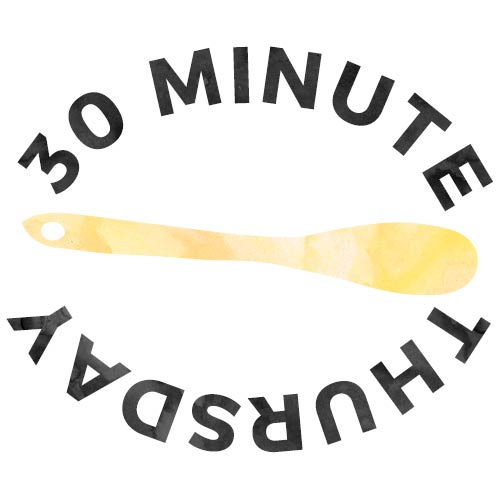 Hazelnut Chicken One Pot Pasta by Bake. Eat. Repeat.
30-Minute Farro Fried "Rice" by Flavor the Moments
Veggie-Packed Peanut Noodles by Flying on Jess Fuel
Roasted Sweet Potato and Arugula Pasta with Chickpeas by Kristine's Kitchen
Alice Springs Shrimp Quesadilla by Maebells
Unstuffed Pepper Bake by Pumpkin 'N Spice
Pan-Fried Gnocchi with Sun Dried Tomatoes and White Beans by Sweet Peas & Saffron
One-Pot Italian Chicken and Orzo Pasta by Whole and Heavenly Oven