I made you grilled cheese sandwiches. With beer in them. Why?
Um…why not? Right? Because we never really need an excuse to enjoy grilled cheese sandwiches. Or beer.
But April just so happens to be Grilled Cheese Month, otherwise known as the best month ever, so I think that's a good reason to combine these two food groups together. Because Grilled Cheese Month requires something with a bit more flare.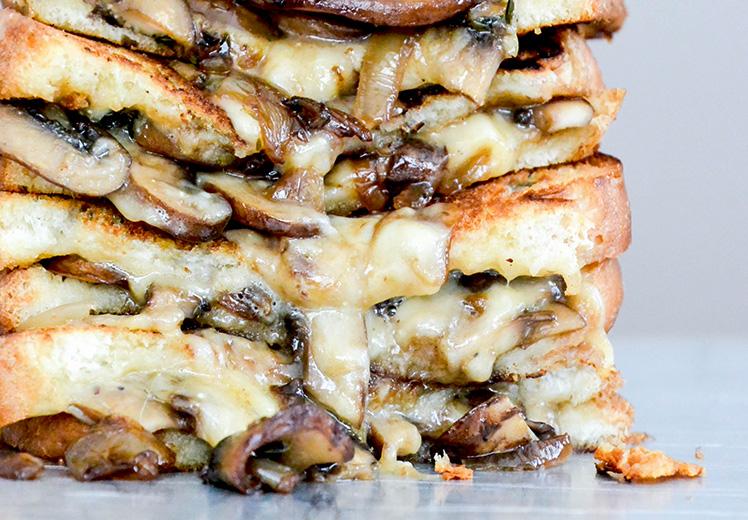 We've got beer in two places here. Which is better than beer in only one place. Obviously. I added some stout in with the Gruyère and Brie cheese mixture. AND I simmered the mushrooms and onions in it as well. So lots of beery, cheesy, melty goodness going on with these sandwiches. Seriously. No human being will be able to resist this Mushroom, Onion and Stout Grilled Cheese Sandwich.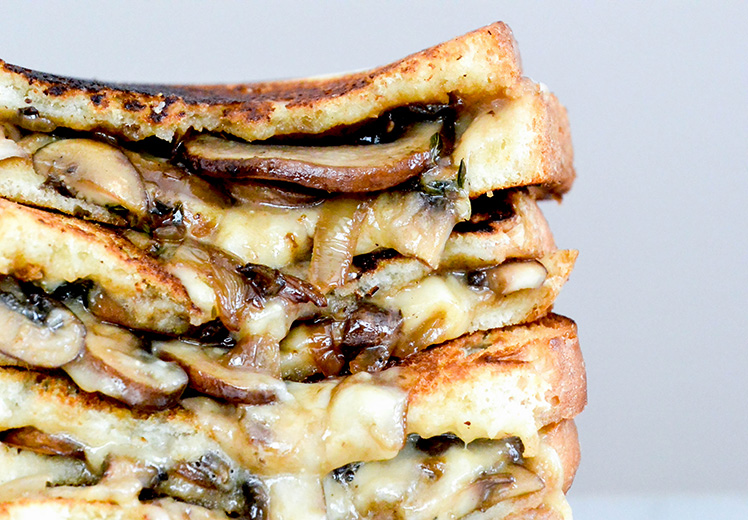 Speaking of beers. This isn't the kind of grilled cheese sandwich that you make and eat at 1:30AM after you've had one too many beers (don't worry, I won't tell). No, this sandwich requires a bit more effort. But it's certainly worth it. And it's a fun change up from the simple, classic version that we all known and love.
Cheers,
Liz
Recipe inspired by Cook's Illustrated
Ingredients
7 ounces Gruyère cheese, cubed and at room temperature
2 ounces Brie cheese, rind removed
Scant 3/4 cups stout beer, divided
3 tablespoons unsalted butter, divided
2 tablespoons extra-virgin olive oil, divided
1 cup thinly sliced onions
1/4 tsp. salt
1/4 tsp. pepper
8 ounces mushrooms, sliced (I like crimini mushrooms)
1 1/2 tsp. fresh thyme leaves
8 slices sandwich bread
Instructions
In the bowl of your food processor with the blade attachment, combine the Gruyère, Brie and 3 tablespoons of the beer until a paste is formed, about 30-60 seconds. Scrape the cheese mixture out of your food processor and transfer it to a small bowl. Set aside.
In a large non-stick skillet over medium heat, melt 1 tablespoon of the butter with 1 tablespoon of the olive oil. Add the sliced onions, salt and pepper and sauté, stirring frequently, until the onions are soft and starting to brown, about 4-5 minutes. Add the mushrooms, fresh thyme leaves and the remaining tablespoon of olive oil, and sauté for an additional 4-5 minutes. Add the remaining beer and simmer until all the liquid has boiled off, about 3-5 minutes. Remove from the heat. Transfer the mushroom-onion mixture to a small bowl and set aside.
Assemble the sandwiches. Spread the cheese mixture over 4 slices of bread, dividing it evenly among the slices. Top with the mushroom-onion mixture. Place the remaining bread slices on top.
Grill the sandwiches. Wipe out your skillet and place it back over medium heat. Melt about 2 tablespoons of butter in your skillet, then grill the sandwiches on both sides until the bread is golden and the cheese is melted. Work in batches if necessary, adding a bit more butter if your pan starts to get dry.
Allow the sandwiches to rest for about 2 minutes before slicing in half and serving. Enjoy!
https://www.floatingkitchen.net/mushroom-onion-and-stout-grilled-cheese-sandwiches/