Are you wondering why I named this sandwich "The Best Chicken Sandwich"? Is it because it truly is the most mouth watering, taste bud tingling, drool worthy sandwich in existence? Or is it because I couldn't figure out a way to get all the important ingredients into the title without making it excessively long?
Truth be told, I think it's probably a little bit of both.
My suggestion: make these babies TONIGHT and judge for yourself!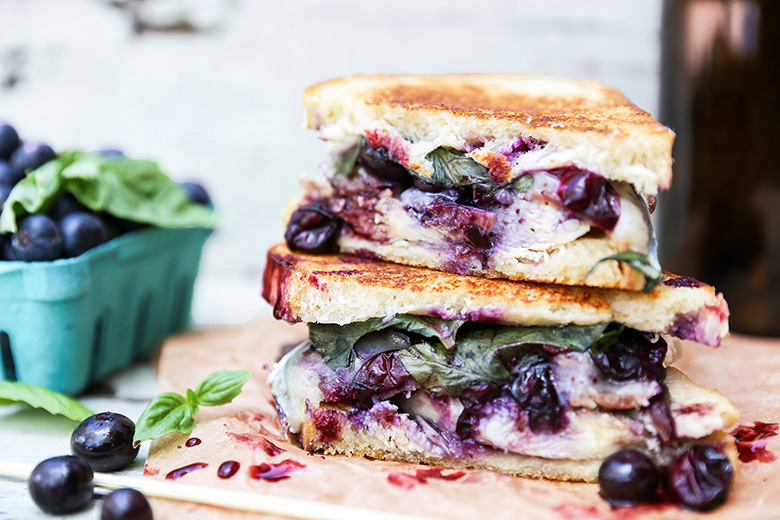 This chicken sandwich has it all: blueberry sauce, fresh basil, crisped bacon and earthy brie cheese. These few simple ingredients elevate a regular, boring piece of baked chicken into something that will make you say "WOW!".
Oh and are you seeing a theme here with the ingredients? Everything starts with the letter "B". That really wasn't planned. It just sort of happened. So I toyed with "Blueberry and Basil Grilled Chicken Sandwiches with Bacon and Brie". Or maybe "Grilled Chicken Sandwiches with Bacon, Blueberry, Brie and Basil". But every iteration I tried was a major tongue twister. So all those "B" words got condensed into the word "Best". Hence, I present you with The Best Chicken Sandwich.
This sandwich is the perfect mixture of salty, sweet, crunchy, melty and buttery. Which are pretty much all the adjectives that I need in life…or at least in a sandwich. And it's fairly quick to pull together (prep everything while you cook the chicken and bacon in the oven!), making it a great choice for a weeknight dinner.
Cheers,
Liz
Ingredients
9 slices of bacon
3 boneless, skinless chicken breasts
1 1/2 tablespoons heavy cream
3/4 tsp. salt
3/4 tsp. black pepper
1 cup fresh blueberries
1 tsp. balsamic vinegar
1 tsp. brown sugar
9 ounces brie cheese, thinly sliced
20-24 fresh basil leaves
12 slices bread (you could also use 6 sandwich/burger buns)
2-4 tablespoons butter
Instructions
Cook the bacon and the chicken breasts. Pre-heat your oven to 375 degrees. Get out two rimmed baking sheets. On one baking sheet, spread the bacon out into a single layer. Place the chicken breasts on the second baking sheet. Pour 2 tsp. heavy cream on each chicken breast and use your hand to rub the cream over the chicken, coating both sides. Then season the chicken breast with salt and pepper.
Transfer both the bacon and the chicken to your pre-heated oven to cook. The bacon will take approximately 20-25 minutes to cook, depending on the thickness of your bacon and how crispy you like it. The chicken breasts will take approximately 30-35 minutes to cook (a thermometer inserted into the middle should register 160 degrees Fahrenheit and the juices should run clear). Once cooked, remove from the oven. Transfer the bacon to a paper towel-line plate to drain. Tent the chicken with foil to keep warm.
Meanwhile, make the blueberry sauce. Combine the blueberries, balsamic vinegar and brown sugar in a small microwave bowl. Heat in the microwave for 1 minute. Then remove the bowl from the microwave and lightly smash the blueberries with the back of a spoon. Set aside.
Make the sandwiches. Cut the chicken breasts in half lengthwise. For each sandwich, layer 1/2 chicken breast, 1 1/2 slices of bacon, 1 1/2 ounces of brie cheese, about 1 tablespoon of the blueberry sauce and 3-4 fresh basil leaves between two pieces of bread. Melt about 2 tablespoons of the butter in a large non-stick skillet over medium heat. Grill the sandwiches on both sides until the bread is golden and the cheese is melted. Work in batches if necessary, adding a bit more butter if your pan starts to get dry.
Allow the sandwiches to rest for 2-3 minutes before slicing in half and serving. Enjoy!
https://www.floatingkitchen.net/the-best-chicken-sandwich/