This post was originally published here May 2, 2014. I've since adjusted the recipe and I've updated the text and photographs to reflect those changes. This fruity salad tastes just like Summer. I hope you try it!
I'm bringing all the BIG SUMMER SALAD ENERGY today.
But first, can we discuss the fact that it's Memorial Day Weekend? I can't believe it. It's been hard to grasp the fact that Summer is right around the corner. My small, idyllic New England coastal town would typically be feverishly preparing for the annual influx of tourists right about now. But of course, that's not happening. We're in a standstill. And I have no freaking idea what Summer will look like here.
Sure. I'll get out my white shorts and flip flops. Swim at the pool and dig into my Summer reading list. And of course, I'll eat lots of ice cream. But I have limited predictions beyond that. We're all getting way more practice in "rolling with the punches" then we ever could have imagined.
How are you planning to "celebrate" Summer this year?
Well, I guess I have one more prediction for the upcoming months: eating all the Summer salads!
I told someone the other day "I'm never social distancing from big salads". And I guess that's a pretty spot-on description for me.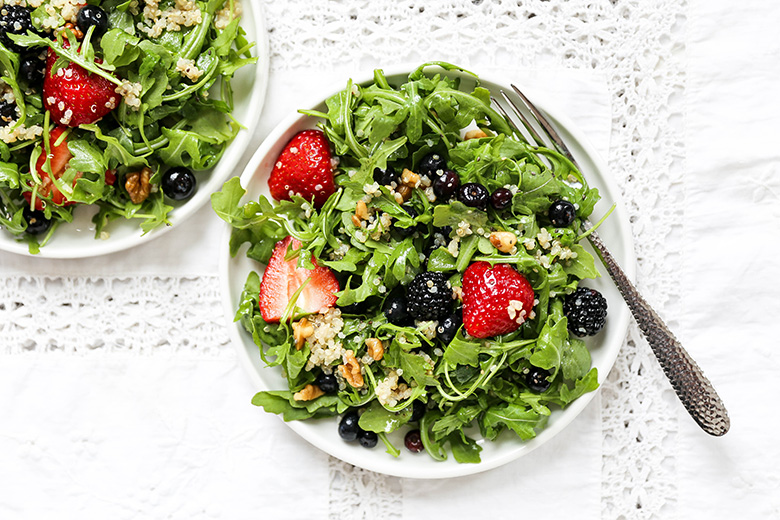 This Triple Berry and Arugula Salad with Quinoa and Walnuts is filled with all the best Summer berries (strawberry, blueberries and blackberries). Their sweetness provides the perfect contrast to the spicy arugula. And the addition of quinoa keeps this salad from feeling overly flimsy.
I also just realized this Triple Berry and Arugula Salad with Quinoa and Walnuts is *almost* red, white and blue! So it's perfect for Memorial Day Weekend!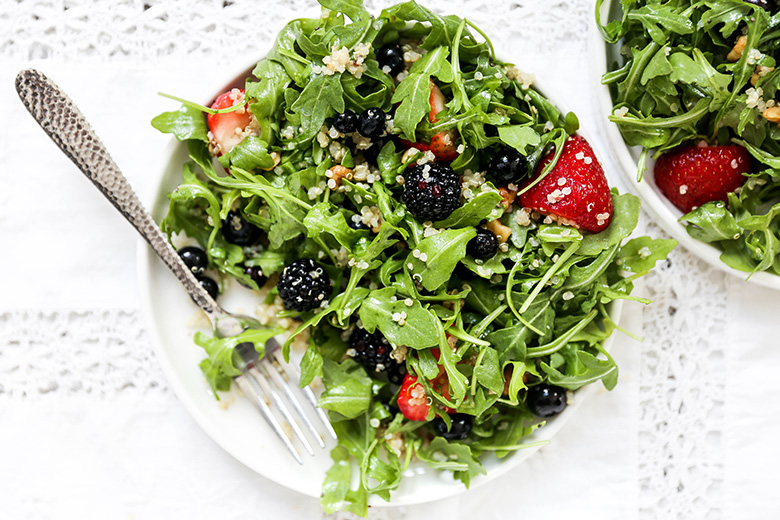 I would urge you to not skip the fresh mint in this recipe. I know it seems like a small thing. But it really makes a difference in the overall flavor of this salad. And while I generally think salads with leafy greens should be dressed and eaten pretty much right away. This one does hold up for a few hours after being tossed with the homemade lemon and chia seed dressing. So if you must prepare it in advance, you have my permission to do so!
Cheers,
Liz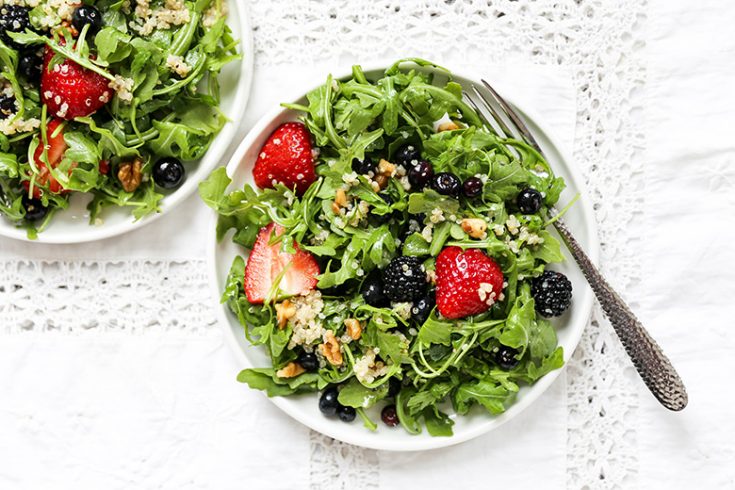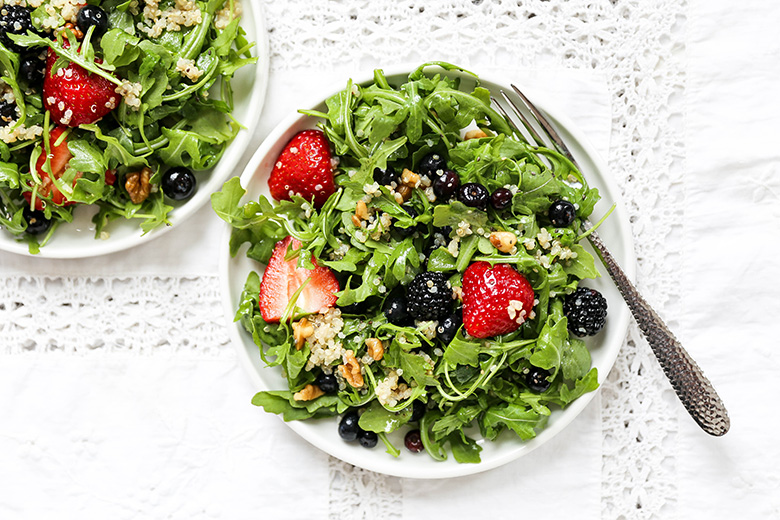 Triple Berry and Arugula Salad with Quinoa and Walnuts
Yield: Serves 2-4
Prep Time: 10 minutes
Total Time: 10 minutes
Ingredients
For the Salad:
4 cups arugula
1 cup cooked quinoa, cooled
1 cup strawberries, stemmed and halved or quartered
1 cup blackberries
1 cup blueberries
1/2 cup walnuts, roughly chopped
2 tablespoons fresh mint leaves, roughly chopped
For the Dressing:
4 tablespoons fresh lemon juice
2 tablespoons extra-virgin olive oil
1 1/2 tsp. chia seeds
1 tsp. maple syrup
1/8 tsp. salt
1/8 tsp. black pepper
Instructions
Add all the ingredients for the salad to a large bowl and toss gently to combine. Set aside.
In a small bowl, whisk together all the ingredients for the dressing. Pour about half the dressing over the salad, tossing until well coated. Then taste and add additional dressing, if desired.
I prefer to serve this salad immediately. But it can be stored in an airtight container in your refrigerator for several hours before serving, if necessary.