This post was originally published here February 17, 2014. I've since updated the text and photographs.
Is everyone still doing a lot of distractibaking? I'm doing a bit here and there. As the weather continues to improve, I'm finding that I'm less compelled to soothe myself with baking projects. Because at least now I can go outside and get a dose of sunshine. And sunshine always improves my mood.
But there is no situation that doesn't call for chocolate chip cookies, in my humble opinion. They are a beloved classic for a reason. And these Salted Thyme Chocolate Chip Cookies are like a "grown-up" version of them. I know everyone's got their favorite chocolate chip cookie recipe that they make regularly. But I challenge you to try these, if you're ever looking for a little change-up.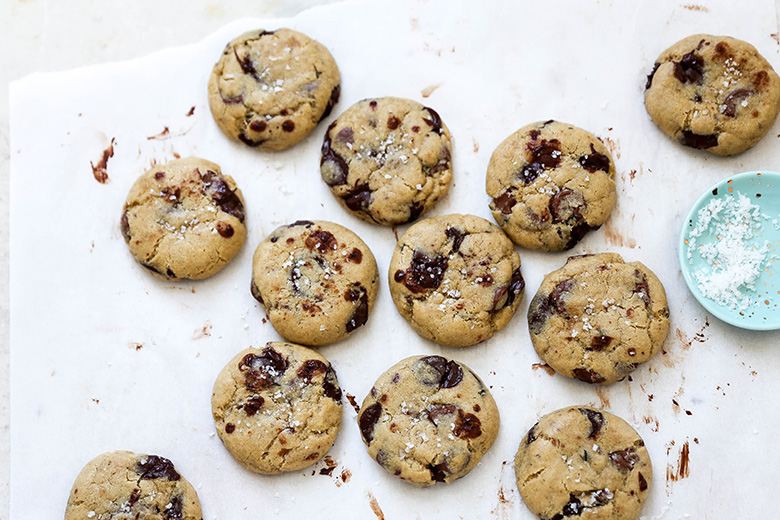 So why are these "grown-up" chocolate chip cookies? There are a few reasons. First, I don't mess around with the salt. I used salted butter in the cookie dough and I sprinkle the tops with a liberal amount of flaky sea salt during baking. Second, I use dark brown sugar for a deeper, molasses-like flavor. Third, I use dark chocolate chips instead of semi-sweet or milk chocolate. And fourth, I add fresh thyme leaves (this is one instance when I would not recommend substituting dried for fresh) for an herby punch. These Salted Thyme Chocolate Chip Cookies are so fun and just a bit different. And really, they are just as easy to make as any other chocolate chip cookie recipe.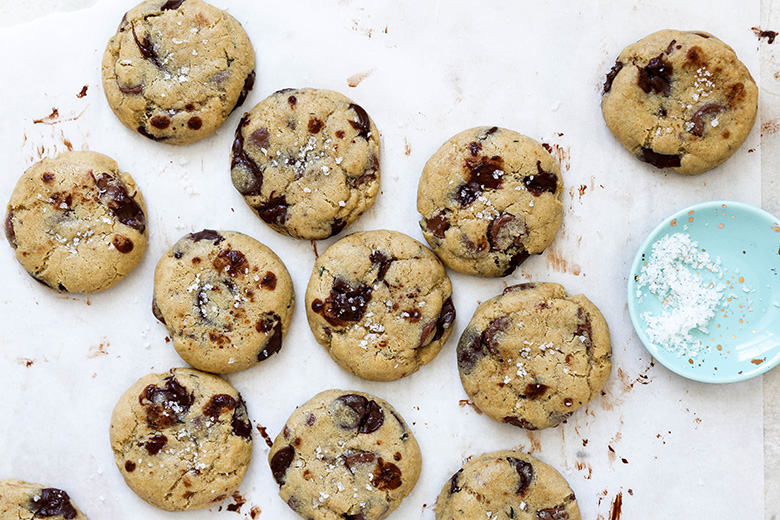 These babies bake up soft, tender and FAT. If you like a thin, crispy cookie then this is not the recipe for you. Just being honest. And these cookies stay fresh for DAYS! This is not an exaggeration. I'm a cookie snob and I typically only like cookies 1-2 days after they've been baked. But not these! They maintain their taste and texture for up to a full week when stored in an airtight container at room temperature. BOOM!
This cookie dough also freezes beautifully, just in case you don't want to bake them all up at once. Simply form the cookie dough into balls (after step 2) and freeze them in a single layer on a baking sheet until firm. Once they're firm, you can store them in your freezer in a zip-closure bag. I bake them straight from frozen, adding an extra 2-3 minutes to the total baking time.
Cheers,
Liz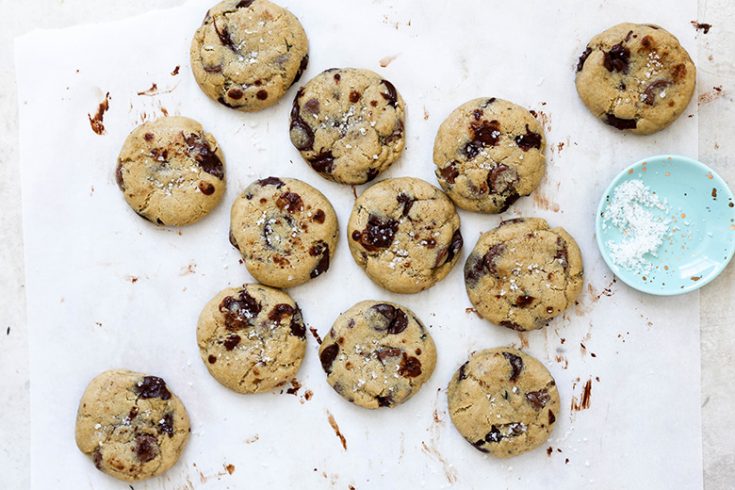 Salted Thyme Chocolate Chip Cookies
Yield: Makes 2 1/2 dozen
Prep Time: 15 minutes
Cook Time: 15 minutes
Additional Time: 2 hours
Total Time: 2 hours 30 minutes
Ingredients
1/2 cup (8 tablespoons) salted butter, softened at room temperature
2 ounces full-fat cream cheese, softened at room temperature
3/4 cups dark brown sugar, packed
1/4 cup granulated sugar
1 tsp. vanilla extract
1 egg
2 1/4 cups all-purpose flour
2 tsp. cornstarch
1 tsp. baking soda
1/2 tsp. salt
2 1/2 tablespoons fresh thyme leaves
2 cups dark chocolate chips
Flaky sea salt
Instructions
In your stand mixer fitted with the paddle attachment, beat together the butter, cream cheese, brown sugar, granulated sugar and vanilla extract on medium-high speed until the mixture is light and fluffy, about 3-4 minutes. Stop to scrape down the sides of the bowl as necessary. Add the egg and beat until well combined.
In a medium bowl, whisk together the flour, cornstarch, baking soda, salt and thyme. Gradually add the dry ingredients to your mixer, beating on low speed until no more white streaks remain. Fold in the chocolate chips. Cover and refrigerate the cookie dough for at least two hours or up to overnight.
Pre-heat your oven to 350 degrees. Line your baking sheets with parchment paper.
Scoop and roll the chilled dough into balls, using about 1 1/2 tablespoon of cookie dough per ball. Then place the dough balls about 2-inches apart on your parchment paper-lined baking sheets.
Transfer the baking sheets to your pre-heated oven and bake the cookies for 8-9 minutes. Remove the baking sheets from your oven and sprinkle the tops of each cookie with a pinch of flaky sea salt. Then return the baking sheets to your oven and continue baking the cookies for an additional 2-3 minutes. The cookies should be puffed and just set around the edges.
Remove the baking sheets from your oven and allow the cookies to cool on their baking sheets for 5 minutes. Then transfer them to a wire rack to continue cooling.
Cookies can be stored in an airtight container at room temperature for up to 5-7 days.