You could call this "chocolate therapy". Or you could call it "boy bait". But I think it's a little bit of both. Get ready for some chocolate ice cream with beer! Hooray!
Beer and chocolate are some of my favorite things. So why not put them together into one creamy, rich and indulgent ice cream? Right? The idea is pure genius. So let's all take a moment to thank Jackie (aka The Beeroness) for teaching us how to combine food and beer in magical ways. She is my hero.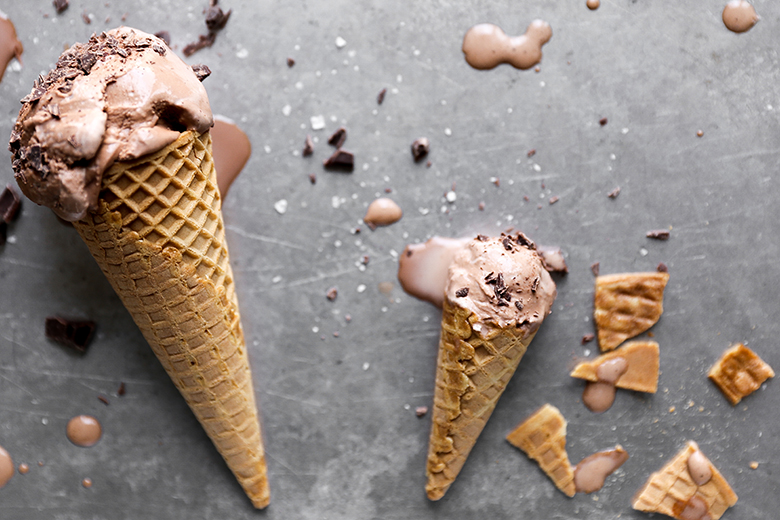 One of the best things about this ice cream is that you can actually taste the beer in it. It's not overpowering, but it's there. And I wasn't joking when I called this Chocolate Stout Ice Cream "boy bait". I served this to three boys (errr…men?) and they all happily cleaned their bowls. Guys are just suckers for beer.
I used a chocolate stout in this recipe, to make it even more chocolately. But any stout (or porter) would work well here. Just make sure to use something that you like to drink, because you only need 1 cup for the recipe. So you'll have to think of something clever to do with all the leftover beer. Hint: drink it!
Cheers,
Liz
Recipe barely adapted from The Beeroness
Ingredients
For the Ice Cream
2 cups whole milk
1 1/2 cups chopped dark chocolate
1 2/3 cups sugar
1 cup stout beer
1 cup heavy cream
4 egg yolks
1/4 tsp. paprika

For Topping
Chopped dark chocolate
Sea salt
Instructions
Before you start, make sure the canister of your ice cream maker is frozen. To freeze completely, the canister should be in the freezer for at least 6 hours.
In a medium saucepan, warm the milk over medium-high heat. Once it's hot, turn off the heat and add the chocolate. Stir until the chocolate is fully melted. Set aside.
In a large, heavy-bottomed saucepan whisk together the sugar, beer, heavy cream, egg yolks and paprika until well combined. Then slowly whisk in the warm melted chocolate mixture. Place the saucepan over medium-high heat and cook for 5-8 minutes, stirring with a wooden spoon, until the mixture starts to thicken. Remove from the heat.
Transfer the ice cream base to a clean bowl. Cover with plastic wrap, pressing the plastic wrap directly onto the surface of the ice cream base to prevent a skin from forming. Refrigerate until well chilled, at least 6 hours or up to 12 hours.
Pour the chilled ice cream base into the canister of your ice cream maker and churn until the mixture is the consistency of soft serve ice cream, about 15-20 minutes. Transfer the ice cream to a freezer safe container and freeze until it becomes firm, about 2-3 hours.
To serve, scoop the ice cream into bowls or onto ice cream cones. Top with some chopped chocolate and a pinch of sea salt. Enjoy!
https://www.floatingkitchen.net/chocolate-stout-ice-cream/