This post was originally published here December 12, 2014. I've since adjusted the recipe slightly. And updated the text and photographs to reflect those changes. These big, fluffy marshmallows are great on their own. Or in a steaming mug of hot chocolate!
I've been making homemade marshmallows for several years now. And every time I embark on the journey, I start off somewhat reluctantly. Because making marshmallows at home is a bit of a messy process. It's not a hard process or technically challenging in any way (and the only kitchen tool you need that you might not already have at home is a candy thermometer). It's just messy. And there is no real way around that. Because powdered sugar is your weapon of choice for keeping the marshmallows from sticking to everything and anything. And we all know how powdered sugar has an uncanny ability to find every single surface of your counters, floors, clothing, body, etc.
BUT they are SO WORTH IT. And I can't stress this enough. I know my above ramblings may not have sounded very convincing. But I just like to be honest with you, so you're aware of what you're getting into. Which I hope means that you'll trust me when I tell you that the rewards outweigh the risks in this situation. I'm confident when you take your first bite of a homemade marshmallow, you'll forget that a mess had even happened!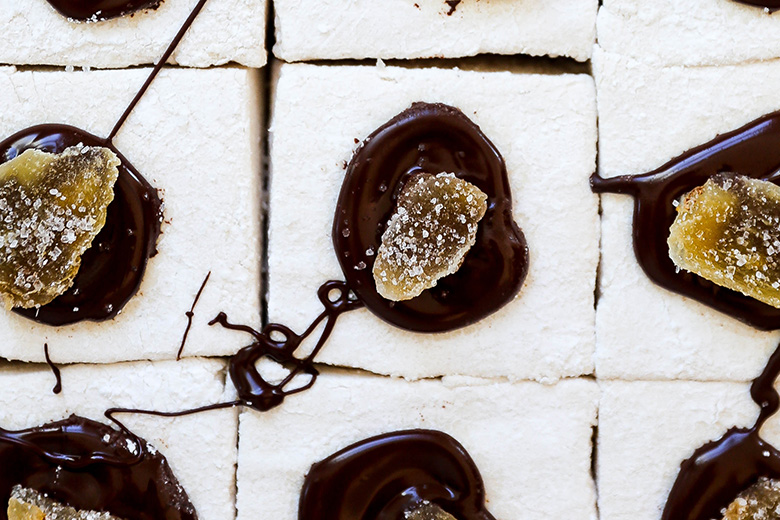 The flavor of homemade marshmallows is pure and delightful. And their texture is like that of a fluffy cloud from heaven. They are leaps and bounds above any store-bought marshmallow that you've probably had, which I find to be rubbery and stale most of the time. They are good enough to eat on their own. But they also melt beautifully into your favorite mug of hot chocolate. And they are a fun little edible gift to package up and give away at the Holidays. I love wrapping a few in cellophane and pairing them with some of my Homemade Hot Cocoa Mix!
Ok. Back to this mess I eluded too. The best way I've found to combat the mess is to place your baking pan inside a large rimmed baking sheet. So when you're liberally dusting everything with powdered sugar, the rimmed baking sheet will catch most of the excess. This also allows you move the marshmallows around easily as they dry. They need to dry overnight (ideally and highly recommended) at room temperature before being removed from their baking pan. Then they need to dry an additional 2-4 hours before being sliced. So it's nice to be able to move them around, if necessary. I have limited kitchen counter space, so I'm constantly shuffling things about as I work. Little tricks like this are always appreciated!
And please don't try to shortcut the drying process. If the marshmallows aren't fully dry and set, you'll have an even bigger mess to deal with when you try and slice them.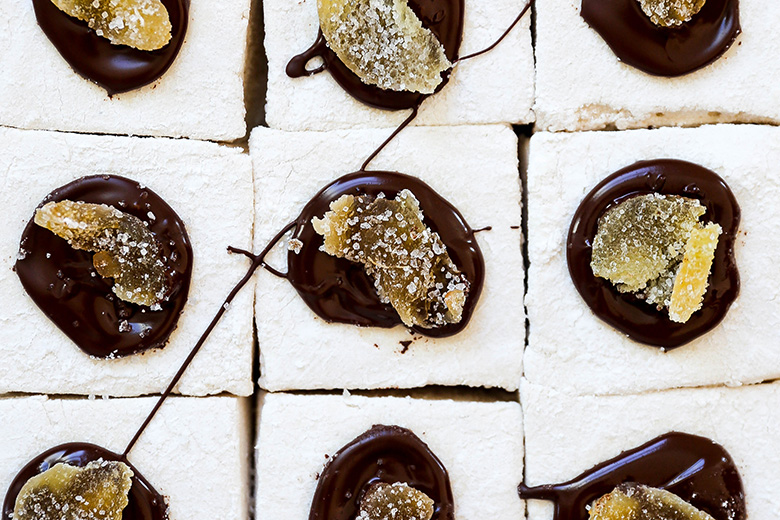 Plain marshmallows are great. But for the Holidays, I think it's fun to add a little something extra. And these Jumbo Gingerbread Spiced Marshmallows are most certainly extra! They have all the spices and flavors you would typically find in a gingerbread cookie, like molasses, ginger, cinnamon, nutmeg and clove. And then I like to adorn them with a "bloop" of dark chocolate in the center and a piece of crystalized ginger. I used to dip these marshmallows in melted chocolate, but that was a feat and required a large amount of melted chocolate to accommodate their size. This method is much easier and less wasteful.
Have you made marshmallows at home before? If you try my Jumbo Gingerbread Spiced Marshmallows, please let me know. I'd love to hear about how it went. And what you're favorite way is to enjoy them!
Cheers,
Liz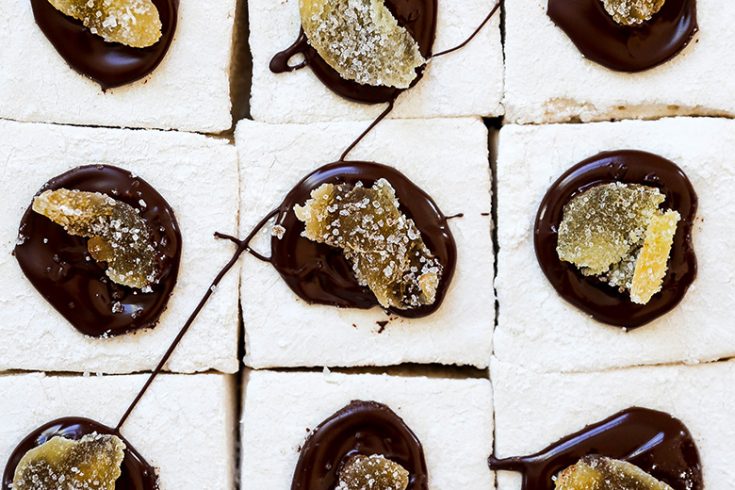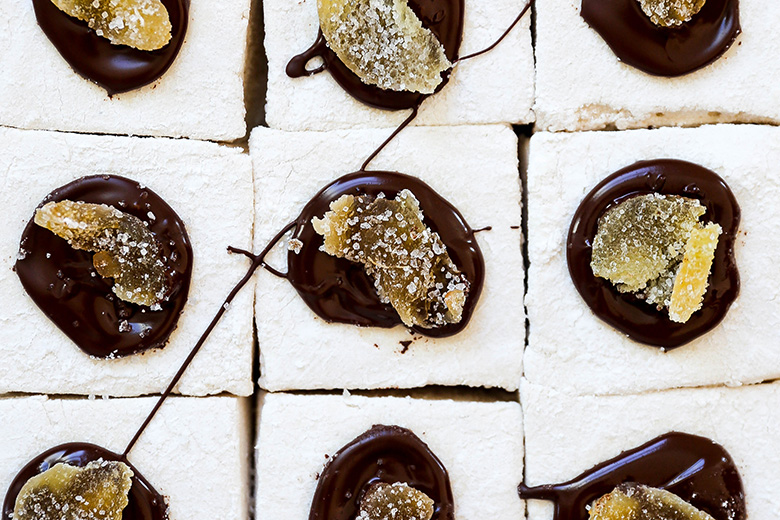 Jumbo Gingerbread Spiced Marshmallows
Yield: Makes 16 marshmallows
Prep Time: 50 minutes
Cook Time: 10 minutes
Additional Time: 1 days
Total Time: 1 days 1 hour
Ingredients
For the Marshmallows:
1 cup powdered sugar
1 tablespoon cornstarch
3 (1/4-ounce) packages unflavored gelatin
1 cup cold water, divided
2 cups granulated sugar
2/3 cups dark corn syrup
1 tablespoon molasses
1/4 tsp. salt
2 tsp. vanilla extract
3/4 tsp. ground ginger
1/2 tsp. ground cinnamon
1/4 tsp. ground nutmeg
1/8 tsp. ground cloves
For Topping:
3 ounces semi-sweet or dark chocolate, chopped
16 pieces crystalized ginger
Instructions
Combine the powdered sugar and cornstarch in a bowl. You'll use this throughout the whole process. Set aside.
Add the gelatin to the bowl of your stand mixer fitted with the whisk attachment. Pour 1/2 cup of the cold water over the gelatin. Let the gelatin bloom (= hydrate) while you complete the next couple steps.
In a heavy bottom saucepan over medium-high heat, bring the remaining 1/2 cup water, granulated sugar, corn syrup, molasses and salt to a boil, stirring to help dissolve the sugar. Attach your candy thermometer and continue to boil the sugar mixture until it reaches 240-242 degrees Fahrenheit. Remove the saucepan from the heat.
Turn your mixer on to low speed. Then very slowly and carefully start to stream the hot sugar mixture into the bowl. Avoid pouring the sugar mixture directly onto the moving whisk to prevent splatters. Try to keep the stream closer to the sides of the bowl. Once all the sugar mixture has been added, drape a clean kitchen towel over your mixer and increase the speed to high. Whisk on high for 8 minutes. The mixture will become thick, white and fluffy.
Turn your mixer back to low speed and remove the kitchen towel. Add the vanilla extract and ground spices. Return the mixer to high speed for 2 minutes.
Meanwhile, place a 9 X 9-inch baking pan inside a large rimmed baking sheet (this is to help keep powdered sugar from getting everywhere). Generously coat the bottom and sides of the baking pan with non-stick cooking spray. Then spoon some of the powdered sugar mixture into a fine mesh strainer or sifter and generously coat the bottom and sides of the baking pan.
Stop your mixer and immediately transfer the marshmallow mixture to your prepared baking pan using a spatula sprayed with non-stick cooking spray. The marshmallow mixture should easily spread to evenly fill the pan. It will, however, become thick and sticky over time. So work quickly to get it all from the bowl of your mixer to your baking pan before that happens.
Generously cover the top of the marshmallow with some of the powdered sugar mixture. Then set it aside to let the marshmallow dry and set at room temperature, uncovered, for at least 6 hours or up to overnight (overnight is highly recommended). Save the remaining powdered sugar mixture.
Once dry and set, dust the rimmed baking sheet with some of the powdered sugar mixture. Then coat your fingers with some of the powdered sugar mixture and use them to slowly pry the edges of the marshmallow away from the sides of the baking pan. Once the edges have been loosened, the marshmallow should easily lift/flip out of the baking pan as one large block. Place the marshmallow top side-down onto the rimmed baking sheet. Coat the now exposed bottom surface of the marshmallow with some of the powdered sugar mixture. Let the marshmallow dry for an additional 2-4 hours at room temperature.
Using a very sharp knife dusted with some of the powdered sugar mixture, slice the marshmallow into 16 squares. Toss the squares in the remaining powdered sugar mixture to coat all sides.
Slowly melt the chopped chocolate in a small saucepan set over medium heat, stirring continuously until smooth. Remove the saucepan from the heat and let the chocolate cool for about 3-5 minutes. Shake off any excess powdered sugar from the marshmallows. Then spoon an approximately tablespoon amount of the melted chocolate in the center of each marshmallow. Place a piece of crystalized ginger in the center of the chocolate while it's still wet.
Once the chocolate has set, the marshmallows can be transferred and stored in an airtight container at room temperature for 2-3 weeks, although they are best when eaten within 1 week of being made.