I always buy way too much produce at the farmers market. Seriously. It's a problem. You'd think I was coming home to feed a family of six.
But no. Just me. And a big pile of fruits and vegetables.
I realize that there are worse problems to have in life.
But if there is one good thing that has come out of my irresponsible shopping behaviors, it's that I am constantly trying out new combinations for salads. Because tossing whatever is left at the end of the week into a big bowl is the best way I know how to clean out my refrigerator.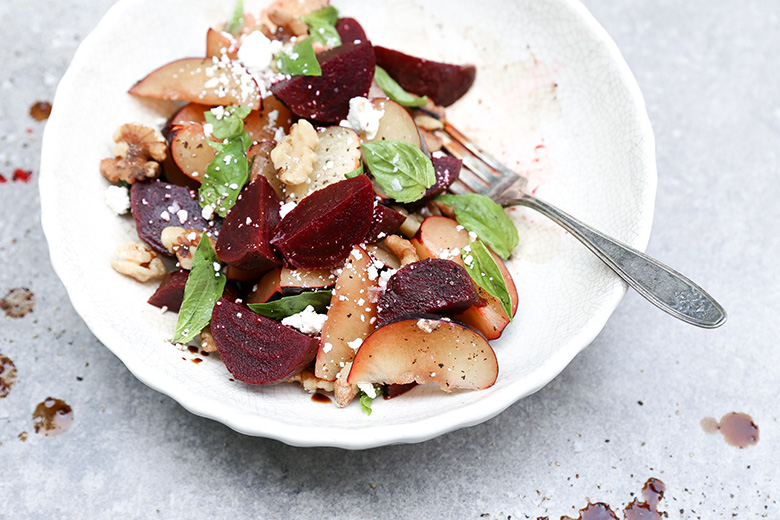 And that is exactly how this Roasted Beet and Plum Salad came into my life. A happy accident of sorts.
Earthy beets and sweet, juicy plums go so well together. Especially with a sprinkle of tangy cheese, crunchy walnuts and fresh basil leaves. This salad is somewhat sturdy, kind of like the salads you might find yourself craving during the Fall. But it still has a refreshing quality that is the essence of Summer. I like to think of it as a "transition" salad. Perfect for now. And perfect for a little bit later in the year, too.
This would be a great recipe to try out for Labor Day weekend!
Cheers,
Liz
Ingredients
4 large beets, greens trimmed and discarded
1/3 cup walnuts
1 tablespoon balsamic vinegar
1 tablespoon extra-virgin olive oil
1/8 tsp. salt
1/8 tsp. pepper
2 plums, pitted and sliced into wedges
2 tablespoons basil, roughly chopped
1/4 cup goat cheese, crumbled
Instructions
Cook the beets. Pre-heat your oven to 425 degrees. Wash the beets and wrap them in aluminum foil. Place them in your pre-heated oven and roast for 60-75 minutes, or until they are tender and you can easily pierce them with a knife. Set aside to cool slight. Once they are cool enough to handle, peel the beets. You should be able to rub/peel the skins off with your fingers, but a small pairing knife can also be helpful. Slice the beets into wedges.
In a small dry skillet over medium heat, lightly toast the walnuts until they are just starting to become fragrant, about 2 minutes. Remove from the heat and set aside to cool.
In a medium bowl, whisk together the vinegar, olive oil, salt and pepper. Add the sliced beets and plums, tossing gently to combine. Transfer to a serving platter and garnish with basil, cheese and the toasted walnuts. Serve immediately.
Leftovers can be stored in an airtight container in the refrigerator for 1-2 days.
https://www.floatingkitchen.net/roasted-beet-and-plum-salad/