This post was originally published here May 22, 2015. I've since adjusted the recipe and updated the text and photographs. I hope you try out this dreamy, creamy mash-up of Summer flavors!
If Nutella S'mores Gelato isn't the best way to usher in Summer this Memorial Day Weekend, then I don't know what is. This recipe combines two beloved Summer classics (s'mores and ice cream/gelato) into one epic dessert creation. And I want to eat it every single day from now until Labor Day Weekend.
Does anybody want to challenge me to that? I would gladly accept!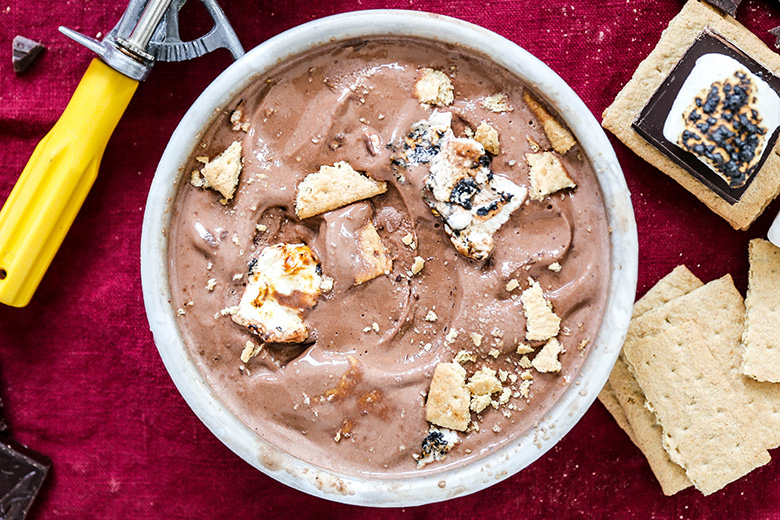 This decadent gelato starts with a rich dark chocolate and Nutella custard base. And it's finished with the addition of graham crackers and marshmallows. And to really make sure you bring those true campfire vibes home to this gelato, I highly recommend you toast your marshmallows before churning them into the custard base. This REALLY makes a difference. And I even like to "over toast" my marshmallows (some may say "char"), so I get even more of that smoky flavor into the creamy gelato.
Because this Nutella S'mores Gelato recipe does require an ice cream maker, please be sure you plan far enough ahead before embarking on this dessert journey. You'll need to adequately chill your canister (I usually leave mine in the freezer overnight) AND the custard base before attempting the churn the gelato. And after churning, the gelato will require a couple more hours in the freezer to firm up from the soft serve stage to a more scoopable consistency.
I know this Memorial Day Weekend probably didn't feel like the Summer kick-off we're all used to celebrating. But I hope you've still been able to find some moments of fun and relaxation. And if you try out my Nutella S'mores Gelato recipe this Summer, please let me know!
Cheers,
Liz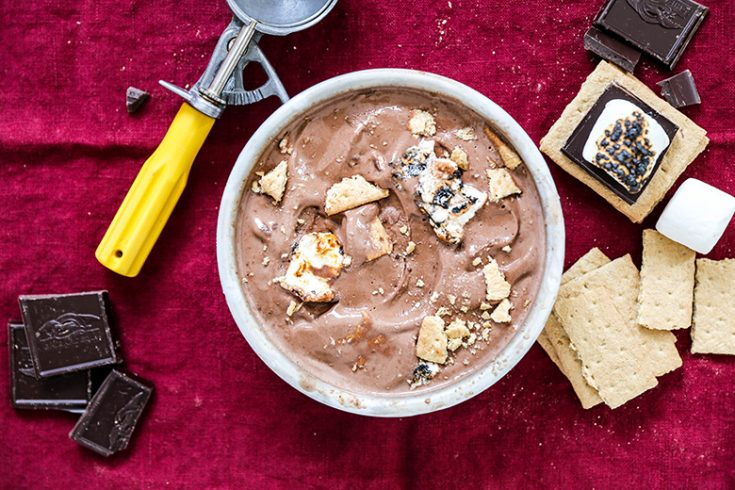 Nutella S'mores Gelato
Yield: Makes about 1 quart
Prep Time: 30 minutes
Cook Time: 10 minutes
Additional Time: 8 hours
Total Time: 8 hours 40 minutes
Ingredients
4 egg yolks
1/2 cup heavy cream
3/4 cups granulated sugar
1/4 tsp. salt
3 cups whole milk
1/3 cup Nutella (or your favorite chocolate hazelnut spread)
4 ounces dark chocolate, roughly chopped
10-12 marshmallows
1 cup graham cracker pieces
Instructions
In a medium bowl, whisk together the egg yolks, heavy cream, sugar and salt. Set aside.
In a large heavy bottom saucepan set over medium-high heat, combine the milk and Nutella, stirring frequently, until the Nutella is dissolved and small bubbles have started to form around the edge of the pan, about 5 minutes. Do not let the mixture come to a boil.
Remove the saucepan from the heat and quickly whisk about 1/2 cup of the warm milk mixture into the egg yolk mixture. Then pour this mixture back into the saucepan, whisking constantly as you do so.
Place the saucepan back over medium heat and cook the custard, stirring with a wooden spoon, until it's thicken, about 5-6 minutes. Do not let the custard come to a boil. The custard should be thick enough to coat the back of the spoon.
Remove the saucepan from the heat. Add the chopped chocolate and stir until it's fully melted and smooth. Then strain the custard through a fine mesh strainer into a clean bowl. Discard any collected solids.
Cover the custard with plastic wrap, pushing the plastic wrap directly down onto the surface of the custard to prevent a skin from forming, and refrigerate it until it's completely chilled, at least 4 hours or up to 24 hours.
Pre-heat your broiler to high. Spread the marshmallows out onto a baking sheet lined with aluminum foil. Then place the baking sheet under your broiler and toast the marshmallows until they are darkened in some places. This doesn't take long, so keep an eye on them the entire time and rotate the baking sheet as necessary. Remove and set aside.
Pour the chilled custard into your ice cream maker and churn according to the manufacturer's instructions. Once the custard is nearly frozen and the consistency of soft serve, add in the toasted marshmallows and graham cracker pieces. You may have to stop your ice cream maker and do this final step by hand, depending on the capacity of your ice cream maker.
Transfer the ice cream to a freezer safe container. Cover with plastic wrap and freeze until completely firm, at least 4 hours or up to 3 days.