This post was originally published here July 22, 2014. I've since adjusted the recipe. And I've updated the text and photographs to reflect those changes. I know corn-flavored ice cream might sound strange. But don't knock it until you try it!
Local corn has arrived here in New England and I'm eating it ALL up. It's one of the vegetables that I get the most excited for this time of year, right up there with heirloom tomatoes (technically a fruit, but you know what I mean). I love it grilled, added to salads, in chowder and even in ice cream!
Yes, today we're making corn-flavored ice cream. Don't click away. Hear me out.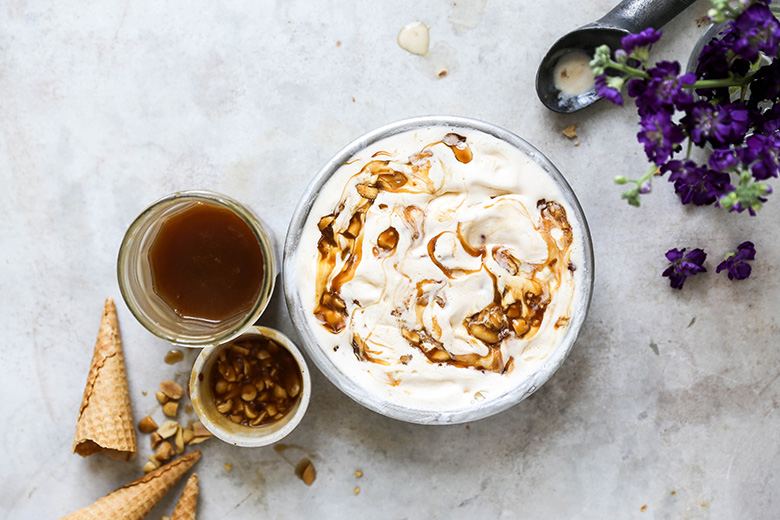 So. Let's get straight to the question that you're all asking. Does this ice cream taste like corn? Yes. A little. I'd say this ice cream has a subtle corn flavor. It's not overwhelmingly corny (ha ha). And it's not as savory as you might think. Because as far as vegetables go, corn has a relatively high sugar content. So it's actually quite well suited for using in dessert recipes.
To squeeze all the corny-goodness into this recipe, I steep both the cobs and the kernels in the warm cream mixture when I'm creating the ice cream base. So I wouldn't recommend trying to substitute frozen corn kernels in this particular instance. Your best bet is to run out and get some fresh, sweet corn on the cob RIGHT NOW and make this ice cream while the getting is good!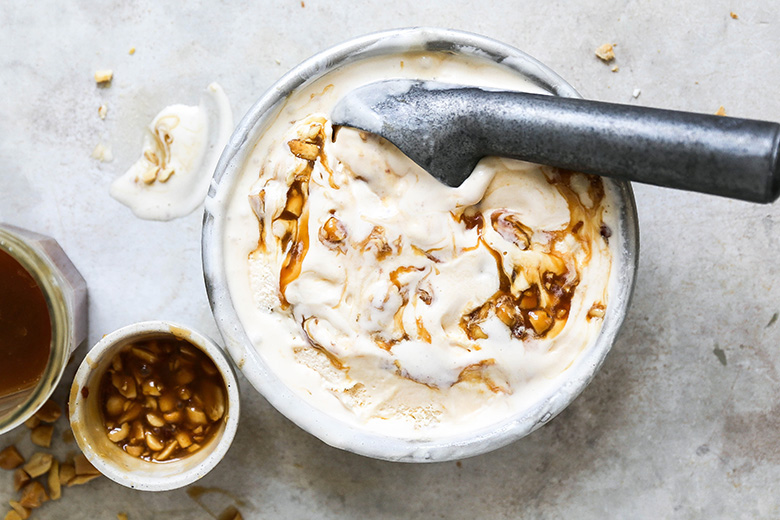 The use of buttermilk in this ice cream base is another thing that might give you pause here. But trust me, it's not all that weird. The buttermilk contributes just the right amount to tang to this ice cream. And now that I've tried it once, I want to make even more ice cream recipes with buttermilk. I'm already dreaming of a strawberry and buttermilk concoction for NEXT Summer (I know, I know).
What's the strangest ice cream flavor you've ever tried or made? Are you willing to try corn-flavored ice cream? I hope so!
Cheers,
Liz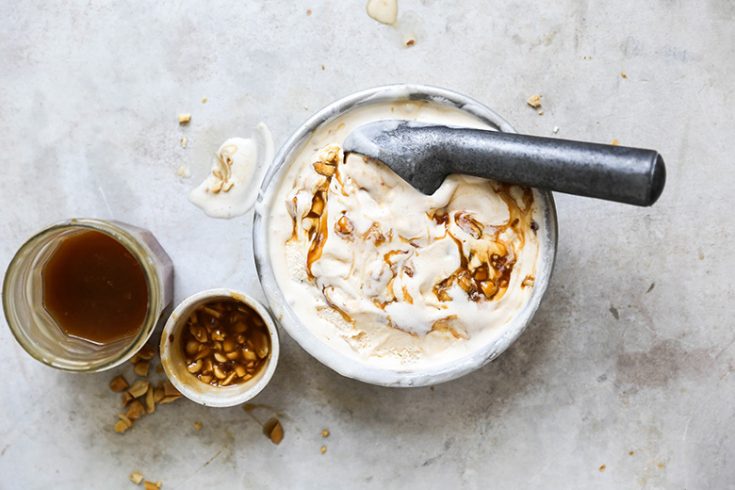 Sweet Corn Buttermilk Ice Cream with Salted Caramel and Peanut Swirl
Yield: Makes about 1 quart
Prep Time: 1 hour 30 minutes
Cook Time: 30 minutes
Additional Time: 8 hours
Total Time: 10 hours
Ingredients
For the Ice Cream:
1 3/4 cups heavy cream
1/2 cup granulated sugar
3 tablespoons honey
2 ears fresh corn, husks and silks removed
1 1/4 cups buttermilk
1/2 cup chopped salted peanuts
For the Salted Caramel Sauce:
1 cup granulated sugar
1/2 cup water
6 tablespoons salted butter, cubed and at room temperature
1/2 cup heavy cream
Sea salt
Instructions
In a heavy bottom saucepan over medium heat, warm the heavy cream, sugar and honey, stirring occasionally, until the sugar is dissolved. Do not let the mixture come to a boil. Remove the saucepan from the heat.
Slice the corn kernels off the cobs. Place the sliced kernels and the cobs (you can break them in half to fit your saucepan, if necessary) in the warm cream mixture. Cover and allow the mixture to steep at room temperature for 1 hour.
After 1 hour, remove the cobs from the cream mixture. Use the back of a spoon to push on the sides of the cobs, releasing as much of the liquid as possible. Then discard the spent cobs.
Transfer the cream mixture to your blender and blend on high until smooth. Then strain the cream mixture through a fine mesh sieve into a clean bowl, discarding any collected solids. Whisk in the buttermilk. Then cover the bowl with plastic wrap and place it in your refrigerator until the ice cream base is completely chilled, at least 4 hours or up to 24 hours.
While the ice cream base chills, make the salted caramel sauce. Spread the sugar out onto the bottom of a heavy bottom saucepan. Pour the water over the sugar and swirl the pan gently to moisten the sugar evenly. Then place the saucepan over medium-high heat and bring the sugar mixture to a boil. Allow the sugar mixture to cook without stirring (it will bubble vigorously) until it turns a deep caramel color, about 6-10 minutes. Then quickly remove the saucepan from the heat and whisk in the cubed butter. Gradually whisk in the heavy cream and a couple pinches of sea salt. Then carefully transfer the caramel sauce to a clean re-sealable container. Once it has cooled to room temperature, cover and refrigerate it until you're ready to use it. The caramel sauce can be stored in your refrigerator for 2-3 weeks.
In a small bowl, stir together the peanuts and about 3/4 cups of the caramel sauce.
Pour the chilled ice cream base into your ice cream maker and churn according to the manufacturer's instructions. Once the ice cream base is nearly frozen and the consistency of soft serve (this generally takes about 20 minutes), turn off your ice cream maker and start transferring the ice cream to a freezer safe container, alternating in spoonfuls of the peanut/caramel sauce mixture to create layers/swirls.
Cover the ice cream with plastic wrap and freeze it until it's completely firm, about 4 hours, before serving.