This post was originally published here March 6, 2014. I've since updated the photographs. This is one of my favorite vegan, gluten-free salads to make with butternut squash. I hope you try it out!
Summer produce may be a thing of the past, but that doesn't mean I'm saying goodbye to my Big F*cking Salads (or "BFS" for short). I'm still enthusiastically eating a BFS every single day. Yes, they now tend to be more substantial and "stick to your ribs" than the lighter BFSs I enjoyed over the Summer months, sometimes even forgoing the inclusion of leafy greens entirely. But I'm totally embracing them for what they are: (1) delicious, (2) a great way to help me consume a variety of plants, and (3) a way to keep me excited about the changes in seasonal produce.
And here is what I humbly suggest should be your new favorite Fall BFS: Warm Butternut Squash and Chickpea Salad.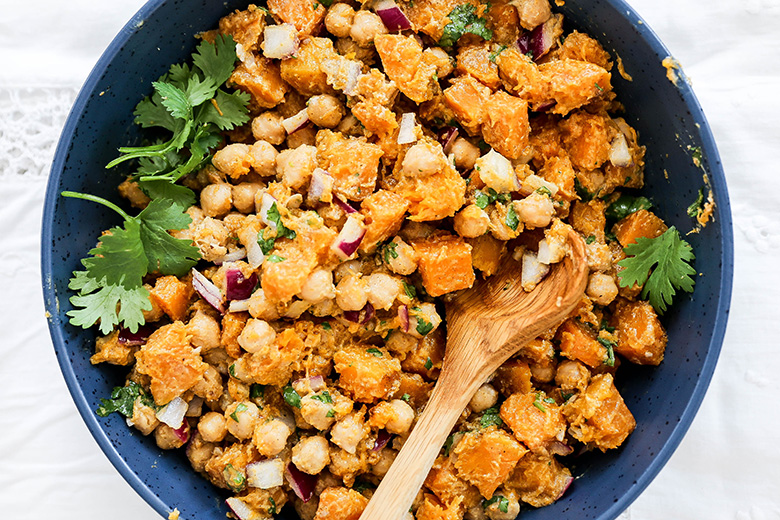 This Warm Butternut Squash and Chickpea Salad is one of those dishes that is so much greater than the sum of its parts. It's mostly made up of just two ingredients: roasted butternut squash and chickpeas. There is a small sprinkling of diced red onion and fresh cilantro. But at its core, this salad is pretty basic. And I'm very alright with that. Because it means I can make it often and simply from memory. And most of the time I can even make it without having to take an extra trip to the grocery store.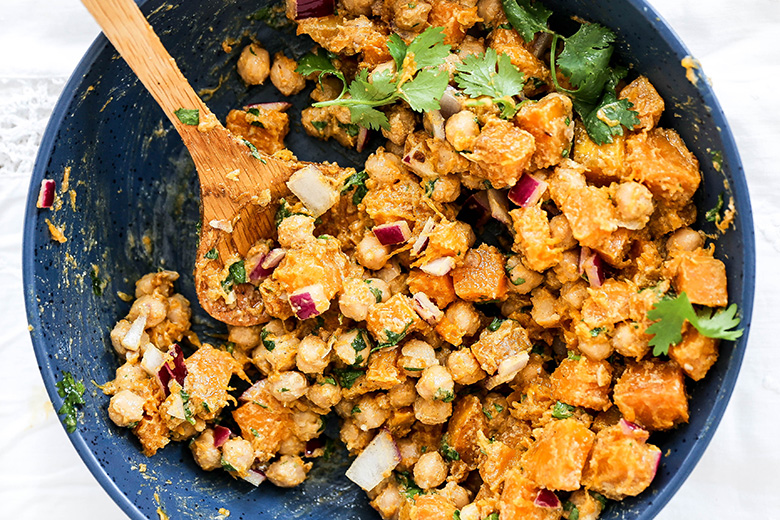 Tahini-based dressings will always be some of my favorite salad dressing. Which is another reason why this Warm Butternut Squash and Chickpea Salad is so gosh darn irresistible. The dressing is creamy, nutty and luscious. It really ties all the ingredients together into one cohesive dish. And it's so good, I can even eat it straight off the spoon. So if it were me (hint, hint), I might consider making up a double batch to have on hand and use throughout the week on other salads and roasted vegetables.
As the title of this recipe implies, this salad should ideally be served warm. It just makes it that much more satisfying. Although I've been known to eat the leftovers straight from the refrigerator. And I won't judge you if you do that, too.
Cheers,
Liz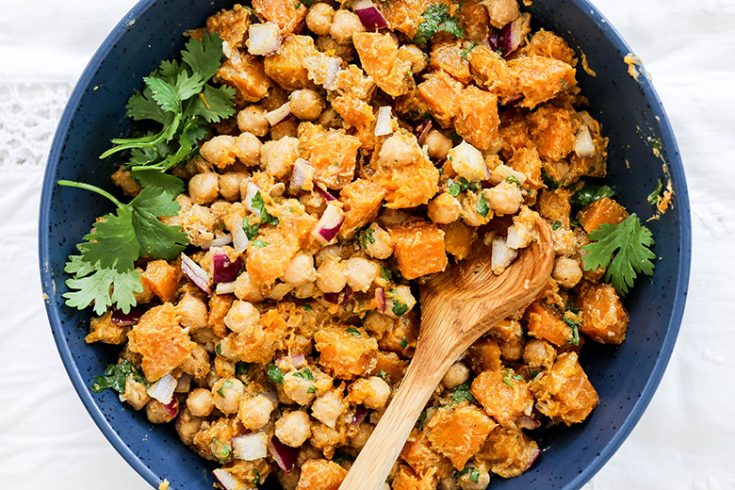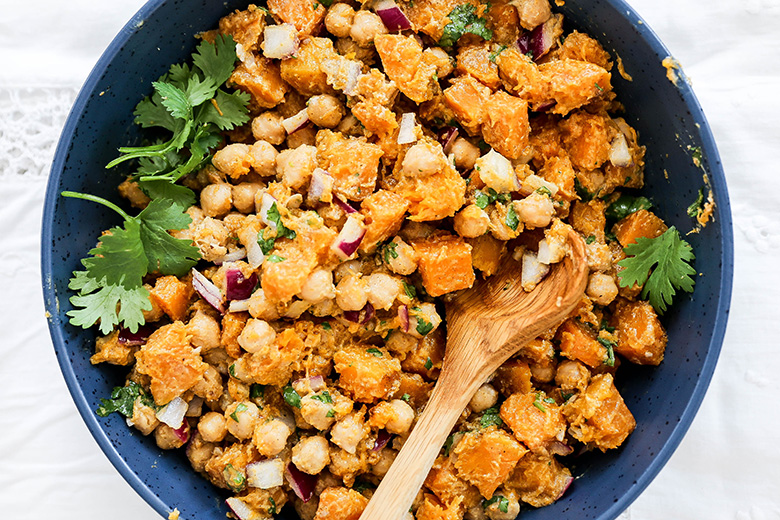 Warm Butternut Squash and Chickpea Salad
Yield: Serves 4
Prep Time: 10 minutes
Cook Time: 25 minutes
Total Time: 35 minutes
Ingredients
For the Salad:
4 cups peeled and cubed (about 1-inch cubes) butternut squash
2 garlic cloves, peeled and minced
2 tablespoons extra-virgin olive oil
1/2 tsp. ground allspice
1/2 tsp. salt
1/4 tsp. black pepper
1 (15-ounce) can chickpeas, rinsed and drained
1/2 cup diced red onion
1/2 cup fresh cilantro, roughly chopped
For the Dressing:
3 tablespoons tahini paste
3 tablespoons freshly squeezed lemon juice
2 tablespoons extra-virgin olive oil
2 tablespoons water
1/2 tsp. sugar
1/4 tsp. salt
Instructions
Pre-heat your oven to 425 degrees.
Add the butternut squash and minced garlic to a 9 X 13-inch baking pan. Drizzle with the olive oil and sprinkle with the allspice, salt and black pepper, tossing to coat. Transfer the baking pan to your pre-heated oven and roast for 20-25 minutes, or until the butternut squash is soft.
Meanwhile, combine all the ingredients for the dressing together in a small bowl, stirring until smooth. Set aside.
Remove the baking pan from your oven. Add the chickpeas, red onion and tahini dressing to the roasted butternut squash. Toss to coat everything in the dressing. Then add and stir in the cilantro. Serve immediately while still warm.
Leftovers can be stored in an airtight container in your refrigerator for 2-3 days.
Notes
Recipe barely adapted from Food52.