This post was originally published here September 14, 2015. I've added in some extra veggies to make this recipe more plant-focused. And I've updated the text and photographs to reflect those changes.
I'm craving all the Winter comfort foods right now. And I figured you guys might be as well. So I wanted to re-visit this Coffee Glazed Roasted Vegetables with Mascarpone Polenta recipe from the archives. It's the perfect "stick to your ribs" type of meal. And it also happens to be both vegetarian and gluten-free!
So if you're looking to get out of your usual baked pasta, lentil stew or chicken pot pie routine this Winter, then give this recipe a try!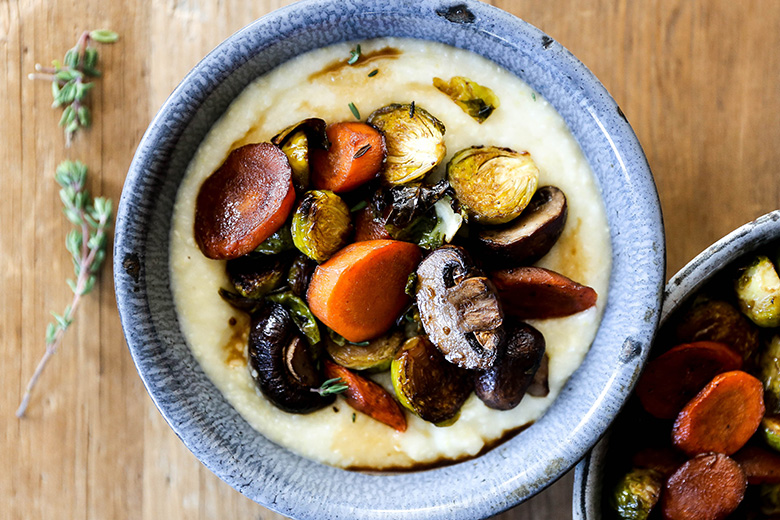 Coffee is an ingredient that I love to use both in sweet and savory recipes. It adds a deep, rich flavor to just about anything. And there is never a shortage of coffee around my house (because I'd be very cranky if there was!), so it's something I always have on hand. In this recipe, I'm combining it with some balsamic vinegar and maple syrup to create a glaze for some of my favorite roasted vegetables. I used brussels sprouts, carrots and mushrooms for this recipe, because they are three seasonal vegetables that I love. But I think parsnips or sweet potatoes would also be delicious here. You can really use any combination of vegetables that you like!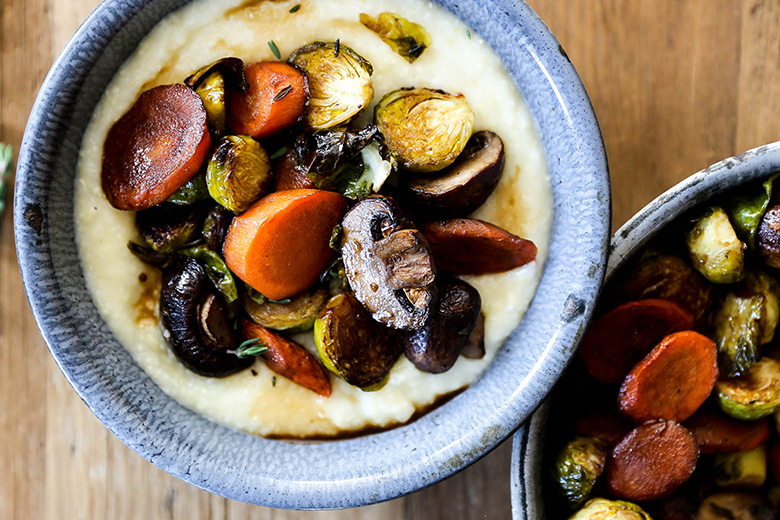 I recommend cooking the polenta while the vegetables are roasting. As a heads up, you will have to babysit the polenta a bit. It requires some attention to keep it from bubbling and spurting too aggressively as it thickens. And also to prevent it from burning on the bottom of your saucepan. So plan on staying close by while it cooks. Your efforts will be rewarded.
The mascarpone cheese makes this polenta extra silky and creamy. If you have trouble finding mascarpone cheese, you can substitute it with regular cream cheese or crème fraîche.
Once the polenta and the vegetables are done, build yourself a big cozy bowl, take a seat on the couch, wrap yourself in a warm blanket and dig in! Ultimate feel-good vibes!
Cheers,
Liz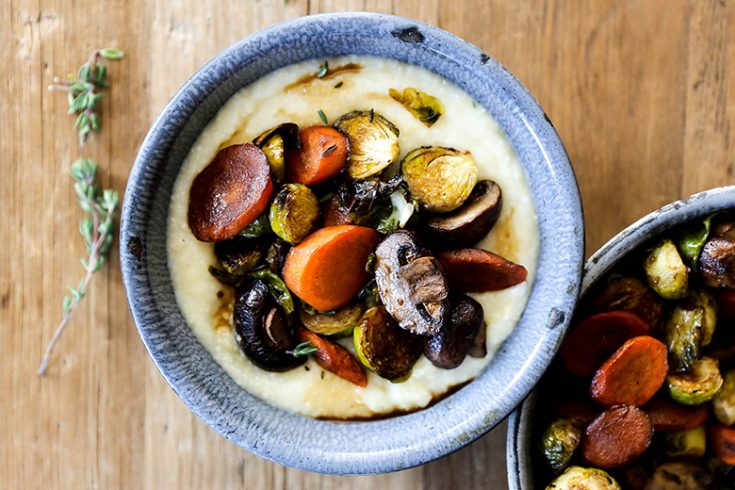 Coffee Glazed Roasted Vegetables with Mascarpone Polenta
Yield: Serves 3-4
Prep Time: 5 minutes
Cook Time: 45 minutes
Total Time: 50 minutes
Ingredients
For the Vegetables:
1/2 cup brewed coffee
1 tablespoon balsamic vinegar
1 tablespoon maple syrup
2 cups brussels sprouts, trimmed and halved
1 1/2 cups carrots, peeled and sliced
8 ounces brown button mushrooms, wiped clean and halved
2 tablespoons extra-virgin olive oil
1 tablespoon fresh thyme leaves
1 tsp. salt
1/2 tsp. black pepper
For the Polenta:
4 cups water
1 cup polenta
4 tablespoons mascarpone cheese
1 tablespoon butter
1/2 tsp. salt
Instructions
In a small saucepan over medium-high heat, bring the coffee, balsamic vinegar and maple syrup to a boil. Cook, stirring occasionally, until the liquid is reduced in volume by approximately half, about 7-8 minutes. Remove the saucepan from the heat and set it aside.
Pre-heat your oven to 425 degrees. Add the brussels sprouts, carrots and mushrooms to a large rimmed baking pan. Drizzle with the olive oil and sprinkle with the thyme, salt and black pepper. Toss to coat.
Transfer the baking pan to your pre-heated oven and roast the vegetables for 15 minutes. After 15 minutes, remove the baking pan and drizzle about 3 tablespoons of the reduced coffee glaze over the vegetables, tossing to coat. Return the baking pan to your oven and roast the vegetables for an additional 10 minutes. Then remove the baking pan from your oven and cover it to keep the vegetables warm.
Meanwhile, bring the water to a boil in heavy bottom saucepan. Once the water is boiling, slowly whisk in the polenta. Cook the polenta uncovered for about 18-20 minutes, whisking frequently, until it's thickened and the liquid is mostly absorbed. As the polenta becomes thick it will start to bubble and spurt. Lower the heat as needed to prevent it from bubbling and spurting too aggressively.
Once the polenta is cooked, remove the saucepan from the heat and whisk in the mascarpone cheese, butter and salt. Cover to keep warm.
To serve, divide the polenta between bowls. Top with the roasted vegetable mixture and an extra drizzle of the remaining coffee glaze, if desired. Enjoy immediately.
Leftovers can be stored in an airtight container in your refrigerator for 2-3 days. The polenta will thicken and become firm as it cools. Loosen it by whisking in some warm water or milk.