I'm in Chicago right now on a little vacation, but I wanted to stop in and share with you this recipe for these amazing Strawberry-Rhubarb Almond Scones. Mmmm…just thinking about them now is making my mouth water!
You know how scones can sometimes be dry and crumbly. And if you close your eyes you could even actually imagine that you're eating a hockey puck for breakfast instead of a scone? Yeah? Well, these are certainly NOT those kind of scones. In fact, I think these scones may be the most moist (say that three times fast!) and tender scones I have ever made.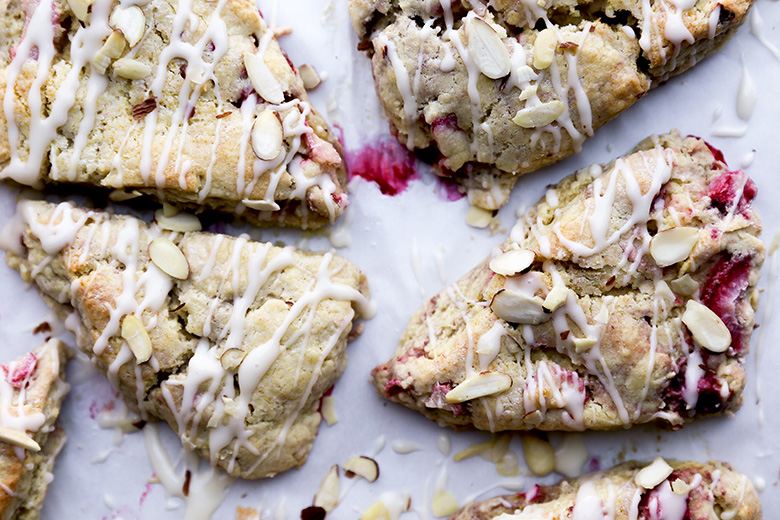 Strawberries and rhubarb are just meant to be together. They provide each other with the perfect balance of sweet and tart. And they are a fabulous duo for these Spring-worthy scones. Someone once said to me that combining strawberries and rhubarb was the most cliché thing in the cooking world today. Well maybe. But I don't care. There is a reason that everyone does it. It's freaking delicious!
I think we are heading into the last few weeks of rhubarb season, so don't delay on making these babies!
Cheers,
Liz
Recipe adapted from Heather Christo and Two Peas & Their Pod
Ingredients
For the Scones
2 1/2 cups all-purpose flour
1/2 cup sugar
1 tsp. baking powder
1/2 tsp. baking soda
1/2 tsp. salt
1/2 cup (8 tablespoons) cold butter, cut into pieces
2/3 cups, plus 2 tablespoons, heavy whipping cream, divided
1/4 tsp. almond extract
1 egg
3/4 cups rhubarb, cut into 1/2-inch pieces
3/4 cups strawberries, stemmed and sliced
1/3 cup sliced almonds

For the Almond Glaze
3/4 cups confectioners sugar
2-3 tablespoons heavy whipping cream
1/2 tsp. almond extract
1/4 cup sliced almonds
Instructions
Pre-heat your oven to 425 degrees. Line a large baking sheet with parchment paper and set aside.
In the bowl of your food processor with the blade attachment, pulse together the flour, sugar, baking powder, baking soda and salt. Add the cold butter and pulse until you have a coarse crumb.
In a small bowl beat together 2/3 cups of the whipping cream, the almond extract and the egg. Add this liquid mixture to your food processor and pulse until the dough has just started come together.
Turn the dough out onto a well floured counter top and using your hands, fold in the fruit and the sliced almonds, being careful not to over work the dough. The dough will be a bit shaggy and wet.
Shape the dough into a round disk and then cut it into eight wedges. Transfer the wedges to your prepared baking sheet, leaving 1-2 inches between them. Brush the tops with the remaining 2 tablespoons of heavy cream.
Transfer to your pre-heated oven and bake for 13-15 minutes, until the scones are slightly golden around the edges. Allow the scones to cool on their baking sheet for about 10 minutes before transferring them to a wire rack to continue cooling.
While the scones are cooling, making the almond glaze. In a small bowl whisk together the confectioners sugar, the heavy cream (starting with about 2 tablespoons and adding more to achieve your desired level consistency) and the almond extract until smooth. Drizzle the glaze over the cooled scones. Sprinkle with the remaining sliced almonds.
These scones are best when they are eaten the day they are made. But they will keep for up to 2 days in an airtight container at room temperature.
https://www.floatingkitchen.net/strawberry-rhubarb-almond-scones/