It's ice cream season, y'all!
Actually, that's a total lie. It's always ice cream season for me. No matter what the weather, you can guarantee I'm going to be eating ice cream. Can't stop, won't stop.
Given that summer is inevitable at this point (at least I hope it is!), I've really been ramping up my ice cream production at home. I've made three batches this past week alone! My freezer is well stocked and I'm ready for those hot, sticky summer days. Bring it on!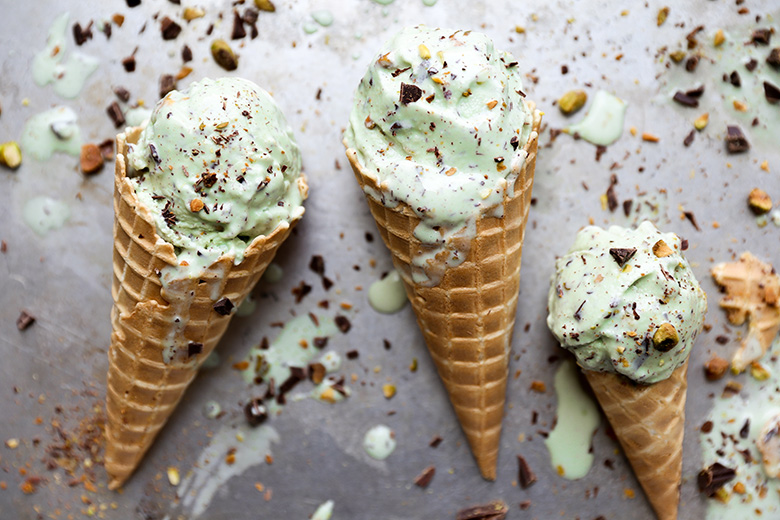 This recipe for Pistachio and Dark Chocolate Chunk Ice Cream is seriously to die for. I love pistachio ice cream, and this homemade version rivals any that I've ever had from an ice cream shop. And trust me, I've tasted a lot. The secret is all in the pistachio paste that you make in your food processor with a bit of cream cheese and heavy cream. It's the key step in this recipe to ensuring that every single bite of this ice cream is loaded with pistachio flavor. And it's what gives it that pretty light green color as well. I know you're going to absolutely love it!
Cheers,
Liz
Recipe barely adapted from Table for Two
Ingredients
For the Pistachio Paste
3/4 cups unsalted shelled pistachios
2 tablespoons cream cheese, softened at room temperature
6 tablespoons heavy whipping cream

For the Ice Cream Base
1 1/2 cups half and half
1 cup sugar
5 egg yolks
1 1/2 cups heavy whipping cream
1/2 tsp. vanilla extract
1 cup finely chopped dark chocolate
Instructions
Before you start, make sure the canister of your ice cream maker is frozen. To freeze completely, the canister should be in the freezer for at least 6 hours before you attempt to churn your ice cream.
Make the pistachio paste. In the bowl of your food processor with the blade attachment, process the pistachio nuts until finely chopped. Add the cream cheese and pulse to combine and form a paste. Then with your food processor running, drizzle the heavy cream through the feed tube and process until everything is well combined. Set aside.
Make the ice cream base. In a heavy bottom saucepan over medium heat, warm the half and half and the sugar, stirring until the sugar is completely dissolved.
In a separate bowl, whisk the eggs yolks until they become pale yellow and thicken slightly. Temper the egg yolks by whisking about 1/2 cup of the warm half and half/sugar mixture into the eggs yolks. Then whisk the tempered egg yolks into the saucepan with the remaining half and half/sugar mixture. Cook over medium heat, stirring constantly, until the ice cream base thickens and coats the back of a spoon, about 5 minutes. Remove from the heat. Add the heavy cream, vanilla extract and the pistachio paste, whisking until the pistachio paste is evenly distributed and there are no visible clumps.
Transfer the ice cream base to a clean bowl and cover with plastic wrap, pushing the plastic wrap all the way down to the surface of the ice cream base to prevent a skin from forming. Refrigerate until chilled, at least 4 hours or up to 24 hours.
Once chilled, pour the ice cream base into the canister of your ice cream maker and churn until the mixture is nearly frozen and the consistency of soft serve, about 20 minutes. Add the dark chocolate and churn for another 2 minutes, just until the chocolate is evenly distributed.
Transfer the ice cream to a freezer-safe container and place in your freezer. Freeze until it becomes firm, about 3-4 hours. Enjoy!
https://www.floatingkitchen.net/pistachio-dark-chocolate-chip-ice-cream/