I've been eating an insane amount of cauliflower these past few weeks.
My obsession started with this warm cauliflower salad recipe from Smitten Kitchen. I made it a couple times as written, devouring it each time (if you think you can't eat an entire head of cauliflower in one sitting, I dare you to try this recipe!). And now I've tinkered with the original recipe, landing on a version that I love even more.
This Roasted Cauliflower and Chickpea Salad with Scallions and Dates is a simple recipe that delivers big on flavor. The cauliflower and chickpeas are generously seasoned with a combination of paprika, cumin, sumac and salt before being roasted at high heat. So there's major flavor not only from all the spices that are added, but also from the little bits of char and caramelization that happen during roasting. Cauliflower and chickpeas are ingredients that don't have strong flavors on their only, so you really have to be heavy handed with the spices. So don't skimp out on them!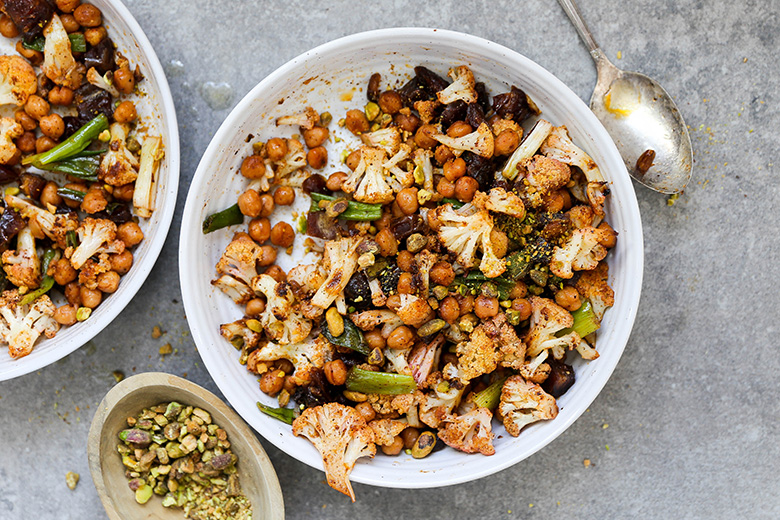 If you're not familiar with sumac, it's a spice that's popular in Middle Eastern dishes. It's bright red and has an acidic, lemon-like flavor. It really brightens up this dish, and I think it's worth seeking out. If you can't find ground sumac in the baking aisle with the other spices, look for it in the International foods aisle.
This salad also has charred scallions, Medjool dates, pistachios and a simple lemon-honey dressing. And I think it's absolutely the most delicious when served while it's still warm. I find I'm not really craving my typical cool, crispy lettuce-forward salads these days. So this warm Roasted Cauliflower and Chickpea Salad with Scallions and Dates has been getting me through the Winter season. But if you find yourself wanting to add some extra green things, I've piled this salad onto a bed of kale or spinach leaves, letting the residual heat soften the greens, and that's worked great and has been very yummy!
Cheers,
Liz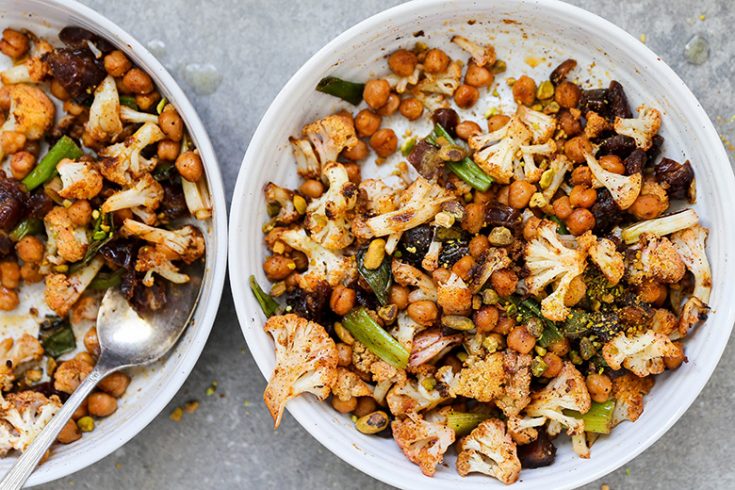 Roasted Cauliflower and Chickpea Salad with Scallions and Dates
Yield: Serves 2-4
Prep Time: 10 minutes
Cook Time: 30 minutes
Total Time: 40 minutes
Ingredients
For the Salad:
6 cups cauliflower florets (from about 1 small-medium head)
1 (15-ounce) can chickpeas, rinsed and drained
3 1/2 tablespoons extra virgin olive oil, divided
1 tsp. paprika
1 tsp. cumin
1 tsp. sumac
1/2 tsp. salt
6 scallions, cut into 1-inch segments
8 Medjool dates, pitted and chopped
1/3 cup pistachios, roughly chopped
For the Dressing:
1/4 cup fresh squeezed lemon juice
2 tablespoons extra-virgin olive oil
1 tablespoon honey
1/4 tsp. salt
1/4 tsp. black pepper
Instructions
Pre-heat your oven to 400 degrees.
In a large bowl, toss the cauliflower florets and chickpeas with 3 tablespoons of the olive oil until well coated. Add the paprika, cumin, sumac and salt and toss until the spices are evenly distributed.
Spread the seasoned cauliflower and chickpeas out onto a large rimmed baking sheet. Then transfer the baking sheet to your pre-heated oven and roast for 20 minutes.
Meanwhile, add the scallion segments to the same bowl you used above. Drizzle them with the remaining 1/2 tablespoon of olive oil, tossing to coat. After 20 minutes, add the scallions to the baking sheet with the cauliflower and chickpeas and stir to combine. Return the baking sheet to your oven for an additional 10 minutes.
Whisk together all the ingredients for the dressing and set aside.
Add the chopped dates to the same bowl you used above. When the cauliflower mixture has finished roasting, carefully scrape the entire contents of the baking sheet into the bowl over the chopped dates. You want to do this while the cauliflower mixture is still warm, so the residual heat softens the dates. Toss gently to combine. Then drizzle on about 1/2 the dressing, tossing to coat. Taste and add more dressing, if desired.
Divide the salad between serving bowls. Top with some of the chopped pistachios. Enjoy while still warm.