Hello and Happy New Year!
I realize it's a bit late in January to be wishing anyone a Happy New Year. But since this is my first blog post of the year, I'm hoping I can still get away with it.
I had planned to take 1-2 weeks off from posting to regroup and recharge after the Holidays. But those 2 weeks rolled right into 5 weeks. And now here we are. The end of January. Oooops.
BUT today I'm bringing you these truly decadent, ooey-gooey Brownies with Chocolate-Raspberry Ganache. So I'm going to go ahead and assume all is forgiven. Deal?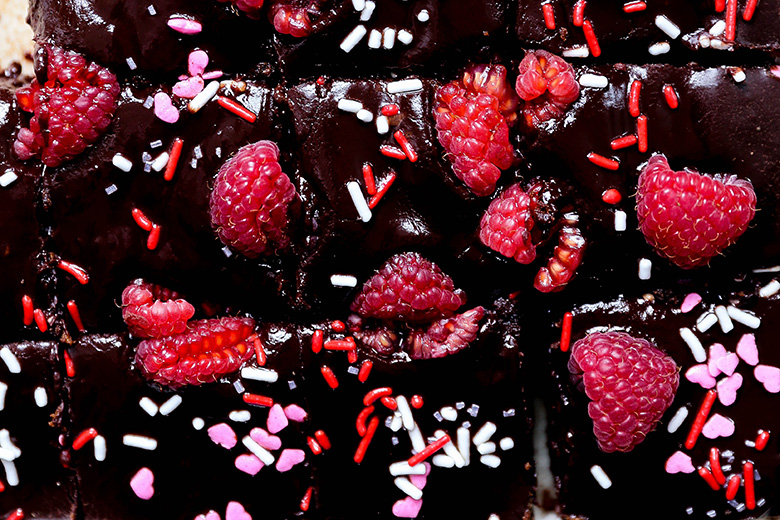 These Brownies with Chocolate-Raspberry Ganache are truly some of the best frosted brownies that I've ever made (they also received rave reviews from all my taste testers!). They are fudgy and deeply chocolatey with a THICK layer of chocolate ganache that's flavored with a homemade raspberry purée. These brownies are for serious chocolate lovers only. So if that's you or someone you love (hint hint: Valentine's Day!), give them a try.
The raspberry flavor in the ganache is subtle, which is why I like to press a few fresh raspberries on top for a bit more raspberry flavor. If you do this, I recommend storing any leftover brownies in your refrigerator. But if you don't like chilled brownies (I know the internet has strong opinions on this matter!), you can skip the fresh raspberries and just have fun with the sprinkles!
Cheers,
Liz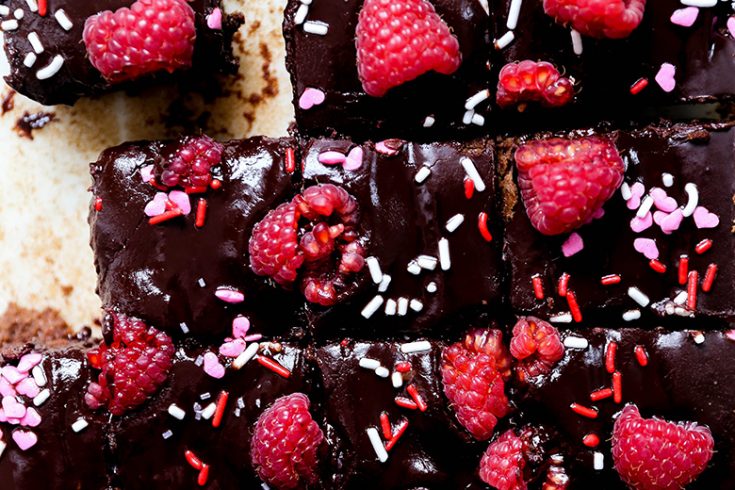 Brownies with Chocolate-Raspberry Ganache
Yield: Makes one 9 X 9-inch pan
Prep Time: 30 minutes
Cook Time: 45 minutes
Additional Time: 30 minutes
Total Time: 1 hour 45 minutes
Ingredients
For the Brownies:
8 tablespoons unsalted butter
7 ounces dark chocolate, roughly chopped
1 1/4 cups granulated sugar
3 eggs, at room temperature
1 tsp. vanilla extract
1 cup all-purpose flour
2 tablespoons unsweetened cocoa powder
1 tsp. instant espresso powder
1/2 tsp. salt
For the Raspberry-Chocolate Ganache:
1 cup fresh raspberries
1 tablespoon light corn syrup
2 tsp. water
1 1/2 cups semi-sweet chocolate chips
1/4 cup heavy cream
For Topping:
12-16 fresh raspberries
Colored sprinkles
Instructions
Pre-heat your oven to 350 degrees.
Line an 9 X 9-inch baking pan with parchment paper, leaving about an inch hanging over the sides. Lightly spray the parchment paper with non-stick cooking spray. Set aside.
In a medium saucepan over low heat, melt the butter. Once melted, add the chopped chocolate and stir constantly until it's fully melted. Remove the saucepan from the heat. Add the sugar and stir to combine.
In a separate bowl, whisk together the eggs and vanilla extract. Then slowly add this mixture to the saucepan, whisking to combine. The batter may look grainy at first, but it will smooth out as you whisk it. Once it's smooth and glossy, add the flour, cocoa powder, espresso powder and salt and stir to combine.
Scrape the brownie batter into your prepared baking pan, spreading it out evenly and smoothing the top. Transfer to your pre-heated oven and bake for 30-40 minutes. A toothpick inserted into the center of the brownies should have a few moist crumbs sticking to it, but it shouldn't be wet.
Remove the baking pan from your oven and set it on a wire rack to cool.
Once the brownies have completely cooled, make the ganache. In a small saucepan over medium-high heat, combine the raspberries, corn syrup and water. Bring to a simmer and cook, stirring frequently, until the raspberries are almost completely broken down, about 5 minutes. Use a spoon or spatula to press the raspberries against the sides of the saucepan as you stir them, helping to release as much of their juices as possible. Remove the saucepan from the heat.
Once cool enough to handle, strain the raspberry mixture through a fine mesh strainer, collecting the purée into a clean bowl. Use a spoon or spatula to help push as much of the purée through the strainer as possible. You should have about 1/4 cup of raspberry purée.
Add the chocolate chips, heavy cream and raspberry purée to a microwave-safe bowl. Microwave in 30 second intervals, stirring well in between, until the chocolate chips are completely melted and the mixture is smooth. Pour the ganache over the cooled brownies, spreading it out into an even layer. Then top with fresh raspberries and sprinkles, if desired.
Place the brownies in your refrigerator for about 30 minutes to set the ganache. Then lift the brownies from their baking pan using the overhanging sides of the parchment paper. Slice into squares and enjoy.