In my excitement over Holiday baking, I seemed to have combined like three (maybe even four?) desserts into one extremely decadent treat.
But for this I won't apologize. Because it's December. And we're going to go BIG!
Let's talk about what's in these Salted Nut, Cranberry and Chocolate Bars with Brown Sugar Cookie Crust. The bottom layer is adapted from my favorite pie bars. I swapped in brown sugar for the granulated sugar, which gave it a deeper, more caramelized flavor. And also changed the texture a bit, too. Overall, I think it turned out more like a sugar cookie than a pie crust. And I, for one, am a fan.
The dough for the bottom layer is made entirely in your food processor (= easy!). Once it's all processed, simply press it firmly into your prepared baking pan and you're good to go (= double easy!). And if you make the recipe as it's written below, you'll actually have enough dough for two batches of bars. I have a feeling you'll be wanting to make these bars more than one time (I made them twice in one week!), so this shouldn't be a burden at all!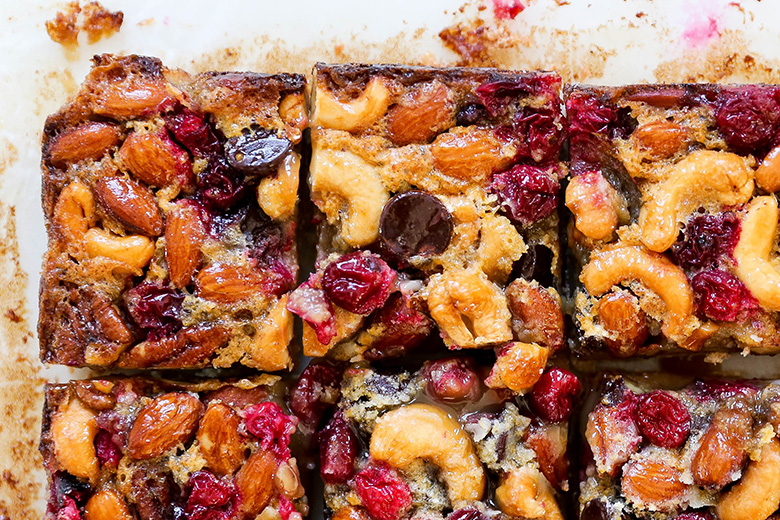 The filling is adapted from my pecan pie recipe. It's sweet and sticky and ooey-gooey. Which is exactly how I want my pecan pie filling to be. I didn't want to limit myself to just pecans for this recipe, so I used a package of mixed nuts that contained cashews, almonds, pecans and brazil nuts. You can use any combination of nuts that you like here. But I do highly recommend that you use nuts that are already salted. The salt really balances out the sweetness of the filling. As do the fresh, tart cranberries. And don't you just love the jewel-toned pops of color from the cranberries? It's so festive and pretty!
I also tossed in some dark chocolate chips. Because you guys know I love my chocolate!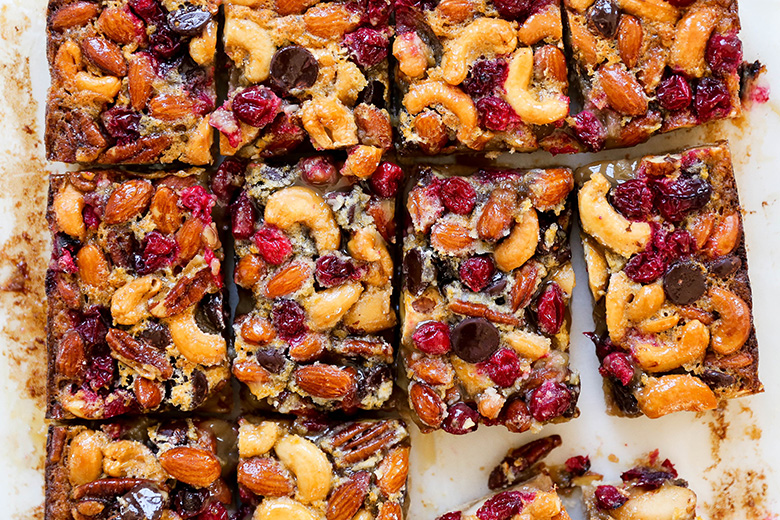 You can slice and eat these bars just as they are. If you snag them straight from the fridge, they stay firm enough to pick up with your hands (although I'd still keep a napkin nearby for any filling spillage!). But I also like to serve them slightly warm with a scoop of vanilla ice cream. You can't really go wrong either way!
I hope you put these Salted Nut, Cranberry and Chocolate Bars with Brown Sugar Cookie Crust on your Holiday baking list this year! And if you do, please let me know!
Cheers,
Liz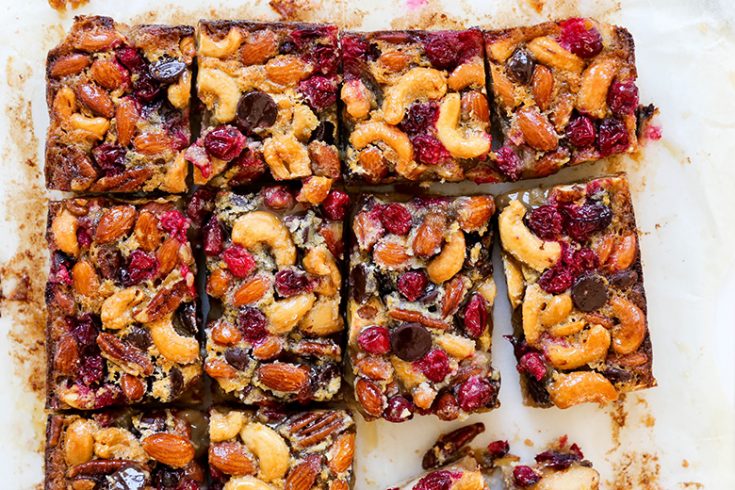 Salted Nut, Cranberry and Chocolate Bars with Brown Sugar Cookie Crust
Yield: Makes 12-16 bars
Prep Time: 15 minutes
Cook Time: 30 minutes
Total Time: 45 minutes
Ingredients
For the Crust (makes enough for 2):
3 cups all-purpose flour
1 cup packed brown sugar
1 tsp. baking powder
1/2 tsp. salt
1/4 tsp. cinnamon
1 cup (16 tablespoons) butter, cubed and chilled
1 egg
2 tsp. vanilla extract
For the Filling:
3 eggs, at room temperature
1/2 cup light corn syrup
1/2 cup packed brown sugar
3 tablespoons butter, melted and cooled
2 tsp. vanilla extract
1/2 tsp. salt
1 3/4 cups salted mixed
1/2 cup fresh cranberries
1/2 cup dark or semi-sweet chocolate chips
Instructions
Line a 9 X 9-inch baking pan with parchment paper, leaving about an inch over hanging on all sides. Lightly coat the parchment paper with non-stick cooking spray. Set aside.
In your food processor with the blade attachment, pulse together the flour, brown sugar, baking powder, salt and cinnamon. Add the cubed butter, egg and vanilla extract. Pulse until the dough resembles a course meal. It will still be somewhat loose and shaggy at this point.
Dump the dough out onto a floured work surface and use your hands to bring it together. Then divide the dough into two equal-sized pieces. Flatten and wrap one of the pieces tightly in plastic wrap and store it in your refrigerator (3-4 days) or freezer (several weeks) for later use. Take the second piece and press it out into an even layer over the bottom of your prepared baking pan. Place the baking pan in your freezer to chill for 10 minutes.
Pre-heat your oven to 375 degrees.
In a large bowl, whisk together the eggs, corn syrup, brown sugar, butter, vanilla extract and salt. Fold in the nuts, cranberries and chocolate chips.
Remove the baking pan from your freezer and pour the filling over the dough, spreading it out evenly. Transfer the baking pan to your pre-heated oven and bake for 27-29 minutes, or until the edges of the bars are brown and set, but the center is still slightly jiggly. The bars will continue to cook and firm up once they are removed from the oven, so do not overbake them.
Place the baking pan on a wire rack and let the bars cool completely before using the overhanging parchment paper to lift and remove them from their baking pan. Slice and enjoy. If you want neater slices, place the room temperature bars in your freezer to chill them before slicing.
Leftovers can be stored in an airtight container in your refrigerator for 2-3 days.