I can barely keep my eyes open as I write this post.
Why? Because Halloween on a Tuesday night is HARD for old folks like myself.
Seriously, you guys. I'm in rough shape today. I just don't have the same stamina for going out and drinking like I used too.
And that sugar hangover is no joke, either. I'm trying to stay away from all the candy right now, but the kids in my town are actually trick-or-treating on Friday night, because we had a big storm earlier in the week that resulted in a lot of power outages, downed trees and other damage. So the town made the decision to postpone the Halloween festivities for a few nights, so everyone could have a safe and fun evening. BUT that means that I've still got bags of Halloween candy hiding in my cabinets. I can't wait to give it all away!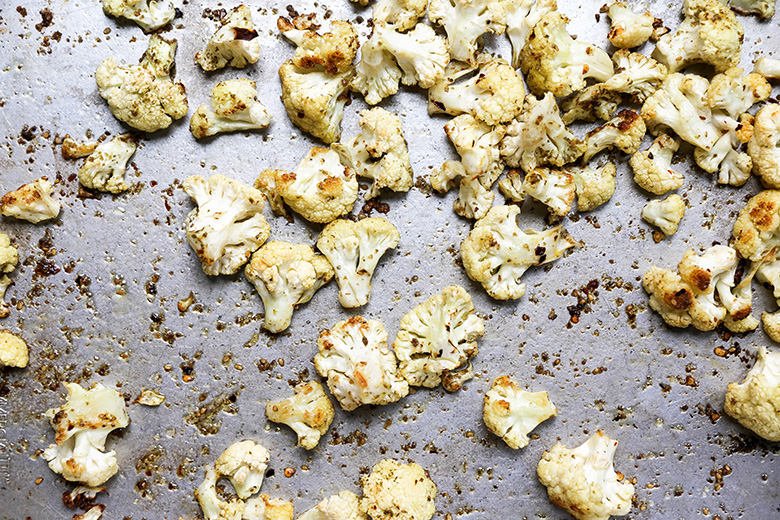 I'm also attempting to curb my cravings by loading up on big, hearty salads like this Za'atar Roasted Cauliflower and Tortellini Salad.
This recipe was initially inspired by my friend Lisa's Za'atar Roasted Cauliflower with Dates, Pine Nuts and Thyme. Her version sounded so damn tasty (I'm a sucker for both za'atar seasoning and cauliflower!), so I got to work playing with some of the ingredients she used, and combining them with whatever else I had on hand (a little "clean out the refrigerator" recipe is always a good idea!) and this salad was born.
It's a bit non-traditional, I suppose. Because it's not really a standard pasta salad. And it's not really a standard leafy green salad, either. It's somewhere in the middle. And I kind of dig it. This recipe has just enough tortellini to satisfy those cheesy cravings. But isn't so loaded down that you feel heavy after eating an entire bowl. The za'atar cauliflower is super flavorful. And between the little browned, tasty bits that were stuck to the roasted cauliflower, and the olive oil and fresh lemon juice clinging to the tortellini, I found I didn't even need to put extra dressing on the greens. But you could certainly give them a toss in a little bit of dressing of your choice, if desired.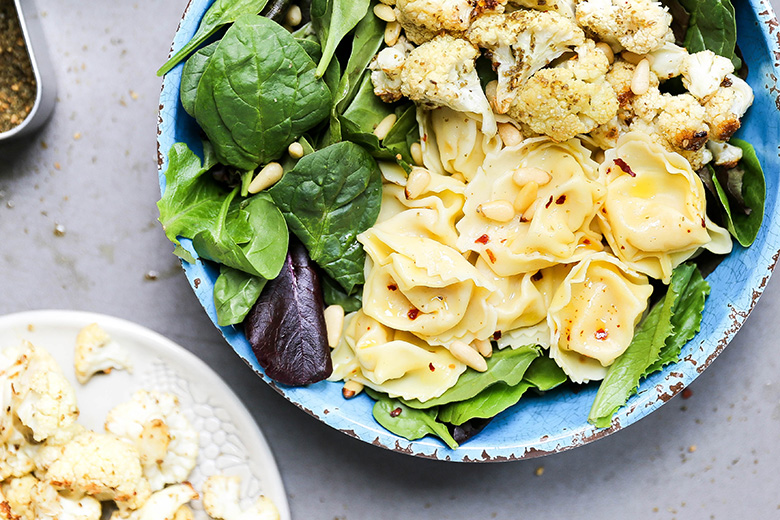 Oh and before I go, I want to just say that November is full on Thanksgiving mode here at Floating Kitchen. So if you have any special requests, make them known now and I'll try to address them before the big day!
And for more za'atar goodness, try my roasted cabbage wedges or these whipped ricotta toasts!
Cheers,
Liz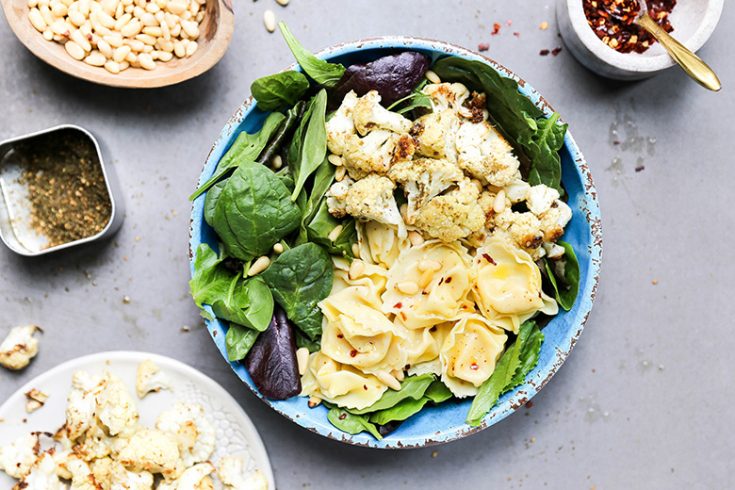 Za'atar Roasted Cauliflower and Tortellini Salad
Yield: 4 servings

Prep Time: 10 minutes

Cook Time: 25 minutes

Total Time: 35 minutes
Ingredients
1 small head of cauliflower, cut into florets (about 4-5 cups)
4 tablespoons extra-virgin olive oil, divided
1 tsp. za'atar
1/2 tsp. salt
1/4 tsp. red pepper flakes, divided
1 lemon, halved
1 (10-ounce) package cheese tortellini
8 cups mixed greens
1/4 cup pine nuts, toasted
Instructions
Pre-heat your oven to 400 degrees. In a large bowl, toss the cauliflower florets with 2 tablespoons of the olive oil, the za'atar, salt and 1/8 tsp. of the red pepper flakes. Spread the cauliflower out onto a large rimmed baking sheet and roast in your pre-heated oven for 20-22 minutes, stirring once halfway through cooking time. Remove the baking sheet from your oven and squeeze the juice from one of the lemon halves over the cauliflower. Set aside.
Meanwhile, bring a pot of water to a boil. Add the tortellini and cook according to the package instructions. Drain and then add the tortellini back to the pot and toss gently with the remaining 2 tablespoons of olive oil, the juice from the second half of the lemon and the remaining 1/8 tsp. of red pepper flakes. Set aside.
To serve, divide the mixed greens between bowls. Top with the roasted cauliflower and tortellini. Sprinkle with some of the toasted pine nuts. Enjoy immediately.
SaveSave
SaveSave
SaveSave
SaveSave
SaveSaveSaveSave
SaveSave
SaveSave
SaveSave