It's grilling season, y'all! Woo hoo!
I'm so pumped to finally be firing up the grill. Our Spring weather has been less than ideal lately. We've been plagued with a seemingly never ending string of cold, rainy days. And frankly, it's been a little depressing.
But it looks like things are finally starting to turn around. Which means I'm heading outside and putting anything and everything on the grill.
I feel like I really stepped up my grilling game last year, as I tried to go beyond the usual run-of-the-mill staples like hamburgers and chicken. I grilled salsa, lobster pizza and heck, I even grilled watermelon. I was pretty unstoppable. This year, I'm hoping to push the boundaries even a little bit further.
So when I picked up some beautifully crisp snap peas this past week, I knew I wanted to try grilling them.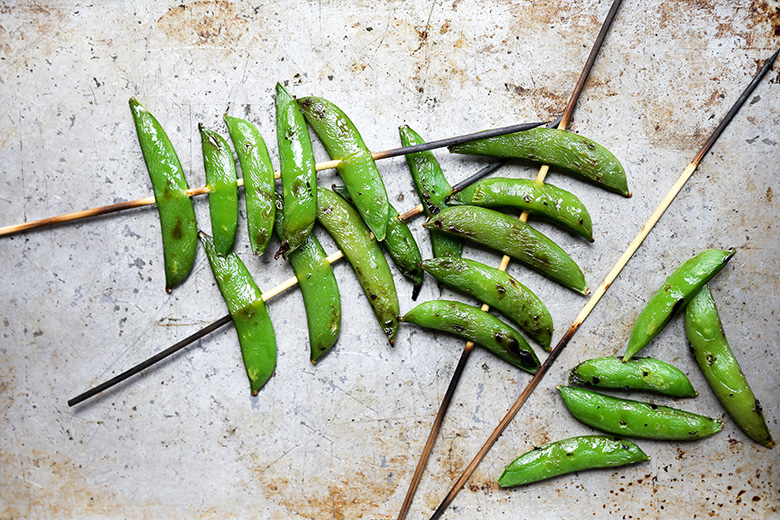 Naturally, I used my grilled snap peas for toast (although as I'm writing this now I can't help but think they would be a great addition to a salad as well). The slightly charred snap peas, combined with a little honey-sweetened whipped ricotta cheese and a sprinkle of za'atar seasoning, make for a wonderfully flavorful savory-sweet snack or light lunch. I'm obsessed. And the presentation is pretty cute too, which I always appreciate.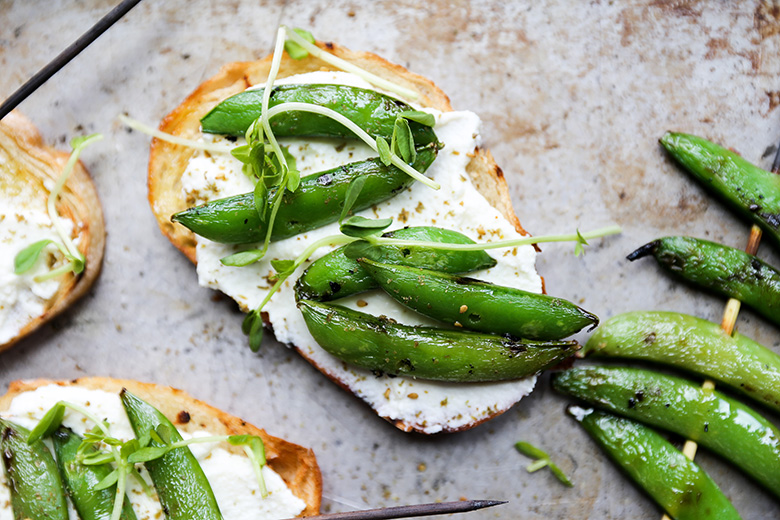 If you try out my Grilled Snap Pea and Whipped Ricotta Toast, snap a picture, post it to social media and tag me so I can see it! Because I like to be nosey!
Oh and my friend Sarah just posted a recipe for snap peas with za'atar seasoning. So go check that out too, if you're digging the flavor combo.
Cheers,
Liz
Ingredients
For the Whipped Ricotta
1 cup full fat ricotta cheese
1 tablespoon heavy cream
1 tablespoon honey
1/4 tsp. salt

For the Toast
About 1/2 lb snap peas
6 slices of bread
A couple tablespoons of extra-virgin olive oil
About 1 tsp. za'atar
Pea sprouts for garnish, if desired
Instructions
Make the whipped ricotta. Add all of the ingredients to a medium bowl. Beat with your hand mixer until well combined and smooth. Set aside.
Meanwhile, pre-heat your grill to medium-high. Carefully thread the snap peas onto skewers and brush them with a thin layer of olive oil. Brush both sides of the bread with olive oil. Add the snap pea skewers and the bread to your grill. Cook both until they start to become charred in a few places, about 1-2 minutes per side. Remove from the grill and set aside on a clean plate.
Assemble the toasts. Spread some of the whipped ricotta onto the grilled bread. Top with the grilled snap peas (you can leave them on the skewers for a fun presentation, or remove them first). Sprinkle with some of the za'atar and garnish with a few pea sprouts. Enjoy immediately.
https://www.floatingkitchen.net/grilled-snap-pea-and-whipped-ricotta-toast/