I'm pretty excited about the internet this week. Mostly because of tacos.
But also because of nachos, enchiladas, guacamole, margaritas and basically all of the other amazing recipes that go along with Cinco de Mayo. It's one of my favorite "eating days" of the year (it might even have a leg up on Thanksgiving!), and I know that a lot of my food blogging friends share in my excitement. I can't wait to see all the creative, drool-worthy Mexican-themed dishes coming down the pipeline this week. I think I'm going to need a second stomach.
I'm kicking things off this week with these Rhubarb-Raspberry Margaritas. Because it's Monday and I think we need a little boost. The kind of boost that can only come from a shot of tequila delivered in a fruity, perfectly pink cocktail with a tongue tingling salty-sweet rim. Am I right?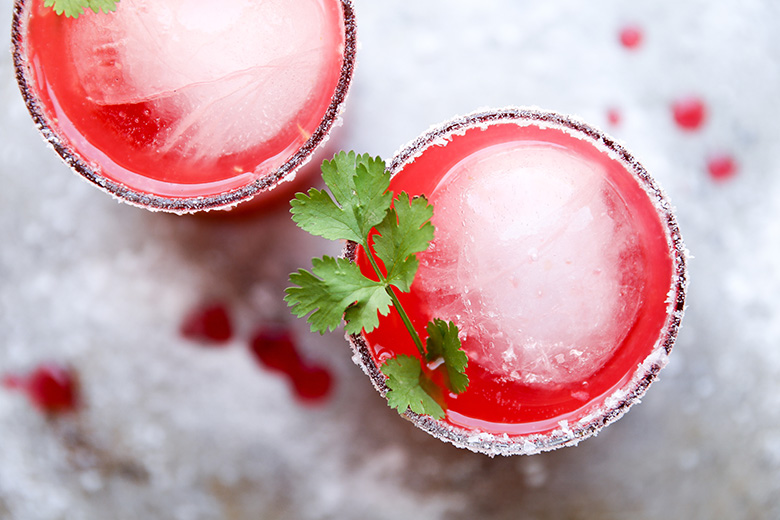 You'll almost always find rhubarb and strawberries paired together in recipes. Their complimentary tart and sweet flavors play off each other perfectly. And it's a duo that I love using in everything from baked goods to frozen treats. But for this cocktail, I opted to use raspberries to provide the "sweet angle" instead of strawberries. The results are equally (if not even more!) appealing. And it's got me now thinking about other ways in which I can combine rhubarb and raspberries in the future.
Oh and let's talk briefly about the vanilla-scented, salty-sweet rim. It's da bomb. Seriously. Don't skip this part. It takes these margaritas to a whole new level of awesome. And it only requires a couple of extra minutes of work. Totally worth it.
I really didn't need any convincing to create a margarita recipe for Cinco de Mayo. But when Kate from Hola Jalapeño announced that she was hosting an entire #margaritaweek on her site, I jumped at the chance to participate. Check out her blog roll here, where she'll be posting the links to the margarita recipes from the other participating bloggers all week long. You'll find lots of cocktail inspiration for Cinco de Mayo. And for all the warm, sunny months to come!
Cheers,
Liz
Ingredients
For the Rhubarb-Raspberry Syrup
2 cup sliced rhubarb
1 pint (6 ounces) raspberries
3/4 cup sugar
1 cup water

For the Vanilla Salt-Sugar
2 tablespoons sugar
2 tablespoons salt
Seeds from 1/2 scraped vanilla bean

For the Cocktails
Vanilla Salt-Sugar
Ice
Rhubarb-Raspberry Syrup
Fresh squeezed orange juice
Fresh squeezed lime juice
Tequila
Orange liqueur
Fresh cilantro for garnish, if desired
Instructions
Make the rhubarb-raspberry syrup. In a saucepan over medium-high heat, combine the rhubarb, raspberries, sugar and water. Bring the mixture to a simmer and cook, stirring occasionally, about 10 minutes. Remove from the heat and set aside to cool slightly. Then strain the mixture through a fine mesh sieve into a clean bowl, using a spatula to press down on the solids to help remove as much of the liquid as possible. Discard the solids. Transfer the collected liquid to a clean, re-sealable container and refrigerate until chilled.
Make the vanilla salt-sugar. Add all of the ingredients in a small bowl. Use a fork to toss them together, working until the vanilla bean seeds are well distributed. Transfer to a small re-sealable container and store at room temperature.
Prepare your glasses. Spoon some of the vanilla salt-sugar mixture out onto a small plate. Moisten the rim of your glasses with a little bit of lime juice. Then press the rim of the glasses into the salt-sugar mixture. Add ice to the glasses and set aside.
Make the cocktails. For one cocktail, add 3 ounces of the rhubarb-raspberry syrup, 1 1/2 ounces of orange juice, 1 1/2 ounces of lime juice, 1 1/2 ounces of tequila and 3/4 ounces of orange liqueur to a cocktail shaker with ice. Shake vigorously. Then strain into one of your salt-sugar rimmed glasses. Garnish with fresh cilantro leaves, if desired. Enjoy!
Notes
1. If you don't have a cocktail shaker, you can use a mason jar with ice and a re-sealable lid.
https://www.floatingkitchen.net/rhubarb-raspberry-margaritas/