If you've been visiting this blog for a while now, then you know that I really like toppings. My motto: the more toppings, the better.
Part of the reason for this mild obsession with adding ALL THE THINGS to my foods is because I truly feel like certain food items (like puréed soups, for example) just shouldn't be naked. But also, I really like the artistic aspect of it all. Food can be a wonderful canvas to play with different colors and textures. In fact, some of my most creative moments can come when I'm staring down at a smoothie bowl or a slice of avocado toast.
But even I have to admit that sometimes I can get a little out of control with the garnishes. Like, did we really need cilantro on that?
The answer is yes, by the way. We always need cilantro.
So when I first pulled these roasted red cabbage wedges out of the oven, I was tempted to hit them with chopped hazelnuts. Maybe a drizzle of tahini-lemon sauce. And of course, a sprinkling of fresh cilantro. But I resisted. Because these vibrant purple wedges were just too gosh darn beautiful to cover up. And they tasted amazing as well. For once, no extra embellishments were necessary.
I must admit that cabbage was never really a vegetable that I loved. Because I mostly associated it with coleslaw, which is kind of yuck in my humble opinion. But now I'm proud to shout from the rooftops that I'm an official cabbage lover! Seriously, sign me up for more of this stuff. It's incredible. If you ever wanted to know how to eat an entire head of cabbage in one sitting, this is most definitely the way. In fact, I'm so confident that my Roasted Red Cabbage Wedges with Za'atar will convert anyone into a bona fide cabbage lover, that there is a money back guarantee on this recipe. Which is freely available on the internet, so there you go. Sorry.
These Roasted Red Cabbage Wedges with Za'atar would make a gorgeous side dish for any hearty Fall meal. In fact, you might even want to bookmark this recipe for Thanksgiving. Just saying.
Za'atar seasoning is a blend of herbs and spices that is frequently used in Middle Eastern cooking. And it's an incredibly easy way to add a big punch of flavor to any dish. You can find za'atar in most large grocery stores, either with the other spices or in the aisle with the international items.
I've created this recipe as part of our monthly #eatseasonal round-up organized by my friend Becky from Vintage Mixer. October is a fun month in the kitchen, because there are still a few hints of Summer produce lingering. And lots of sturdy Fall fruits and vegetables, too. Check out Becky's October Produce Guide for the low down on everything that's seasonal and delicious this month. And scroll down below the recipe to see what some of my other blogging friends were inspired to create this October!
Cheers,
Liz
Ingredients
1 head red cabbage
2 tablespoons melted coconut oil
1 1/2 tsp. za'atar
Scant 1/2 tsp. salt
1 tsp. red wine vinegar
Instructions
Pre-heat your oven to 400 degrees.
Remove and discard any outer leaves from the cabbage that are tough or wilted. Then slice the cabbage into 8 equal sized wedges. The core and stem should keep the individual wedges intact.
Arrange the cabbage wedges in a single layer on a large rimmed baking sheet. Drizzle with the coconut oil. Then sprinkle with the za'atar and salt. Transfer the baking sheet to your pre-heated oven and roast the cabbage for 20-25 minutes. The cabbage should be softened and starting to brown in a few spots. Remove from the oven. While the cabbage wedges are still warm, sprinkle them with the red wine vinegar. Serve immediately.
https://www.floatingkitchen.net/roasted-red-cabbage-wedges-with-zaatar/
October Eat Seasonal Recipes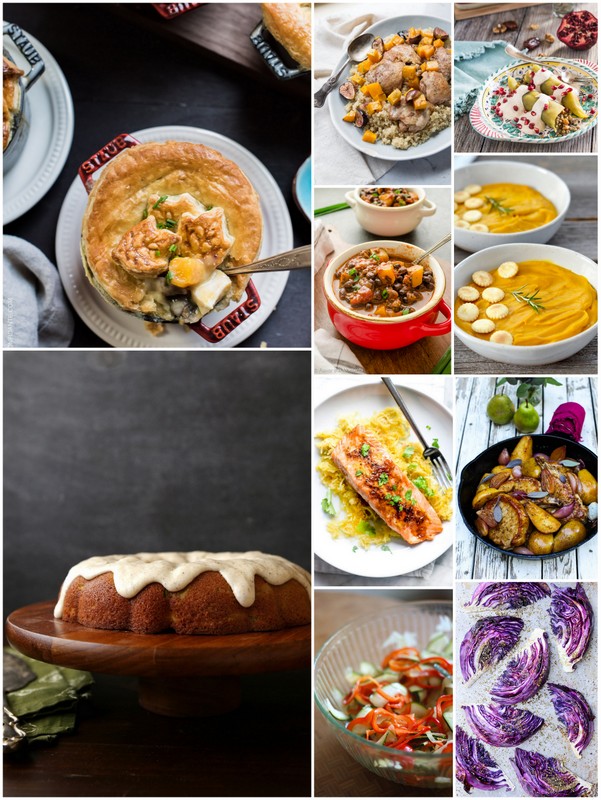 Turkey Pumpkin Pot Pie by Kitchen Confidante
Roasted Chicken with Figs and Butternut Squash by Vintage Mixer
Lentil Chile Rellenos with Creamy Walnut Sauce by Letty's Kitchen
Chorizo, Black Bean, and Kabocha Squash Chili by Flavor the Moments
Roasted Vegetable Soup by Joy Food Sunshine
Spiced Zucchini Pear Cake with Brown Butter Glaze by Completely Delicious
Orange Spiced Salmon with Spaghetti Squash by Foodie Crush
Pork Chops with Roasted Pears, Sage and Shallots by Simple Bites
Marinated Zucchini with Red Peppers and Garlic by Project Domestication