This post was originally published here October 10, 2016. I've since updated the text and photographs. If you're not already roasting your cabbage, I'm here to tell you to start!
Do you have strong feelings about cabbage?
I never really did until recently. Cabbage was always just "fine". I certainly enjoyed shredding it and adding it to salads, tacos or grain bowls for some extra crunchiness. But I certainly wasn't sitting over here going crazy for cabbage or anything like that.
Until I started roasting it. Then cabbage suddenly became a thing that I wanted. Like a legit, stand-alone side dish that I craved. It was no longer just an afterthought.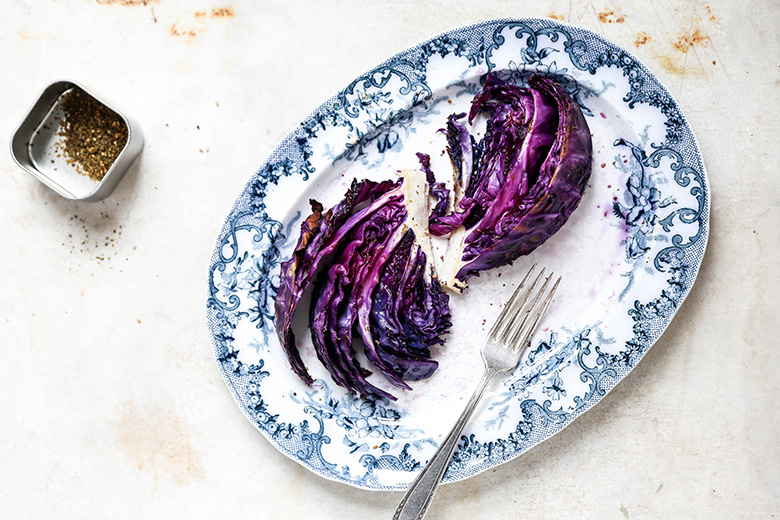 So if you're on the fence about cabbage, I totally get it. But trust me when I tell you that my Roasted Red Cabbage Wedges with Za'atar will completely change your opinion on this cruciferous vegetable.
This whole recipe has only five ingredients. And it will take up only 25 minutes of your time. So even if you hate it (I mean, you won't), you haven't taken on that much of a risk for checking it out. So I hope you'll give it a go! It's a great side dish for any chicken, pork or beef dishes that your family already loves.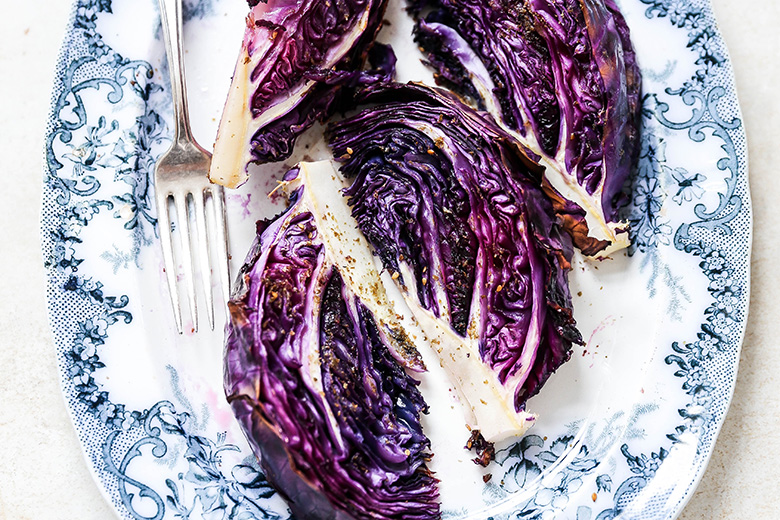 Za'atar is a flavorful blend of herbs and spices that is frequently used in Middle Eastern cooking. It can include dried thyme, oregano, marjoram, sumac, savory, sesame seeds, cumin, salt and more! The exact ingredients will depend on the specific region of origin. You can find za'atar in the spice aisle or in the International foods aisle at your grocery store.
Cheers,
Liz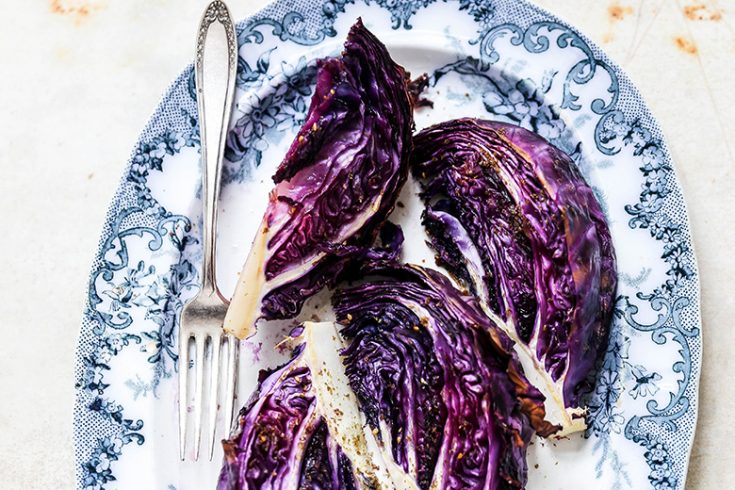 Roasted Red Cabbage Wedges with Za'atar
Yield: Serves 4
Prep Time: 5 minutes
Cook Time: 25 minutes
Total Time: 30 minutes
Ingredients
1 small head red cabbage
2 tablespoons melted coconut oil
1 1/2 tsp. za'atar
1/2 tsp. salt
1 tablespoon red wine vinegar
Instructions
Pre-heat your oven to 400 degrees.
Remove and discard any outer leaves from the cabbage that are wilted and/or damaged. Then slice the cabbage into 8 equal-sized wedges. The core and stem will keep the wedges intact.
Arrange the cabbage wedges in a single layer on a large rimmed baking sheet. Drizzle with the coconut oil and then sprinkle with the za'atar and salt. Transfer the baking sheet to your pre-heated oven and roast the cabbage wedges for 20-25 minutes, or until they are softened and starting to brown in a few places.
Remove the baking sheet from your oven and while the cabbage wedges are still warm, sprinkle them with the red wine vinegar. Serve immediately.