This post was originally published here March 14, 2016. I've since updated the text and photographs. Avocado toast might be considered basic now, but I still love it on occasion. This is one of my favorite topping combinations for Spring and Summer!
Is avocado toast still cool?
When this food trend first hit the scene several years ago (maybe 10 years ago now?), I ate it A LOT. Just call me #basic. But then the past year or two, I kind of just stopped. I think it all become way too much. Yes, avocado toast is delicious, customizable and easy. But it was getting a tiny bit out of control. Did I really need to have avocado toast for every meal? Nope. Did I really need to pile on ALL those ridiculous toppings (remember unicorn avocado toast?)? Also, nope.
But I've been enjoying it again in recent months. For all the reasons that I mentioned above, it's kind of been the perfect "quarantine food" for me. Also, making avocado toast doesn't create a lot of dishes that need washing. Which is something I think we can all appreciate at this time.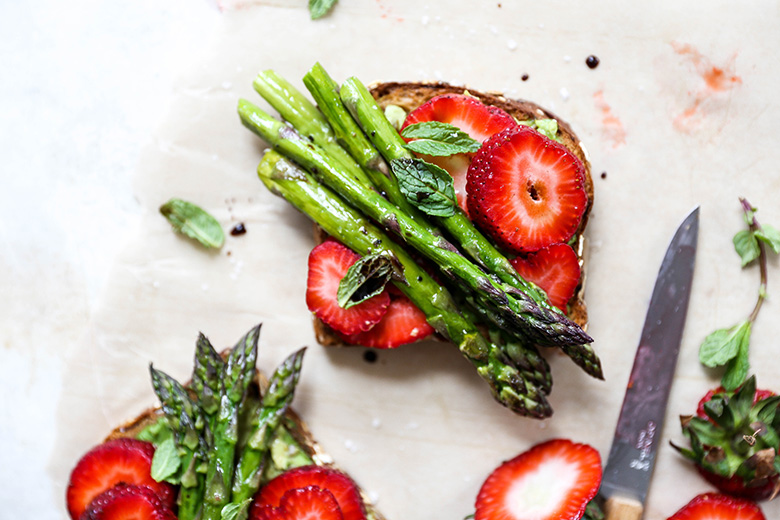 This Avocado Toast with Asparagus and Strawberries is an old favorite. It's a combination that I used to make all the time in the Spring and Summer months, when both strawberries and asparagus are starting to show up. And now I'm happy to say it's back in my life. It's a fun savory and sweet combination. And while parts of it do seem a little bit fancy, it's also not so far over-the-top that it feels indulgent. It's simple, but elevated.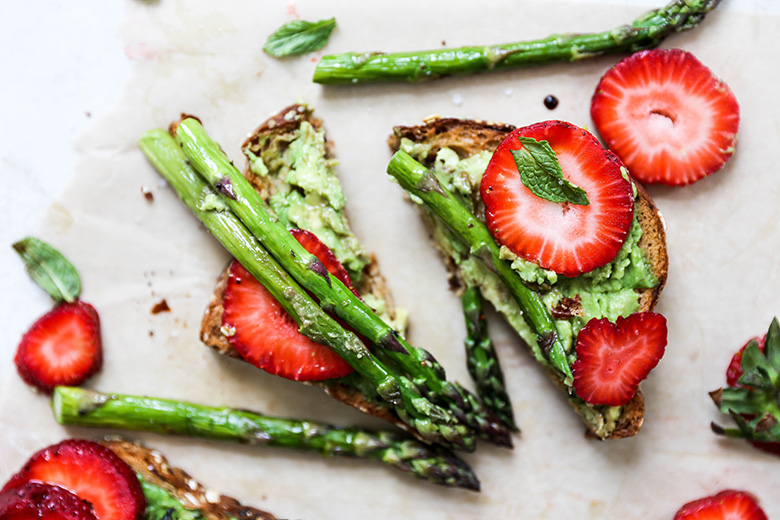 You can use whatever kind of bread you like and/or have on hand for this avocado toast. But I'm going to urge you to try making it with cinnamon raisin bread. It adds another level of sweetness and complexity to this simple recipe and makes it extra yummy!
Cheers,
Liz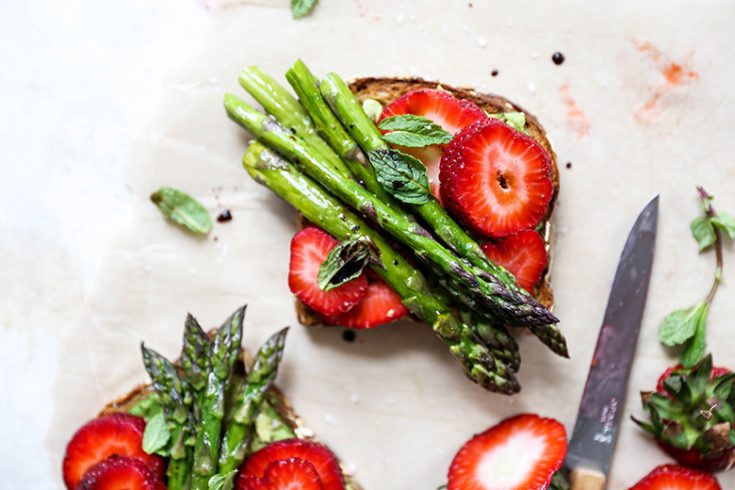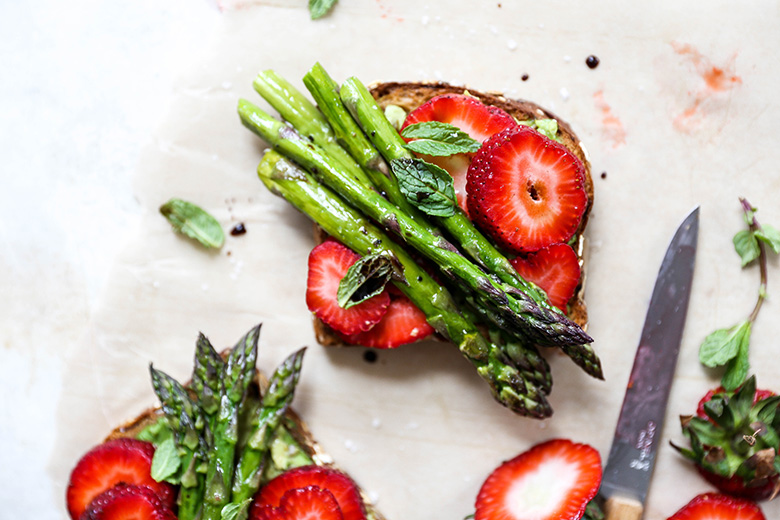 Avocado Toast with Asparagus and Strawberries
Yield: Serves 2
Prep Time: 5 minutes
Cook Time: 15 minutes
Total Time: 20 minutes
Ingredients
12-16 asparagus spears, trimmed to fit your bread
1 tablespoon extra-virgin olive oil
1/4 tsp. salt
1/8 tsp. black pepper
1-2 avocados, depending on their size
4 slices of bread, toasted
6-8 strawberries, stemmed and sliced
Fresh mint leaves
Balsamic vinegar
Flaky sea salt
Instructions
Pre-heat your oven to 425 degrees. Toss the asparagus with the olive oil, salt and black pepper and spread it out onto a rimmed baking sheet. Transfer to your pre-heated oven and roast for 10-12 minutes, or until the asparagus is crisp-tender. Set aside to cool slightly.
Cut the avocado(s) in half and remove and discard the seed(s). Scoop out the flesh and place it in the center of the toasted bread slices, dividing it evenly between the slices. Then smash the avocado flesh down with the tines of a fork, spreading it over the surface of the bread. Top with the roasted asparagus, sliced strawberries and a few fresh mint leaves. Drizzle with some balsamic vinegar and sprinkle with a pinch of flaky sea salt. Serve immediately.