This post was originally published here July 2, 2014. I've since updated the text and photographs. If you're firing up the grill this Summer, might as well grill your desserts, too!
This Summer, I'm making a conscious effort to grill ALL THE THINGS. Because the past two Summers, my grilling repertoire was really lacking. I guess I was just feeling uninspired or something. But now, I'm trying to get re-inspired and make up for all that lost time. And I can't think of a better way to get back on track for grilling success than with a grilled dessert.
Because I, for one, have always found desserts to be extremely motivating.
If you love tropical flavors, then you're going to flip over this Grilled Pineapple with Coconut Whipped Cream. It's like jumping on an airplane and taking that destination vacation that we've all been dreaming about, but that we haven't been allowed to go on (coronavirus = womp womp). But one bite of this dessert, and you won't be feeling so bad about having to stay close to home this Summer. I promise.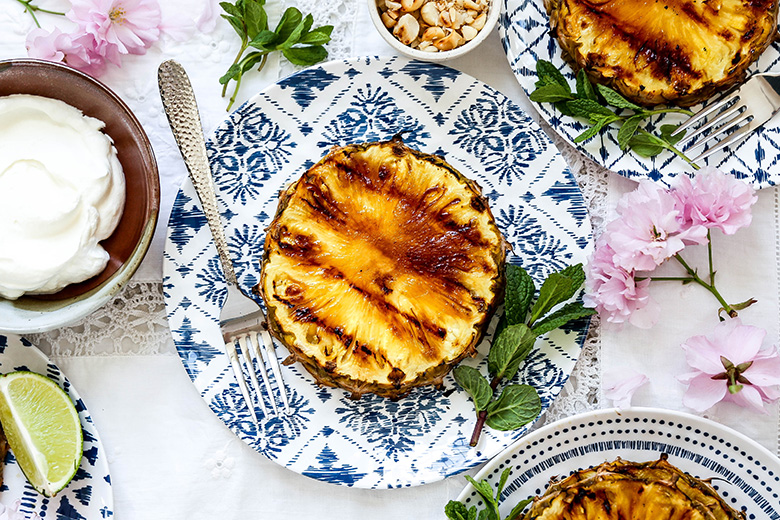 The pineapple part of my Grilled Pineapple with Coconut Whipped Cream recipe is super easy to prepare. Simply cut a pineapple into slices, sprinkle the slices with granulated sugar (the sugar helps to get a deeper caramelization) and place the slices directly on your grill grates for a couple minutes on each side. When the slices have softened slightly and have grill marks in a few places, remove them to a clean tray and squeeze some fresh lime juice over top while they're still warm. And that's it. Now you're ready to top them!
I like sprinkling the grilled pineapple slices with either chopped macadamia nuts or hazelnuts, but chopped almonds are an excellent third choice. And mint leaves provide some freshness and a lovely pop of color. But the topping I get the most excited for is a big dollop of coconut whipped cream!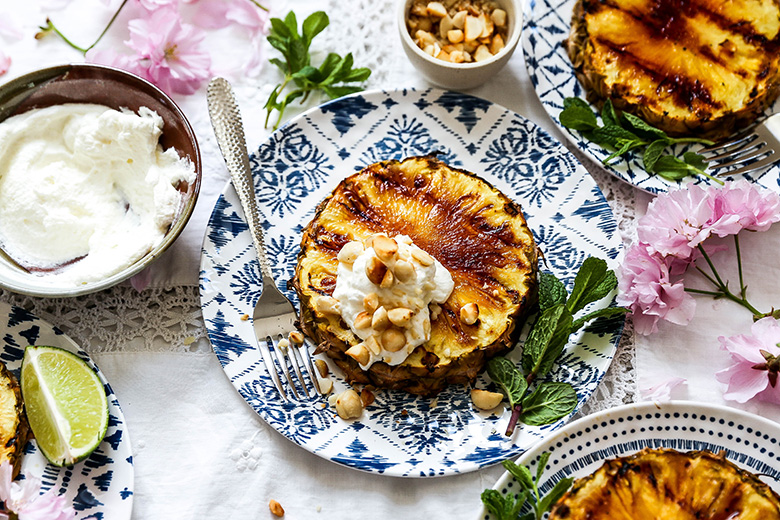 If you haven't made coconut whipped cream before, don't fret. It's simple. But it does require some advanced planning. Because you need to refrigerate a can of full-fat coconut milk (it MUST be full-fat) overnight so the cream portion solidifies and separates away from the liquid portion. There really isn't any getting around this overnight step. Which is a bummer. I know. But after that, the rest of the process is very similar to making regular whipped cream, and simply involves whisking the solidified coconut cream in a chilled bowl with powdered sugar and vanilla extract until it's light and fluffy.
In the event that you find yourself wanting to make this recipe on a whim, or you've forgotten to refrigerate a can of full-fat coconut milk overnight (it happens to the best of us!), you can substitute the coconut whipped cream with traditional whipped cream (try adding a splash of coconut extract here!) or even a dollop of Greek yogurt. The recipe will no longer be vegan, but it will still be very delicious!
Two last notes on making coconut whipped cream. First, I find I'm never able to fully achieve stiff peaks like the way I can with heavy cream. So don't expect the coconut whipped cream to be as firm when it's done. It's a much softer, lighter whip. And second, sometimes this process is a flop. Different brands of coconut milk, and even different cans of the same brand, sometimes won't separate well into solid and liquid portions after refrigeration. And will never thicken and whip up. I know that's discouraging to hear. But just know, if you try and it doesn't work, it's probably not you. I've found that cans of Aroy-D and Whole Foods coconut milk consistently work well for me.
What are you excited to grill this Summer? If you try my Grilled Pineapple with Coconut Whipped Cream, please let me know!
Cheers,
Liz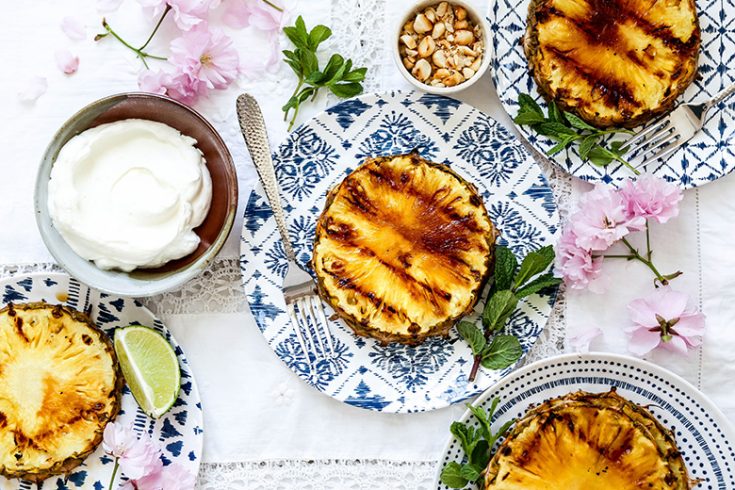 Grilled Pineapple with Coconut Whipped Cream
Yield: Serves 6
Prep Time: 10 minutes
Cook Time: 10 minutes
Additional Time: 18 hours
Total Time: 18 hours 20 minutes
Ingredients
For the Coconut Whipped Cream:
1 (13.5-ounce) can full-fat coconut milk
2 tsp. powdered sugar
1/2 tsp. vanilla extract
For the Grilled Pineapple:
1 medium-large pineapple
About 3 tsp. granulated sugar
1/2 lime
1/2 cup hazelnuts or macadamia nuts, toasted and chopped
Fresh mint, for garnish
Instructions
Place the can of coconut milk in your refrigerator overnight.
The next day, place the bowl of your mixer and the whisk attachment in your freezer for about 5 minutes to chill them. Remove the can of coconut milk from your refrigerator and immediately open it. Scoop out and transfer the solid portion to your chilled mixing bowl, separating it from the liquid portion (which you can discard or save to add to smoothies). Start whisking on medium-high. As it begins to thicken and whip up, add the sugar and vanilla extract. Continue whisking until the mixture is fluffy and light. Cover your bowl and refrigerate the coconut whipped cream until you're ready to use it.
Pre-heat your grill to medium-high.
Trim off and discard the top and bottom portion of the pineapple. Then slice the remaining pineapple core into 1-inch thick slices (I typically get about 6 slices from one pineapple). Sprinkle about 1/4-1/2 tsp. sugar on each side of the pineapple slices. Then place them on your pre-heated grill, adding them directly to the grill grates. Cook for about 3 minutes per side, or until they become caramelized in some places and start to soften.
Remove the pineapple slices and place them on a clean tray. Squeeze some fresh lime juice over the slices while they are still warm.
Serve the pineapple slices with a dollop of the coconut whipped cream and a sprinkle of chopped nuts. Garnish with fresh mint, if desired.