Warm spinach salads always feel like a bit of a throwback recipe to me (not that I was even alive when they were made popular in the 1970s), but I still like making them on occasion. Especially in the cooler months when digging into a cold, crisp salad doesn't have the same appeal as it does in the Summertime.
I'm retro like that!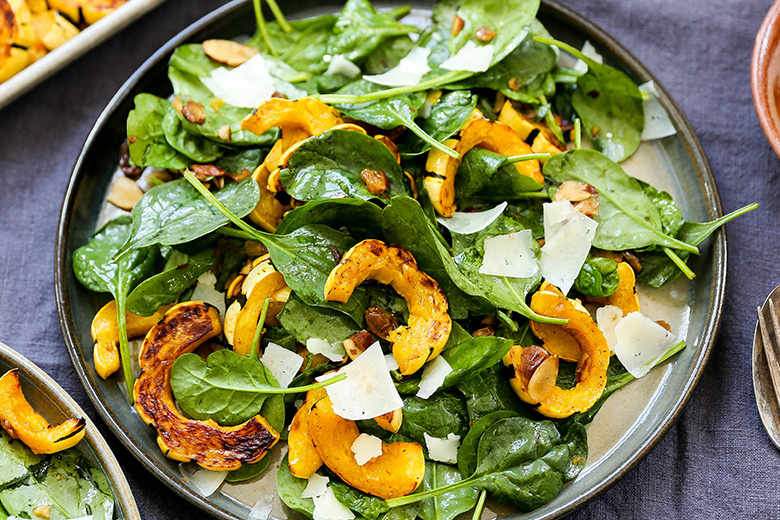 To get the right balance of textures in a warm spinach salad (we don't want the spinach to be soggy!), I toss fresh spinach leaves with other ingredients that have been warmed. In this Spinach and Roasted Delicata Squash Salad I'm using a combination of warmed salad dressing and roasted delicata squash. The residual heat from these two components is enough to slightly wilt/soften some of the spinach leaves. But they won't turn the whole bowl in a pile of green goop. So you'll still get some crunchy bites mixed in with the softer leaves. It works perfectly every time!
Delicata squash is a forever favorite of mine because you don't need to peel it before eating. Just give it a good scrub before prepping it and you'll be good to go! And avoid purchasing squashes with soft spots, bruises or mold on the outside.
Cheers,
Liz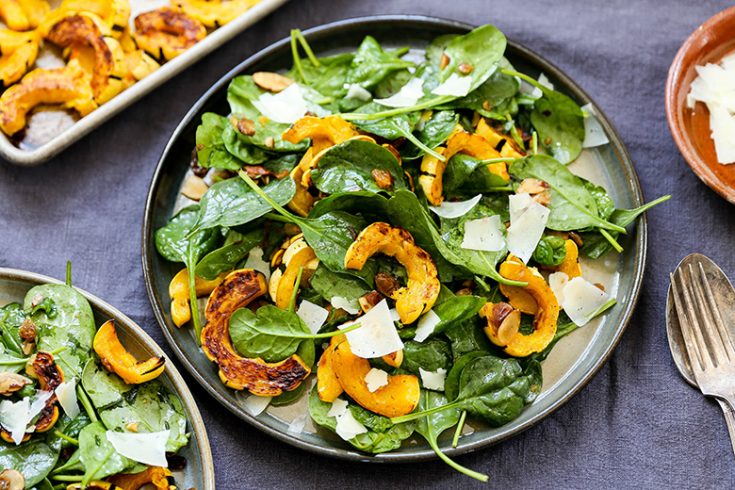 Warm Spinach and Roasted Delicata Squash Salad
Yield: Serves about 4
Prep Time: 10 minutes
Cook Time: 40 minutes
Total Time: 50 minutes
Ingredients
For the Delicata Squash:
1 large delicata squash, halved, seeds removed and sliced into 1/2-inch pieces
2 tablespoons extra-virgin olive oil
1 tsp. salt
1/2 tsp. black pepper
1/2 tsp. allspice
For the Salad:
1/4 cup extra-virgin olive oil
3 tablespoons balsamic vinegar
1/3 cup sliced almonds
1 tsp. minced garlic
1/4 tsp. salt
8 cups baby spinach leaves
1/3 cup golden raisins
2-3 ounces shaved Manchego cheese
Instructions
Pre-heat your oven to 400 degrees.
Add the squash pieces to a large bowl and toss to coat with the olive oil, salt, pepper and allspice. Spread the squash pieces out in a single layer onto a large rimmed baking sheet. Transfer to your pre-heated oven and roast for 20 minutes. Then carefully flip the squash pieces over and roast for an additional 15-20 minutes, or until softened and well browned. Remove and set aside.
In a small saucepan, warm the olive oil and balsamic vinegar over medium heat. Add the sliced almonds, garlic and salt and cook, stirring frequently, until the almonds and garlic are fragrant, about 1-2 minutes. Remove and set aside.
Add the spinach to a large bowl. Spoon about half of warm dressing mixture over the spinach and toss to coat. Then add the raisins and roasted squash, tossing to combine and adding more of the dressing mixture as needed.
Divide the salad between serving plates. Top with the cheese and enjoy immediately.