I've never been a big fan of Halloween. The scary movies and costumes just aren't my thing. But the miniature candies and other themed treats? That's an entirely different story! So I figured I'd get into the spooky season spirit by making a fun snack mix.
This Halloween Popcorn Snack Mix with Monster Pretzels is sweet, salty and not the least bit scary. It's perfect for a movie night, a Halloween party or as fuel for trick-or-treating!
The monster pretzels are probably my favorite part of this snack mix. They make it extra cute and fun. And they are so easy to make! Start by slowly melting some chopped chocolate. Then working with just a couple pretzels twists at a time, dip them in the melted chocolate and lay them on a piece of waxed paper. Quickly add some colored sprinkles to the top portion for "hair" and press in 1-2 candy eyeballs. And that's it. You've got your monsters! It's amazing how a few googly eyes can make such a difference. They're little faces crack me up!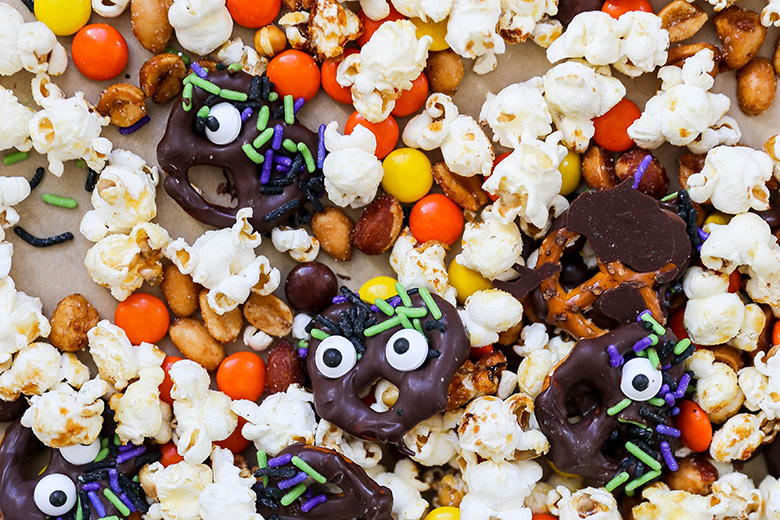 I had initially intended to put 2 candy eyeballs on each pretzel twist, but I found that a single candy eyeball to be just as cute and spooky. So it's entirely up to you what you'd like to do. You can find packages of candy eyeballs in the grocery store baking aisle next to the sprinkles, frostings and other decorations.
I love making my popcorn on the stovetop (directions below). It's relatively quick and easy. I also don't own an air popper. And in general, I'm not a huge fan of microwave popcorn. But you can make your popcorn by whichever method you like. You'll need 6-8 cups for this snack mix.
This Halloween Popcorn Snack Mix with Monster Pretzels certainly doesn't have to be limited to Halloween. Forget the candy eyeballs and trade the Halloween-colored Reese's Pieces for any of your other favorite chocolate-coated candies and you've got yourself a snack mix that's great for any season!
Cheers,
Liz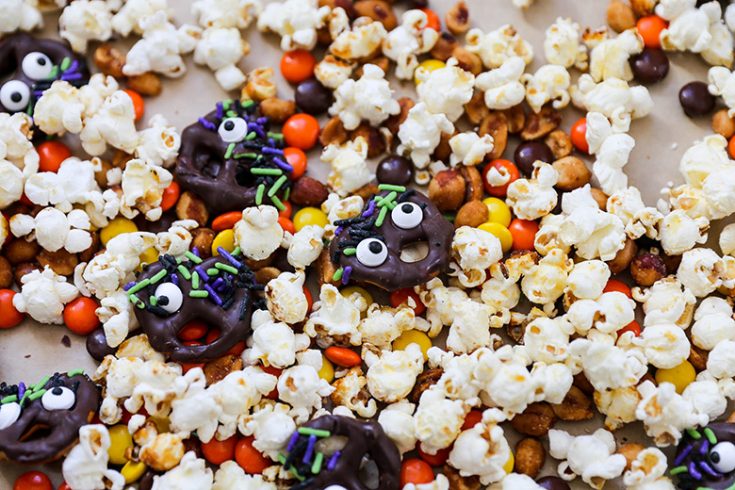 Halloween Popcorn Snack Mix with Monster Pretzels
Yield: Makes about 10 cups
Prep Time: 15 minutes
Cook Time: 5 minutes
Total Time: 20 minutes
Ingredients
For the Monster Pretzels:
5 ounces semi-sweet or dark chocolate, chopped
1 1/2 cups salted mini pretzel twists
Colored sprinkles (I used a mix of black, green and purple)
Candy eyeballs
For the Popcorn:
1 tablespoon vegetable or canola oil
1/4 cup yellow corn kernels
1 tablespoon granulated sugar
1/4 tsp. salt
To Finish the Snack Mix:
1 cup honey roasted peanuts
1 cup Reese's Pieces
Instructions
Gently melt the chopped chocolate in a small saucepan set over low-medium heat, stirring continuously until smooth. Remove the saucepan from the heat.
Dip the pretzel twists into the melted chocolate and let the excess drip off before placing them on a baking sheet lined with waxed paper. Once you have 2-3 pretzels twists dipped, sprinkle the top half of the pretzels with the colored sprinkles. Then add 1-2 candy eyeballs, pressing gently into the chocolate coating so they adhere. Continue working until you have all the pretzels twists dipped and decorated. Set aside to let the chocolate completely harden.
To make the popcorn, heat the oil in a large pot over medium-high heat. Add 2-3 corn kernels, cover the pot and listen for them to pop. This is how you'll know the oil is hot and ready.
Once the test corn kernels have popped, quickly add the remaining corn kernels and briefly swirl to coat them in the oil. Sprinkle the tops of the corn kernels with the granulated sugar. Then immediately cover the pot. Using potholders, grab the handles of the pot and immediately start shaking it back and forth over the heat. The kernels will start popping rapidly. Once the popping slows considerably (only a few popping sounds and 1-2 seconds between pops), remove the pot from the heat. Wait another 30 seconds before removing the lid.
Remove the lid and immediately dump the popcorn into a clean bowl. Sprinkle with the salt, gently tossing the popcorn as you do so.
Add the peanuts, Reese's pieces and monster pretzels to the bowl with the popcorn and toss gently to combine.
This popcorn snack mix is best when enjoyed on the day it's made.