I'm feeling pretty solid on the whole Christmas cookie situation.
Do I have my shopping done? Is my house decorated? Are my festive outfits all planned?
Nope. But at least we're good on cookies.
So I'm taking a temporary cookie hiatus to bring you these French Onion Puff Pastry Pinwheels. These savory, cheesy, crispy little bites would be an amazing appetizer for Christmas or New Years Eve. They use store-bought puff pastry, so there's no more dough to make (because honestly, I'm a bit spent from making so much cookie dough lately). And you could very easily double the recipe if you're entertaining a larger group.
I wanted the filling for these French Onion Puff Pastry Pinwheels to resemble the flavors of French onion soup as closely as possible. And I think I came pretty darn close. But you'll have to try them out and judge for yourself!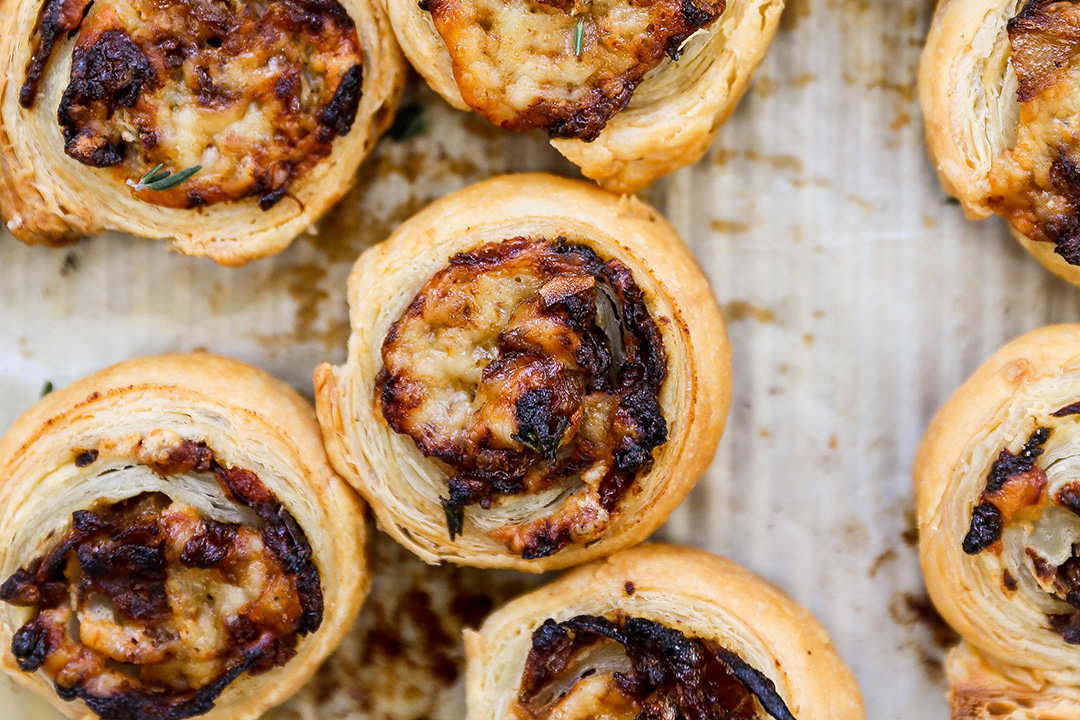 Start by caramelizing the sliced onions in butter and olive oil. Don't rush this part. You want the onions to cook low and slow, so they gradually take on color and become soft and sweet. Then add in salt, pepper, fresh thyme and garlic for seasoning. And finally, deglaze the pan with white wine and Worcestershire sauce. The Worcestershire sauce is important here, because it gives the filling a nice savory/umami undertone that you'd normally have in a French onion soup from the beef broth, but without having to add a lot of liquid. If the filling is too wet, the puff pastry won't crisp during baking. And that's no fun!
And of course, it wouldn't be French onion soup without the cheese! I used freshly grated Gruyère cheese. But shredded Swiss cheese or even Havarti would both work well in this recipe.
My best tip for getting neat little pinwheels is to make sure everything is cold as you work. That means allowing enough time for the filling to cool completely before using it (you could even prepare the filling in advance and keep it in your refrigerator). And making sure your sheet of puff pastry stays cold, too. If your sheet of puff pastry is ready before your filling (i.e. you've got it thawed and rolled out), just slide it into your refrigerator while you wait. I also place the entire roll in my freezer (step 6 in the instructions) before slicing and baking for added insurance!
If you give my French Onion Puff Pastry Pinwheels a try this Holiday season, let me know. I'd love to hear how they turned out!
Cheers,
Liz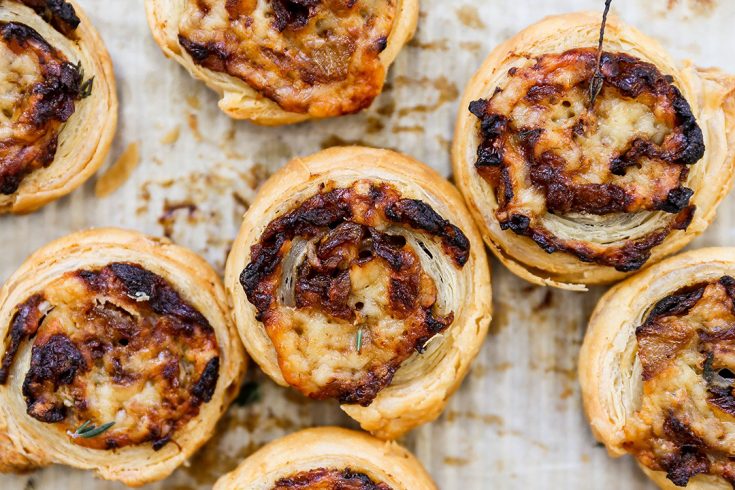 French Onion Puff Pastry Pinwheels
Yield: Makes one dozen
Prep Time: 15 minutes
Cook Time: 1 hour
Additional Time: 15 minutes
Total Time: 1 hour 30 minutes
Ingredients
For the Filling:
1 tablespoon butter
1 tablespoon extra-virgin olive oil
2 cups peeled and thinly sliced yellow or sweet onion
1/2 tsp. salt
1/4 tsp. black pepper
2 garlic cloves, peeled and minced
1 tsp. fresh thyme leaves
1/4 cup white wine
1 tablespoon Worcestershire sauce
1/2 cup shredded Gruyère cheese
For the Puff Pastry:
About 1/2 tablespoon all-purpose flour
1 sheet puff pastry, thawed according to the package instructions
1 egg, beaten
Instructions
Melt and butter and olive oil in a skillet over medium heat. Add the sliced onions and stir to coat them in the fat. Cook, stirring occasionally, for 5 minutes. Sprinkle with the salt and black pepper. Continue to cook the onions, reducing the heat as necessary so they don't brown too quickly, until they are very soft and caramelized, about 25-30 minutes.
Stir in the garlic and thyme and cook for 2-3 minutes. Then add the white wine and Worcestershire sauce and increase the heat to high so the liquid comes to a simmer. Cook until all the liquid has evaporated, about 2-3 minutes. Remove the skillet from the heat and set it aside to cool completely.
Lay a sheet of parchment paper out on your counter and dust it lightly with flour. Unfold the puff pastry and place it on top of the parchment paper. Then dust the top of the puff pastry with flour. Use a rolling pin to roll the puff pastry into a rectangle that's approximately 14 X 10-inches.
Spoon the cooled onion mixture onto the puff pastry and spread it evenly over the surface, leaving a 1/2-inch border at the short end that's furthest away from you. Then top with the shredded cheese.
Starting at the short end that's nearest to you, tightly roll the puff pastry up into a log. Stop when you get to the border at the opposite end. Brush some of the beaten egg onto the border. Then finish the roll and use your fingers to pinch the seam together.
Place the roll on a parchment paper-lined baking sheet and place it in your freezer for 15 minutes to chill.
Meanwhile, pre-heat your oven to 400 degrees.
Remove the chilled roll from your freezer. Using a sharp knife, trim off and discard the ends if they are uneven. Then slice the roll in half lengthwise. Slice each half into 6 equal-sized slices, for a total of 12 slices. Work quickly so the slices don't get too warm.
Spread the slices out onto your parchment paper-lined baking sheet and transfer it to your pre-heated oven. Bake for 18-20 minutes, or until the pinwheels are puffed and golden brown.
Remove from your oven and let the pinwheels cool on their baking sheet for 3-5 minutes. Then transfer to a serving plate. These are best enjoyed warm.